Thursday 4
America Part Two — A fitting marquee for Independence Day, the New Jersey trio America Part Two uses the earnest tropes and bombastic dynamics of emo to explore the intersections of personal and political. In their own words, "America Part Two has honed in on one mission statement to define the band's purpose on this astonishingly beautiful and hideously corrupted earth: perpetuate love, fight hate." It's an ambitious credo, for sure, but the idealism it expresses is nothing if not refreshing. Canopy Hands, B. Fraser, and Tigerlily share the bill. — Bryan C. Reed | New Brookland Tavern: 7:30 p.m., $12 ($8 advance; all ages); 803-791-4413, newbrooklandtavern.com
Friday 5
Paisley & the Birdwalkers — Chances are Paisley Marie has been flying under your radar. Sure, you might have seen her open for a band, or someone might mention her in passing. But for a long time, few have taken much notice of this wunderkid. Now that she's paired with the backing Birdwalkers, let's all do our best to acknowledge this up-and-coming dynamo of rootsy acoustic soul. She's earned it. Bellavida headlines. With The Tourist. — Ethan Fogus | New Brookland Tavern: 8 p.m., $6 ($10 under 21; 803-791-4413, newbrooklandtavern.com.
Calvin Edwards Trio — Soul and jazz have a symbiotic relationship in the music of guitarist Calvin Edwards, mirroring the two genres' long-standing connection. Remember when George Benson, Marvin Gaye, and Michael Jackson were all played on Top 40 radio? Edwards does, and he dips into the catalog of many of those soul and jazz legends as well as his own compositions within a classic trio format. — Kevin Oliver | Chayz Lounge: 8 p.m., $20; 803-563-8375, chayzlounge.com.
Czar-Spangled Hangover — There's a school of thought that posits America is not a melting pot but a salad bowl, wherein different constituent cultures aren't rendered and amalgamated into one homogenous entity but combined in a manner that preserves their individuality. Fat Rat da Czar's post-Independence Day shindig is a lot like that: It draws from a broad swath of Columbia's spacious skies — the Primus-y freak folk of Harry and the Hootenannies, the glitchy and emotional experimental rap of Autocorrect, the gruff and gritty emcee LaLisa — with the intent of showing off its fruited plain. Ain't that America? — Patrick Wall | Group Therapy: 10 p.m., free; 803-256-1203, facebook.com/grouptherapybar
Jonah Riddle & Carolina Express — Jonah Riddle & Carolina Express is made up of a pair of brothers. The young Riddles split guitar and banjo duties. Jonah plays Scruggs-style, with a heavy emphasis on twang. Their set is a mixture of gospel, country standards and rustic originals. — Ethan Fogus | Bill's Music Shop and Pickin' Parlor: 6 p.m., $15; 803-796-6477, billsmusicshop.com
Saturday 6
Black River Rebels — Greenville's Black River Rebels position themselves as acolytes of true rock 'n' roll, embodying the volume, ferocity and hedonism the terms has long signified. And, to wit, the band veers readily across rock styles, at one moment blending rootsy songwriting and punk rock grit a la Social Distortion and at another bringing atmospheric elements and bluesy riffs that feel more in line with Clutch or Danzig. Tonight, they'll be joined by Deviate, Warpath and Imprint for a full slate of loud, aggressive rock 'n' roll. — Bryan C. Reed | Art Bar: 8 p.m., $6; 803-929-0198, artbarsc.com
JMaurice — What is soul, anyway? Is it like Justice Stewart's definition of pornography, outlined in Jacobellis v. Ohio: You just know it when you see it? Maybe. But consensus is that guys like Donny Hathaway, Will Downing, Prince, Marvin Gaye, Luther Vandross, Teddy Pendergrass, and Smokey Robinson have soul — and JMaurice will be singing their songs at this concert, which he calls The Songs of Soul. — Patrick Wall | Chayz Lounge: 8 p.m., $20; 803-563-8375, chayzlounge.com.
Don Merckle and the Blacksmiths, George Fetner and the Strays — The pairing of these two affable, intelligent songwriters who have each surrounded themselves with ace backing players is a case study in complementary styles. The Appalachian/Celtic-tinged, rag-tag alt-country of Don Merckle is a bit looser and rowdier with his sprawling backing band the Blacksmiths, while George Fetner's Strays excel at eclectic precision jams that split the difference between the North Mississippi Allstars and Phish. What they share, in the end, is exceptional boogie potential and unquestionable live buzz bonafides. — Kyle Petersen | The White Mule: 8 p.m., $5; 803-661-8199, whitemulemusic.com
National Television, Cloud Repair — The closing of El Burrito in Five Points took with it WUSC's go to spot for curated shows (RIP the Jamboree). Thankfully, Curiosity Coffee Bar carries the torch of non-traditional venue shows with aplomb, allowing the WUSC Shimmershow to showcase National Television's reverb-soaked, melodically dour take on post-punk. Fellow Columbia act Cloud Repair balances shimmering prog intensity with fuzzy pop hooks through a softer bedroom pop lens, making for a fitting coffee shop set. — Cam Powell | Curiosity Coffee Bar: 7 p.m., $5; 803-357-2889, curiositycoffeebar.com
Never I, Reason Define — This six-band showcase of regional bands hones in on the various mutations of hardcore. Never I offers a dizzying mix of post-hardcore and noise-rock, while Reason Define takes a more melodic and dynamic approach. Aim High fuses metalcore and pop-punk, while Played By Kings unleashes a hailstorm of djent riffs. No Rope digs into crunchy alt-rock and heartbroken emo, while Lashes tangle vocals and guitars a bit like early Taking Back Sunday. — Bryan C. Reed | New Brookland Tavern: 6:30 p.m., $10 ($12 under 21; 18-plus only); 803-791-4413, newbrooklandtavern.com
Shelby Raye Trio — Chapin singer and guitarist Shelby Raye has been performing professionally since age 13, and it shows. Her take on modern country is sassy, brassy and perfectly positioned to appeal to fans of the current stars of the genre, from Miranda Lambert to Maren Morris. But she has the range to deliver more than that, branching into rock and pop — not unlike her more famous contemporaries. — Kevin Oliver | Hemingway's: 9 p.m., free; 803-749-6020, hemingwaymusicpub.com
Saul Seibert, John Watkins — Two leaders of well-liked local duos play on their own here. Saul Seibert of the anarchically blistering swamp-garage concern Boo Hag offers material from a forthcoming solo album. "Dilly Dally," the song he shared with Free Times, softly drifts between sad and silly, with spare acoustic strums and kazoo flourishes, landing like a fake smile betrayed by tear-stained eyes. It embodies the vulnerability that's also at the heart of his main band's vicious veering. John Watkins opens, and, if anything, his quioxitic wordplay and sharp melodic angles snap more brightly on his 2018 solo album than with his group Jackson Spells. — Jordan Lawrence | Drip Coffee (Five Points): 6 p.m., free; 803-661-9545, facebook.com/dripcoffee/columbia
Sunday 7
Kenny George Band — Aiken's Kenny George Band is eager for you to hear them, with 10-plus shows booked across the Carolinas before the end of July to showcase their outlaw country-rooted take on Americana. At this live broadcast of the WXRY Unsigned radio show, expect the band to be stripped-down, allowing George's honeyed, yet clear vocals to take the forefront, weaving roadworn tales with the optimism of someone still young enough to live that life earnestly. — Cam Powell | The British Bulldog Pub: 8 p.m., free; 803-227-8918, thebritishbulldogpub.com
Mel Washington — Mel Washington's torch ballads — such as 2018's "Whiskey River," with lyrics like "It's so hard to do when this gets on your mind / It's hard to do when you feel colorblind" — remind the listener that being a songwriter is more than having a honeyed voice and a strong jawline. You got to have the songs. Thankfully, the R&B-and-Americana-straddling Washington has the whole package. Yosef headlines. With Marley Erin. — Ethan Fogus | New Brookland Tavern: 7:30 p.m., $8; 803-791-4413, newbrooklandtavern.com
Tuesday 9
Stephen Marley — Bob Marley left some big shoes to fill, and any performer with that same last name has a lot to live up to. But Bob's second son, Stephen Marley, has blazed a trail of his own as a reggae star, keeping the flame of his father's music alive while adding more modern touches to keep reggae relevant. As a producer, musician and songwriter, Stephen has won eight Grammy awards and scored best-selling albums, and in a sense, he carries the mantle of reggae music now just as his father did back then. — Vincent Harris | The Senate; 7:30 p.m., $30 ($26 advance); 803-252-9392, thesenatecolumbia.com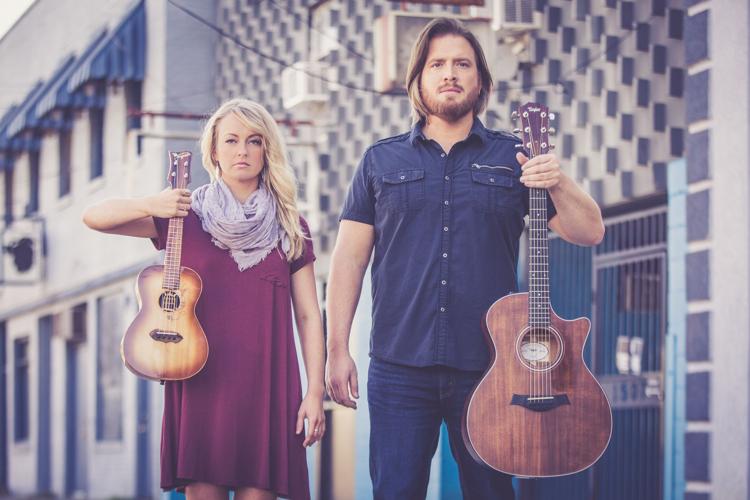 Wednesday 10
Prettier Than Matt — Prettier Than Matt's song "Heart To Get" recently popped up on ABC's dating show The Bachelorette, and while it's certainly good for their national visibility, a buoyant, shimmering example of catchy-but-moving pop music like that seems out of place on a relatively shallow show. That's because what Prettier Than Matt does is create melodic little pop gems that dig deeper than the average radio tune, so the duo's music never really feels fake or contrived. That doesn't sound like a huge accomplishment until you realize how few bands can actually do it. — Vincent Harris | Tin Roof; 7 p.m., free; 803-771-1558, tinroofcolumbia.com