Thursday 26
Sister Hazel — There's always been something quintessentially Columbia about Sister Hazel, even though the band is from Gainesville, Florida. A kind of little sibling act of Hootie & the Blowfish (give or take 20 million album sales), the group frequently returns to our city with its affable, jangly sound that smooths the edges of Southern rock, power pop and roots music with pleasant enough charm. Bonus points: Tonight's concert is a Rock 4 Recovery benefit with proceeds going to fight substance abuse. — Kyle Petersen | Central Energy: 5 p.m., $40; 803-760-7505, centralenergy.net
Red Shack Pickers Sessions — This twice-monthly shindig at Foxfield highlights local singer-songwriters against a backdrop of loosely organized acoustic players who create an affable, unassuming vibe that is part and parcel of the Rosewood hangout's appeal. Tonight's session features the soulful roots-rock dynamo Paisley Marie and the quirky, left-field mandolin excursions of Harry Braswell (of Harry & the Hootenannies), a pairing which tugs comfortably at the different limits of the Pickers. — Kyle Petersen | Foxfield Bar and Grille: 7:30-10:30 p.m., free; 803-728-0420, facebook.com/foxfieldbar
Friday 27
William Bell — Although not quite a household name, William Bell is one of the true Stax greats, a great Southern soul singer and songwriter whose voice has weathered lovingly with time. Thankfully, he's recently returned from a roughly three-decade hiatus from music to produce such collections as the Grammy-winning This Is Where I Live, a true return to form. Bell is a veritable living treasure, and as rich a part of the American music fabric as they come. — Kyle Petersen | Newberry Opera House: 8 p.m., $60-70; 276-6264, newberryoperahouse.com+
Jade Blocker — In front of (or behind) the kit in her eponymous band, Jade Blocker treads in songs that careen and cut, finding crevices between pitched choruses and charged solos. But when she presents these songs unaccompanied, it heightens the vulnerability Blocker imbues them with. With Kelly McLachlan and Songs of the Folk, whose songs mine emotional peril with similar breadth and depth. — Patrick Wall | Curiosity Coffee Bar: 5 p.m., free; 803-357-2889, curiositycoffeebar.com
Kevin1100 & Friends — Birthday boy Kevin1100 celebrates another year 'round the sun today, and because it's his birthday, he'll rap if he wants to. There's a genial affability to Mr. 1100's music — his beats are sprightly and his rhymes light-headed, warranting comparisons to Lupe Fiasco circa "Kick Push." Tonight, he gets by with a little help from some of his friends from the broader reaches of the local hip-hop scene: DJ Lonzo, Reign 9000, Oscar Lee, $tu $imon, and Bennie Sav. — Patrick Wall | The Soda Live (Tapp's Arts Center): 8 p.m., $10 ($7 advance); 803-988-0013, tappsartscenter.com
Cravin' Melon — "We've known each other / Goin' on 30 years," sings Cravin' Melon frontman Doug Jones on the Greenville quartet's quintessential 1997 college rock hit, "Sweet Tea." The line now rings true of the band's early material, as that song is old enough to order itself a Twisted Tea at the bars they're playing. The new album The Great Procrastinator showcases the group with rejuvenated energy, but rest assured — the sing-along, feel good nature that drew them popularity still remains. With Kenny George Band. — Cam Powell | Steel Hands Brewing: 6 p.m., free; 803-708-9864, steelhandsbrewing.com
The Organa Trio — The Organa Trio specializes in a deft blend of jazz and soul tunes that make a virtue out of both the seasoned musicianship and dedication to ambience that a place like Aloft demands. Featuring University of South Carolina jazz studio players like guitarist Kyle Bryant and keyboardist Nick Vlandis, expect an adventurous setlist that digs deeper than your garden variety background jazz set. — Kyle Petersen | Aloft Columbia Downtown: 4 p.m., free; 803-445-1900, marriott.com/caeal
Recovery On The River — This concert to celebrate drug and alcohol abuse recovery features Rob Crosby and Sourwood Honey, two names with long musical histories. Crosby is a country songwriter who's hit the charts on his own recordings and via others cutting his tunes. His roots are in the Sumter area. Sourwood Honey was the first band of late Lexington musician Chris Conner, a jam-friendly country-rock outfit that toured regionally and released several albums. The current band features his younger brother Brian Conner on guitar and vocals alongside several original members, including guitarist Herbie Jeffcoat. — Kevin Oliver | Riverwalk Amphitheatre: 6 p.m., free; facebook.com/S.CarolinaDAODAS
White Mule One Year Anniversary — The White Mule celebrates the one-year mark of its second, more raucous incarnation in Five Points with a suitably rocking show featuring the hard-hitting progressive funk romps of Augusta's Funk You and the equally Phish-friendly eclecticisms of Charleston's tomatoband. Together, the two groups are more than capable of laying down hot grooves and winding jams all night long. — Kyle Petersen | The White Mule: 9 p.m., $12; 803-661-8199, whitemulemusic.com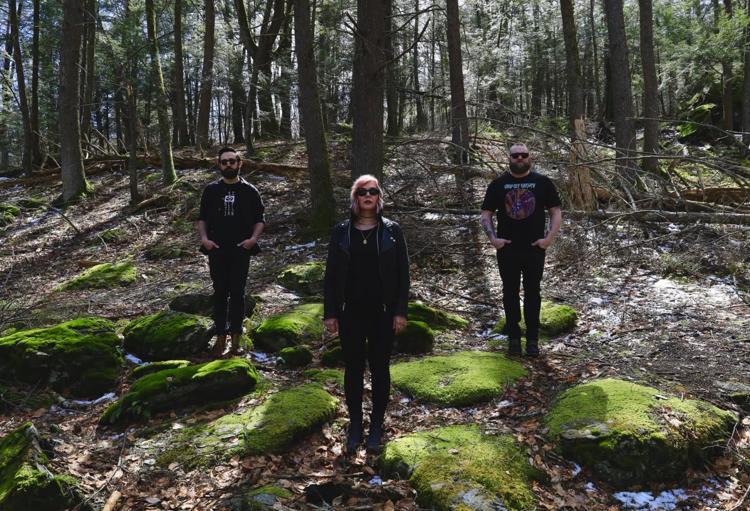 Witchkiss, Temple of the Fuzz Witch — The Hudson Valley, New York-based trio Witchkiss has spent much of this year on the road, supporting the likes of Castle and Conan, and now is embarking on its own headlining tour with Detroit's Temple of the Fuzz Witch. Where Witchkiss' dynamic doom moves from growling brutalism to ethereal atmosphere, a la fellow doomster Year of The Cobra, Temple of the Fuzz Witch shows its reverence to the almighty Electric Wizard. Local titan Space Coke opens with a heavy psychedelic onslaught. — Bryan C. Reed | Hunter-Gatherer (Main Street): 7 p.m., $5; 803-748-0540, huntergathererbrewery.com
---
Pick 'Em by Bryan C. Reed
Friday 27 — Through The Eyes of The Dead
Veteran metalcore band Through the Eyes of The Dead arrive in Columbia supporting 2017's Disomus, their band's fourth full-length release. The album is characteristically riddled with abrupt shifts in time and tempo, driven by riffs that slither between death metal blasts. With Disomus, though, the band expands upon its mix of metallic hardcore and brutal death metal with more engaging dynamics and melodic solos that offer moments of relief within vicious deathcore onslaughts. Cognitive, Green Fiend, Sea of Treachery, Red Handed Denial, and Bathe fill out the bill with disparate approaches to sonic brutality.
New Brookland Tavern: 6 p.m., $18 ($15 advane); 803-791-4413, newbrooklandtavern.com
VS
Friday 27 — The Disquiet, The Haves, Black Power Mixtape
The Disquiet recently teased its forthcoming EP, Kingdom, with the release of "Silver Man," a stirring single with shades of Incubus and The Used in its alt-rock melody and emo earnestness. Tonight, the West Columbia outfit tops a bill with similarly eclectic outfits. Columbia's The Haves find a middle ground between Primus and Rage Against the Machine, while Charleston's Black Power Mixtape give a bluesy swing to driving hard rock, like Clutch jamming with Jack White. Osara opens.
Art Bar: 8 p.m., $6; 803-929-0198, artbarsc.com
---
Saturday 28
Follies — Columbia's Follies (AKA Floc Martin) offer a neat amalgamation of Broken Social Scene and Boards of Canada, with wide-panned acoustics paired with electric drums. It's a brand of weirdo freak folk sure to excel in The Space Hall, a great place to see experimental acts— and with the closing of Tapp's in November, it's unclear where bands like this will have a home now. With Rare Demo, Coma Therapy, Ruth in the Bardo. — Ethan Fogus | The Space Hall (Tapp's Arts Center): 8 p.m., $10; 803-617-8609, tappsartcenter.com
Les Merry Chevaliers, The Transonics, The Poor Decisions — The Poor Decisions tongue-and-cheek pop-rock sounds like Dr. John leading The Velvet Underground with chunky riffs and nary a bridge in sight. The Transonics bring an exciting blend of new wave and pop-punk with enough leopard print and Ray Bans to last for days. And Les Merry Chevaliers' bouncy punk pep recalls the party atmosphere of early Camper Van Beethoven. — Ethan Fogus | Hunter-Gatherer (Main Street): 10 p.m., $7; 803-748-0540, huntergathererbrewery.com
The Raz, New York Disco Villains — Uncle Kurtis, an odd-but-compelling punk-sneer-meets-dreamy-psychedelia band from Asheville, kicks off this four-band show, followed by Harry & The Hootenannies, a Primus-influenced trio of spastic funk-rockers who exude goofy virtuosity. Up next is the New York Disco Villains, an answer to the musical question, "What would the B-52s have been like if they kept the kitsch and the dance-happy tunes but added a goth-rock edge?" The answer is pretty cool, it turns out. Finishing the night is The Raz, a Columbia quartet that does the throwback thing right, unleashing shameless '70s rock swagger with massive riffs and a singer who seeks to join the holy Robert Plant/Paul Rodgers pantheon. — Vincent Harris | New Brookland Tavern; 8 p.m.; $6 ($10 under 21; 18-plus only); 803-791-4413, newbrooklandtavern.com
Sunday 29
Blue October — Blue October's ambient pop mixes old-school samples with the jaunty dance floor verve of Hozier and The Killers. Spin "I Want to Come Back Home" off 2018's I Hope You're Happy for some serious 808 toe tapping that feels both dated and contemporary. Close your eyes, you'll still see the energetic pump of strobe lights. — Ethan Fogus | The Senate: 8 p.m., $30 ($28 advance); 803-252-9392, thesenatecolumbia.com
Wednesday 2
Garrow, Vorov, HarborLights — This showcase offers a full spectrum of heaviness, from Garrow's bruising mix of blues-rock and doom to Vorov's explosive metallic hardcore. Massachusetts post-rockers HarborLights float in the spaces between. Their latest album, Isolation Ritual, flows from ethereal ambient rock into surging post-metal vamps, proving that they can bring the heavy, but understand the power of extreme contrasts, too. Withdraw opens with urgent hardcore. — Bryan C. Reed | New Brookland Tavern: 7:30 p.m., $6 ($10 under 21); 803-791-4413, newbrooklandtavern.com