Friday 21
Battle for Summer Slaughter Showcase — A slate of local bands showcase abbreviated sets tonight, all vying for a chance to earn a spot on the Summer Slaughter tour. The annual roadshow of brutal riffs and mosh pits this year boasts Cattle Decapitation, Carnifex, and The Faceless among its headliners. Here, the nine locals lean heavily into technical death metal and djent-y metalcore. But outliers abound, from Bathe's scathing avant-doom to When I Say Jump's revivalist emo, from Acati's heavy prog to Aim High's electronically augmented fusion of emo and deathcore. — Bryan C. Reed | New Brookland Tavern: 5 p.m., $12 ($10 advance; all ages); 803-791-4413, newbrooklandtavern.com
Cravin' Melon, Brent Lundy — Hootie wasn't the only South Carolina act making waves in the '90s. A number of their peers made the jump from regional to national. Greenville's Cravin' Melon rode similar country-tinged pop-rock songs such as "Sweet Tea" to a brief major label deal before retreating to local/regional status. Singer Doug Jones has remained musically active, but the full band only plays the occasional local show these days. Brent Lundy fronted God's Comics and the Ultraviolets in the '90s. He still plays solo gigs around town constantly. — Kevin Oliver | White Mule: 8 p.m., $15; 803-708-5908, whitemulemusic.com.
Don Merckle and the Blacksmiths — Former Columbian and current Charleston resident Don Merckle has indulged his singer-songwriter side in recent recordings, but he's still a Velvets-inspired, Celtic-leaning Americana rocker at heart. The latter is the specialty of his full band, the Blacksmiths, which brings gut-wrenching emotion to the forefront of a powerful live show. Scott Guthrie of 48 Fables opens. — Kevin Oliver | Foxfield Bar and Grille; 8 p.m., free; 803-728-0420, facebook.com/foxfieldbar
---
Pick 'Em by Jordan Lawrence
Friday 21 — Arts & Draughts
Diversify your listening on Main Street tonight. Over at the Columbia Museum of Art's you get a lauded local triptych. The quarterly beer, art and music shindig Arts & Draughts features rustic Americana (Columbia's beaming, harmony-stoked Boomtown Waifs), kinetically rhythmic, ambitiously melodic indie pop (Columbia's veering, boundary-averse King Vulture) and scuzzy, fuzzy garage rock (Charleston's righteously jeering Dumb Doctors). Each does something different, but each is among the best in the state at it. | Columbia Museum of Art: 7 p.m., $10 ($5 members); 803-799-2810, columbiamuseum.org
VS
Friday 21 — Daddy Lion, 6ixx
Befitting its offbeat basement environ, The Space Hall at Tapp's gets a little weirder. The Columbia tandem of Daddy Lion (whose widescreen and spacey, but decidedly crunchy tunes tilt toward Radiohead and Smashing Pumpkins and a time when the distinction between indie and alternative really did matter) and 6ixx (a rapper, poet and visual artist who uses bracing images and wordplay to speak powerfully to issues of race and socioeconomic disparity) bookend the night. With Alex Davis, Gowing Screens. | The Space Hall (Tapp's Arts Center): 8 p.m., $7; 803-988-0013, tappsartscenter.com
---
Saturday 22
Paula Atherton — Billed as a dual threat saxophonist and vocalist, Paula Atherton's talents in both disciplines are more than enough to get people dancing. But it's the woodwind work that stands out on her 2018 full-length, Shake It, showcasing sax talent across the record as well as Ron Burgundy-level flute skills on her cover of War's "Low Rider." The backing Groove Masters Band keeps the mood smooth, with the occasional foray into slow burning funk. — Cam Powell | Chayz Lounge: 8 p.m., $20 ($25 group seating, 21-plus only); 803-563-8375, chayzlounge.com
Death Becomes Even the Maiden — The reunited Death Becomes Even the Maiden looks and sounds a lot like the band's first iteration. The personnel reset — drummer Chris Powell returning to flank bassist Eric Greenwood and guitarist Heyward Sims — signifies a return to the band's roots: a blend of Joy Division's groove, Refused's post-hardcore angst and Nirvana's accessible intensity. This is a band that wants to pummel you — and will. Goth-rock outfit Candy Coffins headlines. — Patrick Wall | State Street Pub: 9 p.m., free; 803-796-2006, facebook.com/statestreetpubcolumbia
GRÜZER — Local quintet GRÜZER has promised new music coming soon, but even though its most recent tracks came out back in 2017, the band still sounds urgent and invigorating. Mixing the riff-driven stoner rock of bands like Clutch and Corrosion of Conformity with the sludgy grit of Black Tusk, GRÜZER's meat-and-potatoes metal is impeccably seasoned. The rest of the bill is similarly satisfying. Lowercase gods give menace to '80s metal riffs, while Blackwater Drowning offers a mix of progressive metal and melodic death. Sleep of Reason opens. — Bryan C. Reed | New Brookland Tavern: 8 p.m., $6 ($10; 18-plus only); 803-791-4413, newbrooklandtavern.com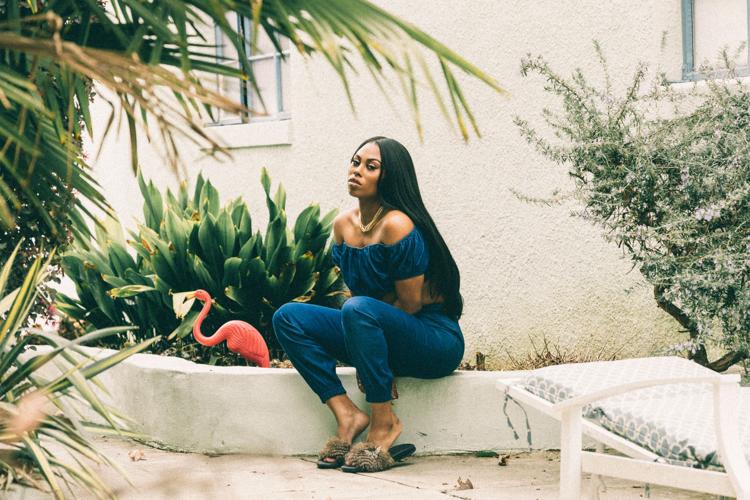 Hip-Hop Pride — Local record imprint Jenesys Entertainment taps into Pride month its their inaugural Hip-Hop Pride showcase, aimed at highlighting artists and opening a dialogue to prevent teen suicide in the LGBTQ community. Enigmatic singer and rapper Ray LeJune headlines the nine-act bill with smoky, mercurial vocals atop bass-heavy beats reminiscent of early Wu-Tang, while Milah brings the vibes of Ms. Lauryn Hill through both soulful ballads and tight rhymes over '90s-influenced boom bap. — Cam Powell | The Soda Live (Tapp's Arts Center): 9 p.m., $8; 803-988-0013, tappsartscenter.com
Rare Creatures — Charleston's Rare Creatures blends chilly electronics, pop melodies and the occasional dash of rock guitar — much how Coldplay has spent the latter part of its career. But this band's music seems more mysterious and evocative. The typical Rare Creatures song will take the listener from a blissful, blurry verse into a harsh, jagged bridge almost like another band has taken over, and vocalist Coleman Sawyer has an appealingly drowsy delivery that lends their music a dreamlike quality. With Dead Swells. — Vincent Harris | The White Mule; 8:30 p.m., $10; 803-709-5908, whitemulemusic.com
Bubba Sparxxx — Ever wonder what happened to Bubba Sparxxx? The Georgia rapper has an answer for you on his 2018 track "Come Outside": "Been in the house for too long / It's time to come outside / 'What happened, dawg?' What happened, dawg / Is my ass got tired." Sparxxx rhymes with a whiskey-aged tenor that's been worn by the grind in the years since 2005's signature club banger, "Miss New Booty." Hope he isn't tired of playing that one. — Cam Powell | Average Joe's: 5 p.m., $15; facebook.com/avjentbar
Monday 24
Axattack, Nuclear Desolation, 3:33 — The local thrash heroes in Axattack anchor this bill with a vicious, well, attack of speed metal riffs and pounding rhythms that recall Toxic Holocaust or Municipal Waste at their most straightforward and belligerent. North Carolina's Nuclear Desolation prove a worthy complement with a brutal approach that borrows equally from death metal and thrash. Richmond's 3:33 offers its own slate of mosh-starters, evoking the spirit of crossover with fast and frenetic bursts of thrash. — Bryan C. Reed | Hunter Gatherer (Main Street): 9:30 p.m., $5; 803-748-0540, huntergathererbrewery.com
Tuesday 25
The Murder Junkies — These Murder Junkies were the final backing group for the late GG Allin, the famously (and literally) s#!t-slinging iconoclast. On their last record, 2014's Killing for Christ Sakes, the New Yorkers live up to this controversial legacy with the lyrics ("Find a tasty f#g / Take him home / F#!k his corpse / Preserve his bones," goes one line from "17 Dead"). But less so with the music (rotely chugging punk rock that is neither groundbreaking nor impressively raw). Still, if their performance devolves "into a naked brawl midway through," as Vice reported of one 2012 show, maybe that's something you want to see? With 430 Steps, Longshot Odds, CCTV. — Jordan Lawrence | State Street Pub: 9 p.m., $5; 803-796-2006, facebook.com/statestreetpubcolumbia
Songwriter in the Round — The in-the-round songwriter showcase was a hallmark of the first iteration of The White Mule, the Main Street listening lounge modeled after places like Eddie's Attic in Atlanta and the Bluebird Café in Nashville. The new, slightly rowdier White Mule in Five Points has held on to that tradition. Tonight, SceneSC and Freeway Music bring in the principal songwriters for Finnegan Bell and Admiral Radio, plus Mario McClean and Watson Village's Tyler Watson. — Patrick Wall | The White Mule: 6 p.m., free; 803-708-5908, whitemulesc.com.
Wednesday 26
David Lee Murphy — Maybe you've lost track of David Lee Murphy since his No. 1 hit "Dust on the Bottle" in 1994, but he hasn't stopped working as a performer or a songwriter. The latter has brought him more success, with cuts including "Big Green Tractor" and Thompson Square's "Are You Gonna Kiss Me Or Not," but he's also been on tour this spring opening for Kenny Chesney. The opening Haley & Michaels are a new critically acclaimed country duo that's taking the classic duo format and arena-sizing it. — Kevin Oliver | The Senate: 6 p.m., $8 ($5 advance $25 VIP); 803-252-9392, thesenatecolumbia.com