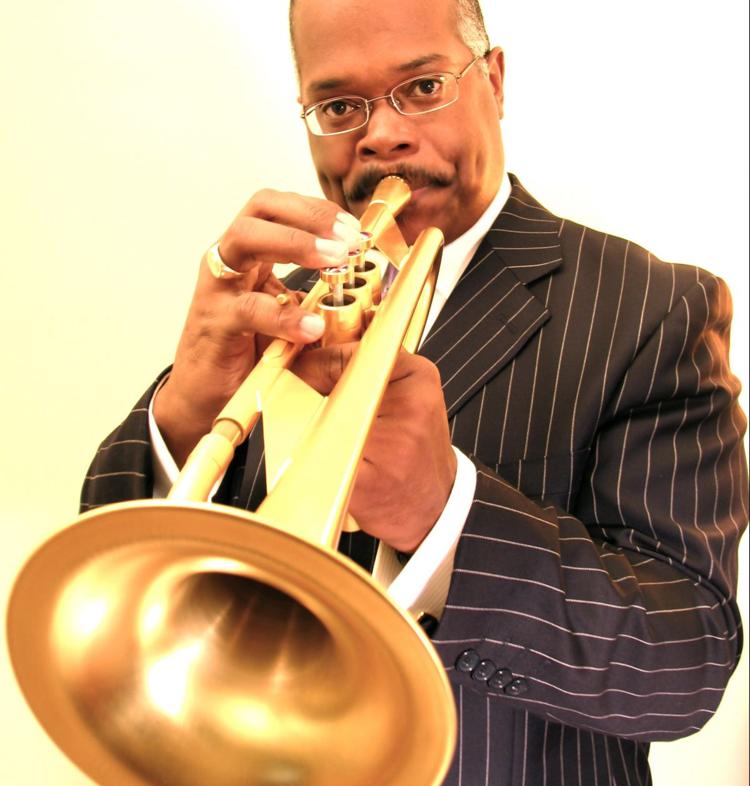 For decades now, there's been an identity crisis in the jazz world. Ever since the genre's popular mid-century heyday began to fade away in the '60s and '70s, there's been a battle between traditionalists intent on preserving the music's legacy and centrality to American culture, and innovators and experimenters who believe the music can thrive on the fringes as long as it sticks to its iconoclastic roots. 
At least, that's the heady binary that often plays out among critics and the more aggressively progressive parts of the scene. For ColaJazz festival headliner Scotty Barnhart, there's a pragmatism to his practice that makes this theoretical discussion seem beside the point. The trumpet player and bandleader who leads the 84-year-old Count Basie Orchestra comes to town this week to headline the ColaJazz Festival, a second-year event that seeks to promote the genre in Columbia by pairing internationally renowned talent with local favorites.
"At the end of the day, it comes down to what are we doing creatively? And every night that we play, we don't play the same thing," Barnhart points out. "We're still being creative, the music is still breathing. It's not like we played the same exact stuff the same exact way all the time. I'm just trying to be creative, man, and take what we have an what we can do as musicians that communicates how we feel to the audience about what we're playing."
Barnhart, a Los Angeles native and jazz studies professor at Florida State University, became artistic director for the Basie Orchestra in 2013 after a long tenure with the group as a soloist and a lengthy resume leading his own group. He professes to not think too much about the orchestra's status as a legacy group, but more as a modern continuation of what Basie created.
"When you listen to some of the things we play, it is as modern as you can get," he contends. "When you listen to some of those things that we play by Fat Jones and Frank Foster, that stuff is still relevant — it's not all dated or any of that."
Barnhart also points to the new arrangements that the group periodically commissions, as it did on its most recent studio album, last year's All About That Basie.
"We have new arrangements written periodically, but it has to sound like how Basie would have played them," he explains. "I think it boils down to the level of discipline that the musicians have, of knowing whether you are and how they should play. There's still freedom to what we do, you know? But there's a responsibility with that freedom."
Barnhart's perspective is an apt one for ColaJazz. The festival's umbrella orchestration also balances a traditionalist perspective with a populist impulse in its efforts to support a local jazz scene in the community. And, in some ways, despite the prestige of the orchestra and his other national touring, Barnhart's experience growing a jazz scene in a college town like Tallahassee, Florida, seems even more germane to the festival's aspirations.
"Tallahassee is a nice jazz town," Barnhart enthuses. "There's about four or five venues that people are playing regularly. And again, it's up to the musicians to make sure that when they do play these venues, that the music is presented well. Whenever I'm playing locally, they know they're going to great show. They know it's going to be quality. They know I'm going to have the best musicians with me."
In recent years, Barnhart has established the Tallahassee Blues and Jazz Festival to bring in a slate of performers not too dissimilar to the slate at ColaJazz. 
"[Places like] Tallahassee can be as great a jazz town as any," he contends. "It just takes the musicians to be dedicated to make sure when they do go and play, they realize they're playing for the public."
He's also bullish on jazz's position in academia, as long as it leads toward public and community engagement. 
"There's never a drawback, because on the academic side, you've got great musicians at FSU," Barnhart says. "[Pianist] Marcus Roberts teaches there, I teach there. We got people that travel and play and are a part of the jazz scene today. We play in public a lot."
And, much like the scene fostered by ColaJazz, it's all about having players come together time and time again to find something new.
"I've never met the musicians that I'm playing with next week. That's the beauty of jazz, man," Barnhart concludes. "You can have a conversation about something, rehearse a little bit, and then get on the stage playing together and make it sound so good."  
Let us know what you think: Email editor@free-times.com.