A keen sense of nostalgia has long defined the songwriting of Mount Pleasant's Band of Horses. Indeed, the group's 2007 sophomore album Cease to Begin kicks off with a buoyant swell of rawly-but-cozily distorted indie rock that repeats a single short verse — "I could sleep / When I lived alone / Is there a ghost in my house?"
The band's intense emotionalism got lost in listless studio polish on the subsequent Infinite Arms and Mirage Rock, but returned on 2016's Why Are You OK, tied to an even more visceral awareness of the passage of time — and of the ways it makes a rock 'n' roll life start to feel kind of weird.
"Casual Party," the group's most purgative anthem since the essential "Funeral," finds Ben Bridwell's high, piercing twang releasing a "rage wound so tight" after making pointless conversation at a boring get-together. "The creaking wood under my walk / Familiar like an old-time song / A memory when you were young / Remembering a time long gone," he sings on another song, one where the chorus describes finding meaning while digging "In a Drawer."
With Bridwell and company finishing a new album recorded in Charleston with rising local producer Ryan "Wolfgang" Zimmerman that the singer describes as following a very similar narrative, and with the group having been slated to headline this week's St. Pat's in Five Points, Free Times decided to ask him about returning to Columbia, performing his recent songs just down the road from his hometown of Irmo.
That set won't happen this weekend — St. Pat's is postponed in response to the COVID-19 coronavirus — but here's what Bridwell had to say about his songwriting, his band's resurgent sound and the anxiety of staring down a big-time festival gig during the middle of a pandemic.
Free Times: The songs on Why Are You OK grapple with nostalgia and the dissonance of working in a rock band and living as a family man. Why were those things on your mind? Do they continue to guide your songwriting?
Ben Bridwell: I can't really avoid the adult narratives these days, having four children and being, like, old and stuff. I guess it's really telling things for what they are, as I see them. And maybe not so much the murkiness in the lyric writing, where a lot of times maybe I would shy away from personal narratives, and being too black or white. I feel like maybe with Why Are You OK and this new record, the storylines are a bit more in your face. And I would say this one is much more in your face. It's brutally and devastatingly honest.
Why Are You OK makes a convincing return to the soaring guitar rock of your early albums, and I've read you say the new album will continue that trend. What pushed you in that direction?
I think a lot of that has to do with me getting back to playing guitar. And me being a f#!king punk, honestly. I can't help but be a bit scrabble and rough around the edges. I can't really deny that anymore. And my guitar playing over the years kind of got covered up with more palpable sounds. We got a little bit clean because we had such great players. With this album, the guys that are in the band now, which are different from Why Are You OK, it's even more hardscrabble or rough-and-tumble, and more of the punk kind of vibe comes out.
I just can't help it, honestly. I can't help but write that kind of stuff, and I think if anything, this kind of return to those sounds would just be a return to doing what I normally did but without all the cleaning up of the edges. I think some of those flaws, some of those rougher parts, are part of our identity. And we don't want to scrub those out.
Allowing the sound to sometimes be as messy as the emotions?
Very much so, man. And allowing it to be wrong at times. And allowing those discordant things or atonal at time kind of things. It feels like those are our advantage, and not so much a detriment, these days.
How much was choosing to record with Ryan "Wolfgang" Zimmerman in Charleston an effort to continue that trend?
It's funny because I will always, even subconsciously, start veering toward, 'Make it sound pretty. Clean up those rough edges, now.'
Wolfgang kind of made it his mission to make sure that I was keeping in those things. That I was playing guitar. Some of those kind of characteristic quirks, he wanted to make sure those things were more emphasized than I ever would have. And maybe at times in an uncomfortable way. He kind of had it more as his mission than I had.
From working with Zimmerman to your friendship with SUSTO, it seems like you're really part of the scene in Charleston these days.
It does feel like that. Maybe five years ago or something, six years ago, when we first started hanging out with the SUSTO guys and Wolfy and folks like that, we did feel kind of like we — you know, coming back to Charleston and coming back to South Carolina, it was a homecoming. But we've always been so busy that it never really felt like we had a home. It seems like you're always coming and/or going.
Through finding a connection with those guys, it really does feel like a home. We got to meet new people, even at our advanced age. We're making new friends and finding these new bands that are so exciting, and we're all here. Man, it's like no place I've ever been, honestly. It's not competitive. Everyone's scrapping and everyone's fighting real hard to make a dent, but it's not like a competitive kind of grumpy scene like Seattle was. Seattle, everyone was always talking s#!t behind each other's backs or something. Down here, it always seems so arms wide open — I'm quoting Creed, sorry. [laughs]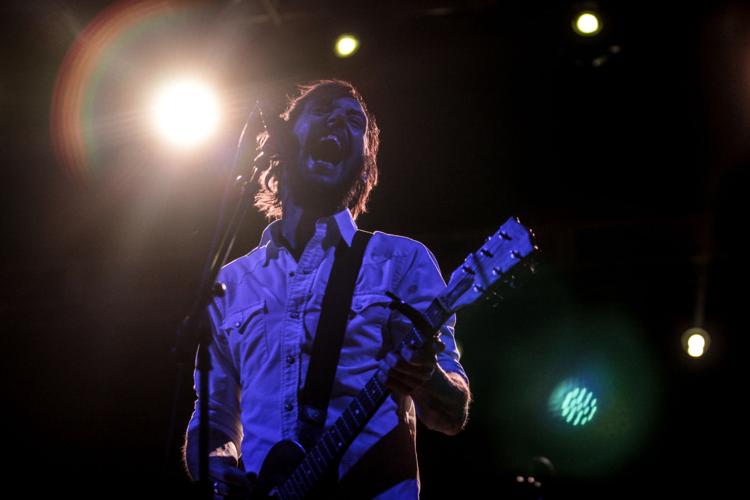 How much have you embraced a role as champion for your Lowcountry scene, using your renown to trumpet what's going on there?
It's always felt kind of weird — any of the successes that come are always as confusing as the pitfalls. To be considered kind of a big bro band, we don't take it lightly, I guess.
We can take out She Returns From War or The Artisanals or SUSTO or even just [SUSTO leader] Justin [Osborne] over to Europe and stuff like that, and it feels like we're all on the same mission, which I guess is bringing a little piece of home to people all over, and we're so inclusive of that, just like that scene has welcomed us.
It's a damn f#!king honor, for them to look to us for guidance and whatever they have questions about. It's an honor.
Band of Horses hasn't played Columbia since 2013. You haven't played here since a 2014 set billed under your own name at St. Pat's. How are you feeling about making your first onstage homecoming after so long?
If I'm being honest, I'm nervous, for one, because I want the event to happen. And I'm kind of on pins and needles there. We have rehearsals and a warm-up show before we get to Columbia, and I'll be nervous about that.
If I'm ignoring the elephant in the room there, playing St. Paddy's solo a couple years ago was really damn fun. Even though I ain't s#!t, honestly, and I'm not a good solo performer. I'm terrified. But the people were so welcoming anyways, whether I was falling on my face or not. People were just having fun. And that atmosphere is really exciting. I'm just hoping with all hopes that this can really happen. Because I want to experience that with the Band of Horses catalog.
How worried are you about playing such a large event with all that's going on?
I'm worried even for my guys having to fly from places. I don't want people to have to be in the airport. I don't want my guys to be on an airplane. I don't want my guys getting into too close contact in some place, like say the rehearsals or the Alabama show. I'm worried as crap for my guys. It's my job to worry about that kind of stuff, to make sure that my people are protected.
I don't know what to say because it's so confusing right now, and we've all been looking for answers for weeks. How bad is it going to get? How dangerous is this? How susceptible are we?
With the nostalgic, time-conscious songs you're writing these days, does it feel particularly apt to come back to Columbia at this moment?
I haven't considered that kind of thing there. But I can tell you, coming back to Columbia and playing is always nostalgic. I don't look at our timeline so much as a whole career. I'm always just thinking about the day-to-day kind of thing. But I love that you put it in perspective like that. And I tell you, every time I come back to Columbia, it does feel like a homecoming. For Ryan [Monroe] and I, you can't help but feel the nostalgia of the smell of the air or just the vibes of the folks.
I guess now that you put it that way, maybe it will feel a bit more — s#!t, I hope it's not overwhelming, but more special or something like that.