Downtown / North Main
Bourbon
1214 Main St., 803-403-1404. bourboncolumbia.com. There are tasty high-end takes on Southern and Creole cuisine. There's an impressively creative cocktail program and, believe it or not, the Main Street bar is buoyed by an unrivaled bourbon selection.
Cantina 76
1301 Main St., 803-764-1769. cantina76.com. Like its sister location on Devine Street, this taqueria offers good tacos and good drink specials, especially at happy hour.
The Grand
1621 Main St., 803-726-2323. thegrandonmain.com. The Grand has a bowling alley. The Grand has a bar. The Grand has food. Welcome to the new Main Street.
Hendrix
1649 Main St., 803-834-5132. This restaurant featuring a white marble bar and rooftop views was recently named one of the top 20 new restaurants in the country by OpenTable. Offers classic cocktails, a wide liquor selection and more.  
Lula Drake
1635 Main St., 803-606-1968. luladrake.com. A smart, cozy bar for people who really love wine and seek out eclectic varieties. Small but great craft beer selection, too. Good eats with a recently expanded menu — homemade pasta, charcuterie and more.
Main Street Public House
1556 Main St., 803-334-3409. mainstreetpublichouse.com. Eat, drink, relax in a leather chair, maybe watch some sports on TV — you know, it's a bar.
Sheraton Rooftop Lounge
1400 Main St., 803-988-1400. With a fine panoramic view of the city, the Sheraton's hip Rooftop Lounge offers a classy clientele, fine libations and desserts.
Sheraton Vault Martini Bar
1400 Main St., 803-988-1400. Nestled within the bank's original safe, the Vault Martini Bar is a hotspot for those seeking sophistication.
The Vino Garage
2501 Main St., 803-834-3392 | thevinogarage.com. Recently reopened a little further up Main, this wine and beer shop also hosts tastings and food trucks.
The War Mouth
1209 Franklin St., 803-569-6144. thewarmouth.com. Though more renowned around town for its profoundly good Southern cooking, this Cottontown hangout's cocktail program is among the best in the city. Late-night menu bites and daily happy hour specials, too.
The Whig
1200 Main St., 803-931-8852. thewhig.org. The cozy subterranean vibe is great. So are the cheap-taco Tuesdays and well curated pint night on Wednesdays. Still has that rad jukebox.
South Main / USC
Hunter-Gatherer
900 Main St., 803-748-0540. huntergathererbrewery.com. More than the token local brewpub, H-G offers awesome bartenders, scrumptious entrées and an excellent liquor selection. Hosts Thursday jazz night and frequent live music.
Five Points / Shandon
Bar None
620 Harden St., 803-254-3354. Open from happy hour until sunrise, Bar None is the last refuge of the late-night lush and the service industry worker. Try the smoked wings, when they're available.
The Bird Dog
715 Harden St., 803-799-0611. The drinks are served in mason jars. There are mounted deer heads and paintings of hunting dogs. It's a Southern bar, through and through, and people seem to like it.
The Black Market Tavern
2303 Devine St., 803-708-3712. Cocktail-oriented hideaway just up Devine Street from the heart of Five Points.
Breakers
801 Harden St., 803-771-6360. breakersbarandgrill.com. Outdoor patio offers an ideal Five Points people-watching spot. The adjoining Breakers Live hosts bands on the weekends.
Cantina 76
2901 Devine St., 803-708-6004. cantina76.com. Draws everyone from singles at the bar to couples and families, all of whom come for the Tex-Mex cuisine — and some of whom also go for the excellent margaritas, made in all shapes, flavors and sizes with top-shelf tequilas.
CJ's
749 Saluda Ave., 803-748-8694. Its retractable exterior wall opens to reveal the Five Points fountain plaza, making CJ's a great spot for taking in this colorful corner of Columbia.
The Cotton Gin
632 Harden St. In the space once occupied by Red Hot Tomatoes, another college-oriented bar resides.
Craft and Draft
2706 Devine St., 803-764-2575. craftanddraftbeer.com. Craft beer is booming, and Craft and Draft is on it. Grab a six-pack, pick up a growler or take a seat at the bar.
Goat's
2017 Devine St., 803-708-4495. goats2.com. An expansive, affordable cocktail list is paired with wine and beer in an eclectic space. The food menu spans baked quail to Philly cheesesteak.
Henry's
2865 Devine St., 803-708-4705. henrysgrillandbar.com. Henry's champions the traditional neighborhood bar — and, equally importantly, brings terrific bar food. Comfortable and classy.
The Hookah Spot
617 Harden St., 803-661-8337. hookahsnobs.com. Grab a couch, sidle up to a hookah and get your smoke on.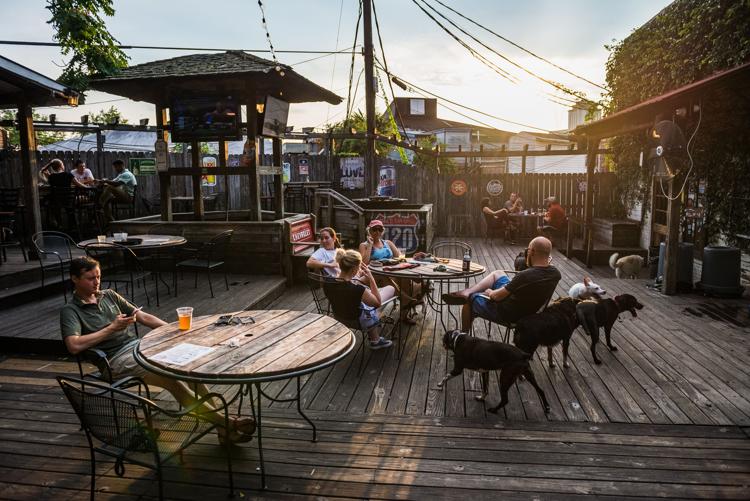 Jake's
2112 Devine St., 803-708-4788. jakesofcolumbia.com. Friendly Five Points institution with craft beer, live music, televised sports, multiple bar stations, spacious patio, and locally sourced food. Your dogs are very welcome here and a "dog whisperer" keeps things friendly among the four-legged friends.
Lucky's
2100 Devine St., 803-929-1118. This spot on the namesake corner of Five Points has the college bar basics down pat.
Moosehead Saloon
2020 Devine St., 803-708-4984. A rock 'n' roll country bar.
Nightcaps
2722 Devine St., 803-771-6575. An out-of-the-way place with respect to Five Points, Nightcaps has a pool table, a big-screen television, comfy lounge chairs and a good late-night atmosphere. A popular haven for those not ready to let the night end.
Pavlov's
2000-B Greene St. pavlovsofcolumbia.com. Tucked behind the Salty Nut, Pavlov's is a long-time stomping ground of college revelers and serves as hallowed ground for many in the fraternity and sorority circles. If you think "Sluts Love Pavs" coozies are clever, you'll love this place.
Pawleys Front Porch
827 Harden St., 803-771-8001. pawleysfrontporch.com. Primarily known for its behemoth specialty burgers, but it also caters to a late-night crowd on weekends. Especially good for game days, as it shows football games on its huge screen on its even huger deck.
Pinch
640 Harden St., 803-816-1604. facebook.com/pinch.columbia. Pinch offers Vista atmosphere at Five Points prices. On-tap beers are rotated frequently, and frequently feature high-class offerings.
Publick House
2307 Devine St., 803-256-2207. facebook.com/PublickHouseColumbiaSC. Exceptional beer selection, challenging trivia, hip music selection, über-friendly staff, good burgers and the best raw fries around.
Publico Kitchen & Tap
2013 Greene St., 803-661-9043. publicokitchenandtap.com. A diverse array of gourmet tacos highlights the food menu at this hip hangout that also boasts an expansive tap selection.
Rooftop Bar
638 Harden St. twitter.com/RoofTop5pts. Located above Pinch on Harden St.
Salty Nut Cafe
2000 Greene St., 803-256-4611. saltynut.com. Varied menu includes everything from hearty salads to tasty cheeseburgers. Comfortable setting … so comfortable, in fact, that you can throw your peanut shells on the floor.
Taneyhill's Group Therapy
2107 Greene St., 803-256-1203. Columbia's quintessential college bar, with cheap drinks, loud music and an outdoor oasis to escape the crowd — now owned by former USC quarterback Steve Taneyhill.
The Thirsty Parrot
734 Harden St., 803-708-4768. College bar with a breezy theme.
Village Idiot
2009 Devine St., 803-252-8646. villageidiotpizza.com. Columbia's quintessential college-town pizza joint in a pub atmosphere. Enjoy delicious fare, cold beer, wallet-friendly weekly specials and a heaping helping of revelry. Serving New York-style pizza since 1990.
The White Mule
711 Saluda Ave., 803-708-5908. whitemulemusic.com. Beloved former Main Street music pub and eatery is reborn in Five Points, looking to balance intimate listening room experiences with louder, rowdier rock shows.
Yesterdays Restaurant and Tavern
2030 Devine St., 803-799-0196. yesterdayssc.com. Good food, above-average beer and liquor selection. Bar in the back has its own entrance on Devine Street. A veritable Columbia landmark since 1978.
Rosewood / Olympia
Cock N Bull Pub
326 S. Edisto Ave., 803-251-4474. thecocknbullpub.net. As British as you'll get in Rosewood. Popular and laid-back, this neighborhood favorite has a small but stellar beer menu, and lots of soccer on TV.
Foxfield Bar and Grille
406 Howard St., 803-728-0420. facebook.com/foxfieldbar. Cozy Rosewood neighborhood spot offers a reliable selection of beers and spirits at affordable prices, plus frequent live music.
Rockaway Athletic Club
2719 Rosewood Dr., 803-256-1075. facebook.com/rockawayathleticclub. Exquisite burgers, low-key atmosphere and a nice, amply stocked bar. Plus, lots of sports on TV and a corner nook with arcade games.
The Vista
The Aristocrat
1001 Washington St., 803-708-8004. Set in an exposed stone and brick building, the bar is focused on well-crafted cocktails. Frequent jazz nights take place here, away from the bustle at the heart of the Vista  Good eats, too.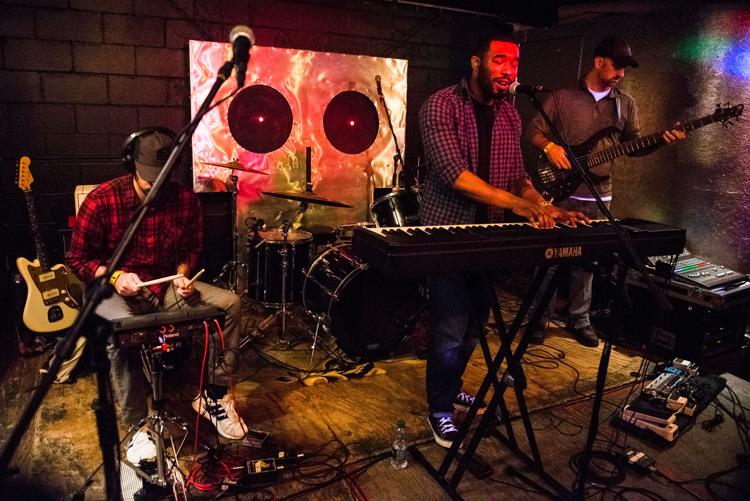 Art Bar
1211 Park St., 803-929-0198. artbarsc.com. Art Bar's been around for more than 20 years now, but it still hasn't grown up: It's still the same eclectic, non-corporate nightspot it's always been. Cool but never pretentious. Now serving bar food.
Capital Club
1002 Gervais St., 803-256-6464. capitalclubsc.com. The oldest gay bar in the state is a private club that's also welcoming to people of other stripes.
Carolina Ale House
708 Lady St., 803-227-7150. carolinaalehouse.com. Southeastern grille-and-grog chain offers good eats, a good beer selection and plenty of televised sports. Features the Vista's hottest rooftop bar and plenty of fun drink specials.
Carolina Western Pub
920 Lady St., 803-401-5379. carolinawesternpub.com. Country bar in the Vista promises "great food, great drinks, great times," and hosts frequent live music.
Coa Agaveria y Cocina
823-A Lady St., 803-851-5965. Tucked under the hip Aloft Hotel, this tequila bar has a lovely cocktail menu to match the Latin-influenced fare.
Gervais & Vine
620A Gervais St., 803-799-8463. gervine.com. Solid wine selection, tapas menu and a cozy, classy vibe deep in the Vista.
Hickory Tavern
907 Senate St., 803-765-9280. thehickorytavern.com. Burgers, wings, sandwiches and other basic sports bar fare, along with some seafood favorites, all matched with an expansive beer selection and available to enjoy on a lovely deck.
Kaminsky's
930 Gervais St., 803-550-9979. kaminskys.com. Popular Charleston dessert bar has a spot in Columbia complete with multiple sweet martinis, alcoholic milkshakes and coffee drinks — all available late into the night.
Liberty Tap Room
828 Gervais St., 803-461-4677. libertytaproom.com. Whether you're after a nice meal or just a tasty drink, you'll find much to enjoy here considering the much-acclaimed menu and massive beer list.
The Oyster Bar
1123 Park St., 803-799-4484. oysterbarcolumbia.com. Serves fresh Gulf oysters — steamed or raw — in a dressed-down atmosphere. Best of all: They shuck, you eat. Also serves up steamed shrimp and scallops.
Pearlz
936 Gervais St., 803-661-7741. pearlzoysterbar.com. Pearlz specializes in oysters, but its hip ambience and signature martinis also make it a hotspot for Columbia's young, urban professional crowd.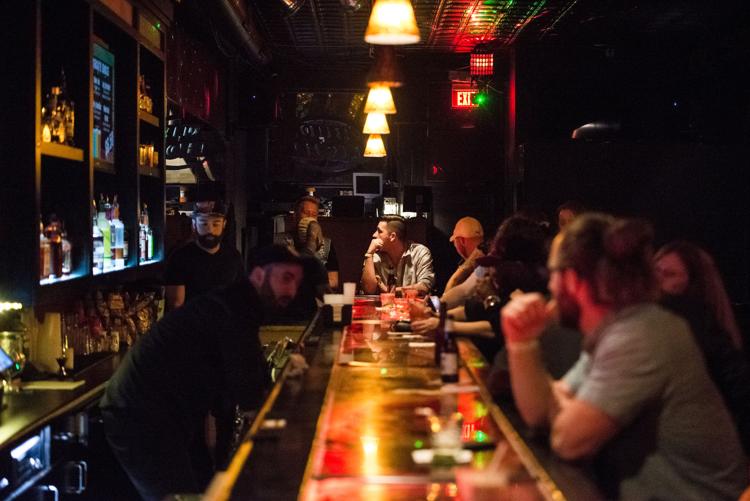 PT's 1109
1109 Assembly St., 803-253-8900. Fun, low-key gay bar hosts frequent drag shows.
SakiTumi
807 Gervais St., 803-931-0700. sakifresh.com. Don't miss this hip sushi bar just because it's down an alley. Its signature cocktails feature muddled mint leaves, cucumbers, blueberries and more. Four flat-screen TVs, too.
The Senate
1022 State St. thesenatecolumbia.com. Formerly Music Farm Columbia, the city's marquee rock club attracts an impressive selection of country, hip-hop, metal and indie rock.
Social
918 Gervais St., 803-603-4313. socialcolumbiasc.com. A hot Vista night spot, Social gets weird on the weekends, hosting paint parties, ice parties, inflatable wonderland parties, foam parties and all manner of events at which to get turnt.
Thirsty Fellow
621 Gadsden St., 803-799-1311. thirstyfellow.com. Super-popular spot serving up eclectic, delicious pizzas (and much more) and offering a full bar.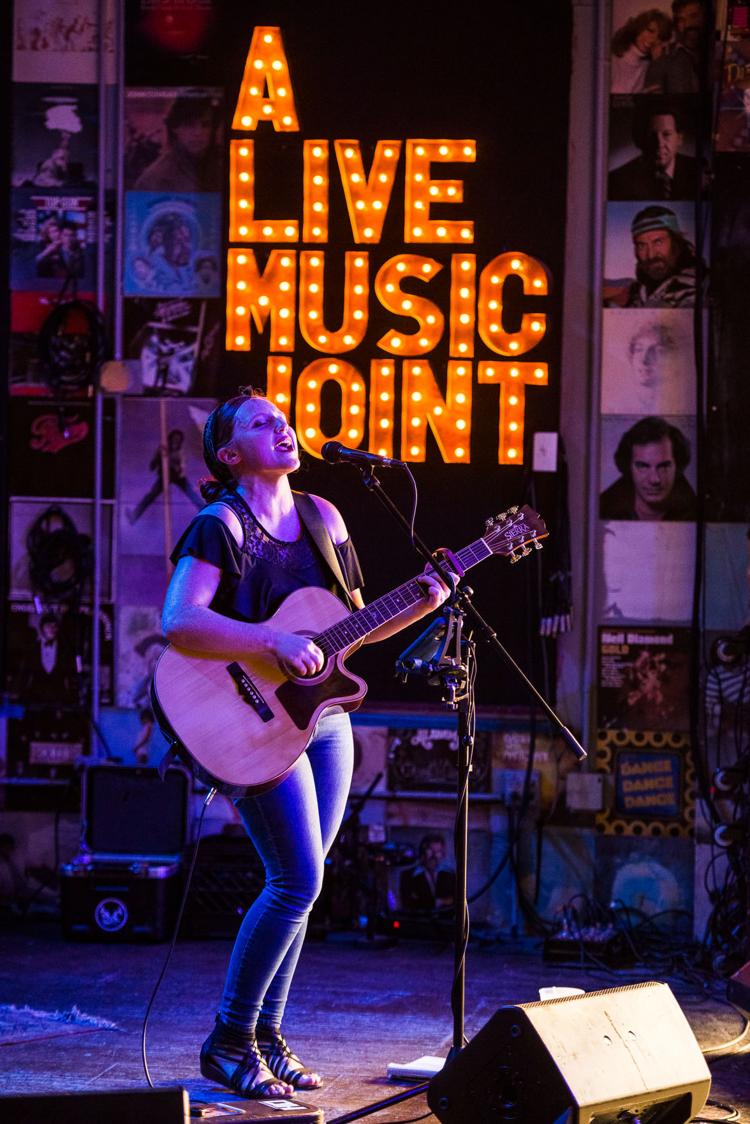 Tin Roof
1022 Senate St., 803-771-1558. tinroofcolumbia.com. A favorite bar for everyone from USC students to young professionals. Its calling cards: live music, good food and a laid-back atmosphere. Open for lunch, happy hour, dinner and into the night.
Tsunami
700-C Gervais St., 803-312-9911. tsunamicompany.com. Tsunami's elegant, contemporary atmosphere and ample seating area complement its extensive sake, wine and beer selection.
Twin Peaks
600 Gervais St., 803-602-3667. twinpeaksrestaurant.com. Kinda like Hooters, but with a different double-entendre-based name.
Uncle Fester's
522 Devine St., 803-748-9897. While most of the Soda City's bars are closing up shop on Sunday morning, this watering hole between Palmetto Pig and Todd & Moore keeps the party going. Always packed with a diverse clientele.
Uncle Louie's
1125 Park St., 803-933-9833. Its no-frills, no-nonsense attitude has endeared this unassuming watering hole to a loyal legion of regulars, but there's always room for more.
Vista Union
700 Gervais St., 803-764-6125. vistaunion.com. Sets as its goal to be a "a fun and exciting social gathering spot with quality food and cocktails."
Wet Willie's
800 Gervais St., 803-779-5650. wetwillies.com. Specializes in frozen daiquiris with names ranging from Strawberry and Mango to White Russian, Weak Willie and Shock Treatment.
Wild Wing Cafe
729 Lady St., 803-252-9464. wildwingcafe.com. Sure, Wild Wing Cafe has sandwiches, salads and soup, but the obvious draw is its 33 flavors of wings. If you can't decide on one, get the sampler platter. Also boasts a ton of TVs, a party atmosphere and a steady stream of local and regional rock bands.
World of Beer
902F Gervais St., 803-509-6020, worldofbeer.com. World of Beer offers more than 500 beers, stocking something for aficionados and neophytes alike. Wine, too, plus live music on the weekends. The suds bring the masses in, but the living-room atmosphere keeps 'em coming back.
West Columbia / Vista West
Bill's Music Shop & Pickin' Parlor
710 Meeting St., 803-796-6477. billsmusicshop.com. Instrument store hosts bluegrass jams, Opry-style country jams and occasional concerts featuring top-flight bluegrass and old-timey musicians.
Calloway's Bar & Grill
2410 Augusta Rd., 803-926-1199. callowaysbarandgrill.com. Pool tables, big-screen TVs and food: What more do you want from a sports bar?
Chayz Lounge
607 Meeting St., 803-563-8375. chayzlounge.com. Last year, Chayz Lounge, a smooth jazz outpost, moved out of a shared space and into its own 80-seat venue in West Columbia. A full menu with wings, pasta and more is accompanied by a full bar.
The Comedy Closet
735 Meeting St. thecomedycloset.com. John Gibson of Soda City Stand Up recently opened this cozy club in West Columbia, hosting a variety of local and touring comics.
Henry's
2108 State St., 803-661-8499. henrysgrillandbar.com. Like the Henry's on Devine, this bar offers a cozy combination of traditional bar eats and reliable drinks.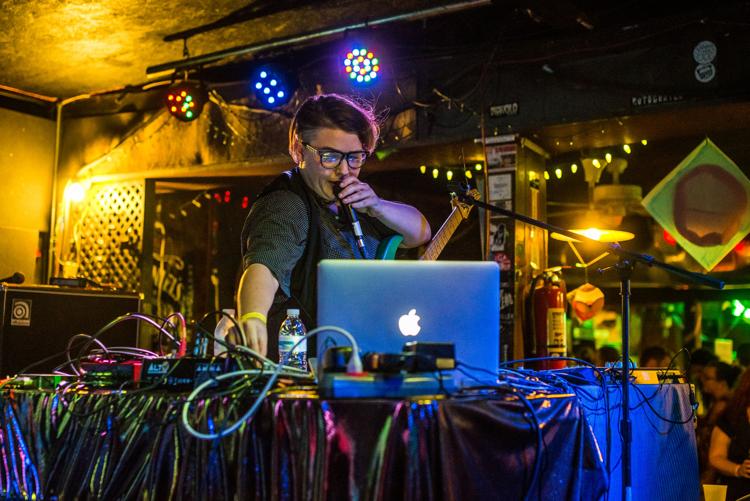 New Brookland Tavern
122 State St., 803-791-4413. newbrooklandtavern.com. New Brookland Tavern is Columbia's most storied rock club, but it's a damn fine bar, too, offering a fine array of specials and a bar stocked with much more than Pabst Blue Ribbon served up by friendly staff.
Platinum West
1995 Old Dunbar Rd., 803-794-6277. theplatinumplus.com. Watch ladies take off their clothes and dance on poles.
Rooster's Den
1215 Augusta Rd., 803-794-8200. A members-only bar, $5 annually, in Triangle City.
Skyline Club
100 Lee St., 803-995-5220. skylineclubsc.com. Resurrected country bar near the airport is trying to bring big-time talent to Lexington County.
State Street Pub
136 State St., 803-796-2006. An across-the-bridge institution, State Street Pub wins its crowd with pool, cheap beer, sports, live music and plenty of charm. Loads of beers on tap. You'll need to be a member, but you should be.
WECO Bottle and Biergarten
626 Meeting St., 803- 851-1279. wecobeer.com. The Whig's sister establishment may be younger, but it's certainly more grown up. A wide selection of taps and bottles are offered in this low-key spot, which will soon boast an expansive outdoor space.
Forest Acres / Dentsville
Ale House Lounge
12 Tommy Circle, 803-771-0161. facebook.com/alehouselounge. An off-the-beaten-path hole-in-the-wall not without its charms.
Comedy House
2768 Decker Blvd., 803-798-9898. comedyhouse.us. Regional and national comedy acts stopping by regularly. Offers a full menu with steak, shrimp, chicken, burgers, sandwiches and appetizers.
The Pizza Joint
3246 Forest Dr., 803-454-1743. thepizzajoint.net. Come for the pizza, stay for the impressive beer selection.
Irmo / Harbison / Dutch Fork / Chapin
The British Bulldog Pub
1220 E10 Bowers Pkwy., 803-227-8918. thebritishbulldogpub.com. A British pub in the middle of Irmo's suburban sprawl? Rad. A dinner menu of traditional U.K. cuisine is augmented with specials on Guinness and Irish whiskeys, but the Bulldog doesn't forget us Yanks, offering basketball (and soccer, too) on big-screen televisions along with craft beer and multiple, cold domestics.
Carolina Ale House
277 Columbiana Dr., 803-407-6996. carolinaalehouse.com. Southeastern chain grille-and-grog offers good eats, a good beer selection and plenty of televised sports.
Copper River Grill
1230 B8 Bower Parkway, 803-749-4647. copperrivergrill.com. Copper River Grill is a destination drinking spot for the entire Irmo/St. Andrews area. A super-large bar area means you'll always have some place to sit, but it still gets crowded the later the night progresses.
Craft and Draft Irmo
7583 St. Andrews Road, 803-708-4331. craftanddraftbeer.com. The popular Devine Street bar and bottle shop opened its large Irmo location in January. The new spot offers up an expanded tap list and maintains the signature green wall. Cider, wine and coffee all on tap, too.
Dave and Buster's
100 Columbiana Circle (Columbiana Mall), 803-576-4806. daveandbusters.com/columbia. Massive arcade for adults — combined with a bar? Why are we not there?
Hemingway's
7467 St. Andrews Rd., 803-749-6020. hemingwaysmusicpub.com. A sports bar, a great restaurant and a nice little music club all rolled into one.
Tsunami
1290 Bower Pkwy., 803-407-3873. tsunamicompany.com. Like its sister Vista location, Tsunami's elegant, contemporary atmosphere and ample seating area complement its extensive sake, wine and beer selection.
Wild Wing Cafe
1150 Bower Pkwy., 803-749-9464. wildwingcafe.com. Sure, Wild Wing Cafe has sandwiches, salads and soup, but the obvious draw is its 33 flavors of wings. If you can't decide on one, get the sampler platter. Also boasts a ton of TVs, a party atmosphere and a steady stream of regional rock bands.
Lexington / Lake Murray
Carolina Wings & Rib House
105 Northpoint Dr., 803-356-6244. carolinawings.com. What can we say about this Midlands institution? They carry a good selection of bottled beers, and the assortment of Buffalo wing flavors is enticing, too.
The Casual Pint
217 Saluda Springs Rd., 803-358-2337. lexingtonsc.thecasualpint.com. Low-key bottle shop and craft beer bar.
Goodfellas Grill & Bar
7608 U.S. 378, 803-951-4663. goodfellasgrillandbar.com. Classic Southern food and a laid-back atmosphere define this Lexington bar.
Keg Cowboy
108 E. Main St., 803-957-2337. keg-cowboy.com. "No crap on tap!" is the motto of this exceptional tasting room and eatery, pairing delicious sandwiches and soups with rotating beer selections that live up to its goal.
Liberty on the Lake
1602 Marina Rd., 803-667-9715. libertytaproom.com/locations/irmo-sc. Offers all the accoutrements of Liberty's downtown drinkery with the added scenery of Lake Murray. Forty-eight beers on tap.
O'Hara's Public House
131 E Main St., 803-785-4025. oharas-publichouse.com. New Irish pub in downtown Lexington offers a wide selection of beer, wine and liquor.
Rusty Anchor
1925 Johnson Marina Rd., 803-749-1555. rustyanchorrestaurant.com. Sliding glass doors opened most of the year offer a great view of Lake Murray. And live entertainment on The Quarterdeck outside jazzes up the summer months.
Schooners
6226 Bush River Rd., 803-661-6138. schoonersbarandgrill.com. On the eastern shores of Lake Murray, Schooners is a simple unassuming bar and grill, offering daily specials, cheap wings, televisions and live music.
Tipsy Toad Tavern
103 Beaufort St., 803-932-4470. thetipsytoad.com. The Tipsy Toad features a good beer selection and Vista-style atmosphere.
Wings 'n' Ale
154 Ellis Ave., 803-359-4475. Specializing in wings, beer and pool, Wings 'n' Ale has an ample supply of all three. If you're looking for a place where the odds of getting a table are better than making a masse shot, this is it. Classic and modern rock flow as freely as the brew. Not your khaki and button-down crowd.
St. Andrews
McCary's Sports Bar
851 Bush River Rd., 803-551-5680. Good selection, good atmosphere.
Wings & Ale
125 Outlet Pointe Blvd., 803-750-1700, wingsandalesc.com. Family atmosphere, live entertainment and wings. Features jukebox, pool tables, sporting events on large-projection TV and many other big-screen TVs. Live entertainment steers toward the classic rock crowd. Never a cover charge.
Northeast Columbia / Camden
Baker's Sports Pub & Grill
7167 Two Notch Rd., 803-419-2381. bakerssportspubsc.com. Outdoor deck, 16 high-definition TVs, and low prices and domestic and imported beer. Yes, it's all about the sports.
Henry's
111 Sparkleberry Crossing, 803-563-5674. henrysgrillandbar.com. As with the other two Henry's locations, a comfortable establishment that offers traditional neighborhood bar staples.
Polliwogs
10005 Two Notch Rd., 803-736-5775. polliwogsc.com. This sports bar offers an attractive selection of viewing and dining possibilities. And if you hate sports, there's always karaoke.
Salud!
1011 Broad St., 803-425-4850. saludmexicankitchen.com. Taqueria and tequila lounge, and the place to catch live jazz in Camden.
Serenity
301 Rice Meadow Way, 803-736-8228. facebook.com/serenityincola. Serenity now! A country-ish restaurant by day and lounge by night.
Solstice Kitchen & Wine Bar
841-4 Sparkleberry Lane, 803-788-6966. solsticekitchen.com. Solstice offers an excellent menu, and it's a great place to relax with a fancy cocktail.
Tsubaki
224 #10 O'Neil Ct., 803-736-7474. facebook.com/TsubakiRestaurantLoungeKaraoke. Love karaoke? You'll love Tsubaki, where the karaoke is as authentically Japanese as next-door Inakaya's sushi.
Venue on Broad
1020 Broad St., Camden. facebook.com/venue.onbroad. This laidback venue is the place to catch live music in Kershaw County, offering everything from singer-songwriters to popular local and regional rock acts.
Wild Wing Cafe
480 Town Center Place, Suite 2, 803-865-3365. wildwingcafe.com. Sure, Wild Wing Cafe has sandwiches, salads and soup, but the obvious draw is its 33 flavors of wings. Also boasts a ton of TVs and bands on the weekend.