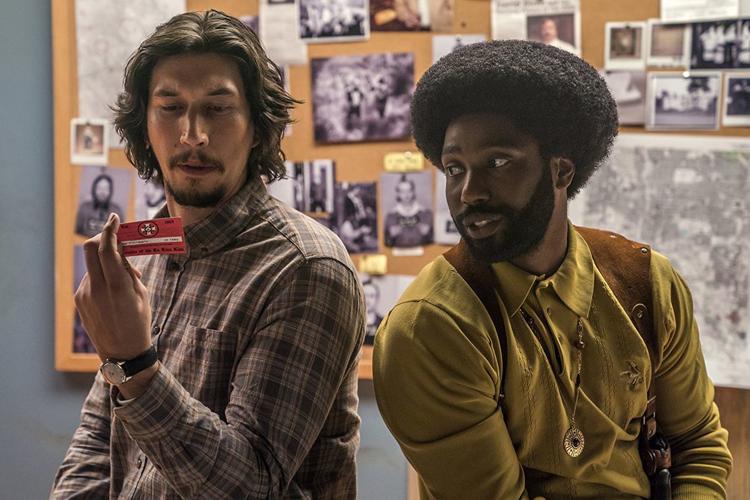 I owe Spike Lee an apology. Lee has been behind (and in front) of the lens for some of my favorite movies of all time — Do the Right Thing, Mo' Better Blues and Malcolm X. Unfortunately for fans and critics alike, his past decade has been less noteworthy, with movies like Da Sweet Blood of Jesus and Chi-Raq. 
All is forgiven now, though, with BlacKkKlansmen. Lee's latest joint isn't just a return to form. It's one of the best works in his decorated filmography. Not only is this the most significant film of the year to this point, it's an unfortunate masterpiece.
Unfortunate in the way that we need life insurance to prepare for an unexpected crisis, and in that regard this movie is less an insurance policy for America and more of a bad news doctor's visit.
Ron Stallworth (John David Washington) applies for a job with the Colorado Springs police department where two men interview him. One white, one black. When Stallworth asks about the racism he'll face by asking if he'll be called "n#!ger," actor (and Spike Lee film regular) Isiah Whitlock Jr. gives an elongated "S#!iiiiiiit" as his affirmative. The audience might not immediately realize the accuracy of that response.
Looking to move out of the file room, Stallworth asks to be an undercover officer. His first assignment is to wear a wire to the Black Student Union event with ex-Black Panther Stokely Carmichael (Corey Hawkins, who played Dr. Dre in Straight Outta Compton). While there, Stallworth meets the head of the BSU, Patrice (Laura Harrier) and is thrown into a conundrum: Can you fix the system while being in it?
He tries to answer that question by calling in to answer a Ku Klux Klan recruitment advertisement. To his surprise, he has a conversation with the president of the local chapter who doesn't realize that Stallworth's black. When asked how he gets away with it by his supervisor, he says, "I speak King's English and jive." It's something all black folks in America understand: We live the experience of shifting between speaking everyday voice and job interview.
Flip Zimmerman (Adam Driver) acts as Stallworth's avatar, a Jewish cop who poses as the Jew-hating, black-hating, and everybody-else-hating man that loves nothing more than non-Jewish, white Americans. 
The joint effort works as Stallworth is able to get on the phone with Imperial Wizard David Duke (played by dead ringer Topher Grace). The actual David Duke expressed his fear that he would be seen as "stupid" in the movie. It's funny that he would worry more about his depiction in a film and less about, you know, being the head of the Ku Klux Klan.
Both undercover men feel the wrath of the infiltration as they are both passing for other races — something that light-skinned black people have done for years, pretend to be white for a better life. 
Things come to a head with both officers fearing blowing their cover to stop a Klan bombing at the BSU. It's nerve-wracking to say the least and is some of Spike Lee's greatest work, along with cinematographer Chayse Irvin and composer Terence Blanchard.
It's no accident that the movie's release lands so close to the one-year anniversary of the 2017 white nationalist protest in Charlottesville, Virginia, that spurred horrific violence and left Heather Heyer dead and the president claiming there was blame on "both sides."
By film's end, I found myself crying (and probably happy I didn't go see it with my white homie). During the drive home, I wondered what caused the water works and it hit me: BlacKkKlansmen is not a period piece about racism. The hatred that we like to think belongs to yesteryear is alive and well. 
Back in 1989, Roger Ebert wrote of Lee in review of Do the Right Thing, "Thoughtless people have accused Lee over the years of being an angry filmmaker. He has much to be angry about." I think we all do.