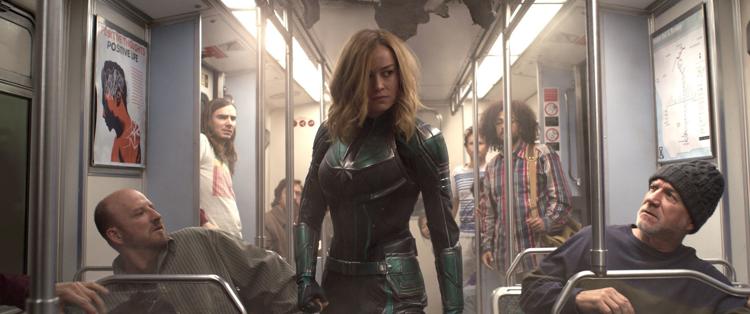 A few weeks ago during Michael Cohen's testimony to Congress, a photo was taken of U.S. Reps. Alexandria Ocasio-Cortez, Ayanna Pressley and Rashida Tlaib as they waited for their turn to question the President Donald Trump's ex-lawyer. The picture instantly became a hit (and my profile pic), and if images could speak it would simply say, "I got next."
This image comes to mind when I look at the release of Captain Marvel, with Oscar winner Brie Larson taking the helm as Carol Danvers. The film's release last week on International Women's Day wasn't an accident, but rather brilliant marketing for a film that is poised to set up the climactic new Avengers movie next month following the much-discussed dust-up of last year's Infinity War, and move the interconnected Marvel Cinematic Universe forward.
And as the franchise's first solo superhero flick helmed by a woman, it has the potential to push the culture as well. During a June speech at the Crystal + Lucy Awards, the leading actress noted that audiences "are not allowed enough chances to read public discourse on these films by the people they were made for," adding, "I do not need a 40-year-old white dude to tell me what didn't work for him about A Wrinkle in Time. It wasn't made for him. I want to know what it meant to women of color, to biracial women, to teen women of color, to teens that are biracial."
She's absolutely right. And as a result of those comments, the movie became more than just a movie in its cinematic universe.
Trolls began to "review bomb" the film on Rotten Tomatoes to kill the rating, and male fanboys began to call the film Marvel's first mediocre offering.
Two things: 1. If you're like me, Rotten Tomatoes ratings mean nothing anymore when it comes to comic book movies. Yes, I knew that Suicide Squad was going to be crap, but I went anyway. 2. For people that act as if this film is the MCU's first mediocre offering, have you not seen the first Thor?
There should be more nuance to this conversation than whether people actually like a movie. Take, for instance, when Wonder Woman was released and theaters were offered women/girls-only screenings for the film. That didn't go over well with some fragile dudes, many hitting social media, their comments chronicled by CNN — "Apparently 'equality' is only selective nowadays. How about a 'men's only' showing of a movie or is that how equality works?"
To answer that guy's question: Yes, having a women's only screening is a step toward what equality looks like. Same way every Friday I brandish the hashtag #BlackBusinessFriday, encouraging my Instagram followers to support a black business. Do I have to go through 'Black Lives Matter' versus 'All Lives Matter' every time I do this?
But back to the movie at hand: It's good. It's not the best Marvel release and not the worst. It was a dope movie with a great lead, and anything with Samuel L. Jackson sporting hair in the '90s is worth the price of admission.
There's a moment in Captain Marvel that puts things in the proper perspective. While trying to figure out her past, Carol Danvers is reunited with her old Air Force compatriot Maria Rambeau (Lashana Lynch), her black best friend with a young daughter. Danvers tries to convince her old buddy to partake in a mission that could be dangerous. After Rambeau refuses because of the risk, her daughter nudges her on saying, "What kind of example do you want to set for your daughter?"
Rambeau doesn't have any super powers, can't make her hands light things on fire and the only way she can fly is in a cockpit. But she goes anyway.
If those moments were important to me, I can't possibly imagine the impact it would have on a young girl watching the film, and that's why we go to the movies. And for the guys that have a hard time with a female hero, I hate to tell you, but come Avengers: Endgame, Captain Marvel is probably going to muff up Thanos and save the day, too. Maybe you should skip it if that's too much..
Let us know what you think: Email editor@free-times.com.