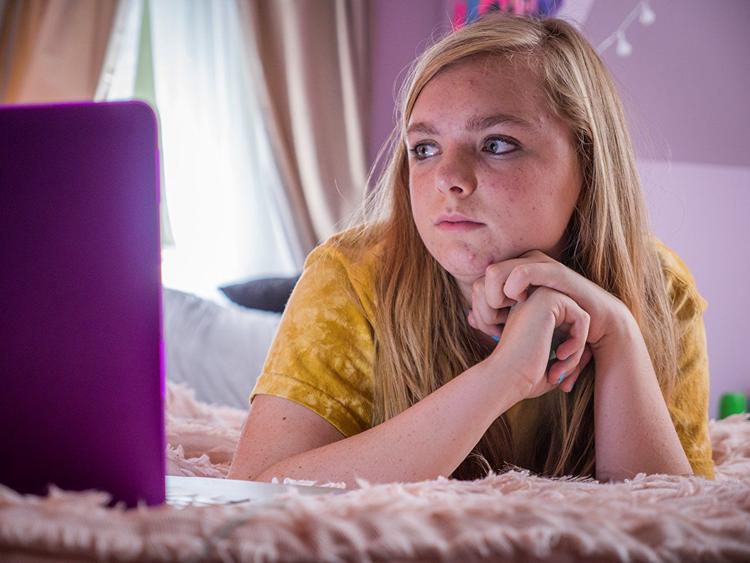 It's been a while since I was in eighth grade, but I remember it as both awkward and unpleasant, as I'm certain it is for the majority of — hey, I don't even remember, 13-year-olds? My oldest son seemed to get through it okay. I'm conscious that it was at least a little rougher for my daughter.
Writer/director Bo Burnham's Eighth Grade focuses on tween girls and not tween boys. It's a welcome entry, as a cursory glance at the history of tween cinema reveals that much of it is more for boys than for girls, dominated by male-bonding films like The Sandlot and Stand By Me. Even films held out as anthems to teenage girls, such as Mean Girls, The Edge of Seventeen, and perennial favorite Clueless, generally concern high school, not middle school. After 1995's Welcome to the Dollhouse, it almost seems you can't make a movie about a tween girl unless it has some demoniac component and/or concerns a princess.
Eighth Grade, which has no supernatural or royal affectations, introduces us to Kayla Day (Elsie Fisher) in the waning days of her last year in middle school, facing an uncertain transition. Raised by her single-parent dad (Josh Hamilton), Kayla is even more socially awkward than most kids her age due to her almost total social isolation. Director Burnham never delves much into why Kayla is such a loner, except possibly in a veiled reference to "when Mom left," instead concentrating on what Kayla she does to relieve her loneliness — dive headlong into social media.
The first fifth of the film is involved primarily with Snapchat and YouTube — for the latter, Kayla films advisory episodes featured on her own channel. Since cyberspace is where Kayla spends the majority of her time, so does the audience, at least for the first act. My initial reaction was, if I wanted to watch a teenage girl plug herself into her phone for an evening, I have one at home, although she's not yet been assimilated as totally as is Kayla, nor does as large a ratio of her vocabulary consist of the terms "you know," "totally" and "like."
Fortunately for Kayla, she forces herself out of her online cocoon, actually seeking primary experiences such as attending the birthday party of a popular classmate, and befriending — in real life, not on Facebook — a high school girl who was Kayla's mentor on "shadow day," in which middle schoolers spend time learning about the differences between middle and high school. But putting herself "out there" exposes Kayla to some sexual harassment from an older boy, in the film's most uncomfortable scene.
Burnham's film fills a void conspicuously unpopulated by entries for this tween demographic, but is also content to meander about with no real plot. Eighth Grade isn't a narrative with events propelling the film toward a conclusion, but a snapshot of Kayla and her thoughts at a particularly formative moment in her life. Thankfully, the youthful Fisher is up to the scrutiny, possessing perfect comic timing, with Hamilton, as her dad, delivering possibly the film's most poignant moment — or maybe, as a dad, I just relate to him more. The backyard scene they share is certainly one of the best of the year so far..
The rejection of narrative plot also means that Eighth Grade depends far less on contrivance and artificiality than other tween girl vehicles, with no penultimate prom, talent show or wild graduation party determining the flow of the film. Rather, Burnham embraces the serendipitous verisimilitude encountered in real life. I also appreciate his audio design, in which the use of music is what I would characterize as both pervasive and insistent, but which doesn't employ the typical contemporary pop tunes one might expect. In fact, the longest musical interlude employs a song from the '80s, one which a lot of tweens today probably don't even know. But that's okay — in 20 years, my daughter will be a grown mom with her own tween, wondering at how the kid can possibly not know who Panic! At the Disco was.