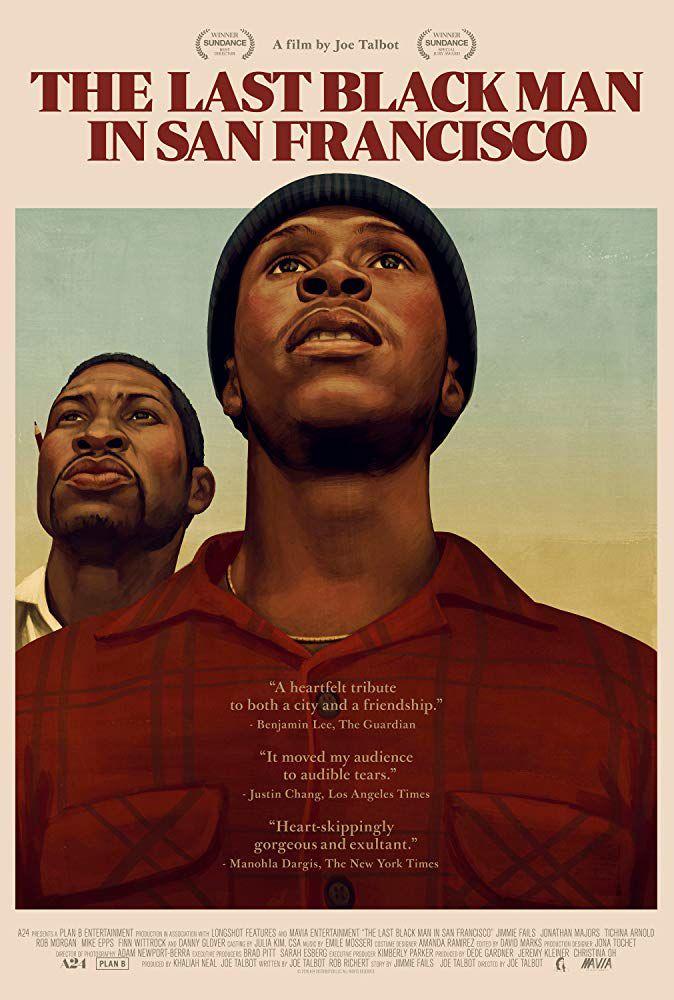 A friend recently asked me what I love most about my family. Without any thought, my response was simply that they're mine. Regardless of the stress, and the way every beautiful moment precurses another pitfall, that sense of belonging is worth everything to me.
The magnificent The Last Black Man in San Francisco, written by and starring Jimmie Falls, embodies this idea — and then some.
The first five minutes of the film are wonderfully shot, with a young balck girl looking up at something while sucking on a lollipop. When the camera pulls out, we see a man in a hazmat suit, and a city covered in a mist of pollution. As the school girl skips, we hear a preacher on a milk crate rightfully incensed by the scene. He gives his sermon to only two people: best friends Jimmie (Falls) and Montgomery (Jonathan Majors).
After listening for a few moments, Jimmie suggests, "Let's skate," and the two roam around the city set to the preacher's voiceover narration. It's one of the greatest opening moments of a film in recent memory, a hauntingly beautiful view of a place going through an identity shift. Director Joe Talbot and cinematographer Adam Newport-Berra know just how to treat this material.
Like the visuals, the acting is top-notch. Jimmie, an avid skater who works part-time at a hospice facility, has struggled with homelessness in the past. The eccentric Montgomery, a sandals-and-blazer-wearing playwright (his get-up typically gets him teased by the young black men on the corner), hooks Jimmie up with a place to crash: the home of his blind grandfather (Danny Glover).
In between their jobs, they sneak to a home in the Fillmore District, a place Jimmie says his own grandfather built with his bare hands in 1946. Jimmie has so much pride that even though his father frittered away the money to take care of the home, he still returns to do upkeep. While painting the window panes, the new homeowners, a white couple, throw croissants and tomatoes to stop him from improving the house.
Jimmie and Montgomery run away, vowing to come back to do more maintenance. Returning later, they realize the house is essentially empty as the relatives of the deceased owner argue over it in the courts. They're told it could take years to settle by a real estate agent they visit for information.
It's the perfect time for the two to grab Jimmie's grandfather's stuff from his aunt who's been storing it and squat in the house. The home is beautiful, and for a black man to possess such a property in the 1940s was enough to earn his grandfather a popular title — "the first black man in San Francisco."
The two friends do everything in their power to stay in the home. At one point, Jimmie, utterly unqualified for a bank loan for a home with a $4 million price tag, pleads with a loan officer.
To say the film is about gentrification is short-sighted. It's about the power of an incredible friendship. It's about curing toxic masculinity — or at least reducing it enough to function. It's about black people in American trying to preserve their history.
At one point in the film, a character named Bobby (Mike Epps) comes close to crystalizing the central theme, telling a white man, "White folks will be in a house and not know somebody was shot and killed in the kitchen."
But perhaps the most telling moment comes when Jimmie listens to two young white girls on the bus complain about the areas that are now renovated places but may have had a darker past. Jimmie interrupts and says, "You can't hate this city unless you love it."
Your city becomes your family, and it's yours. The Last Black Man in San Francisco is a perfect evocation of this feeling of loving where you live, but also insisting that people acknowledge all of its aspects, the good and the bad and the difficult-to-talk-about.
The film will and should be an Oscar favorite, deserving of serious consideration for Best Original Screenplay, Best Director, and a Best Supporting Actor statue for Majors. Go see it now while it's still on the big screen.