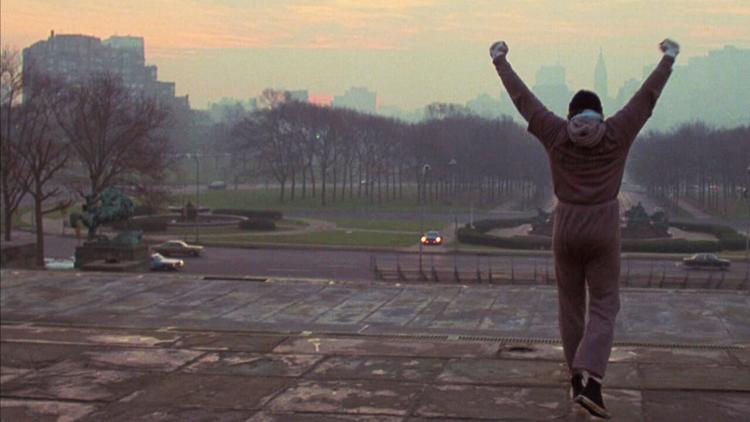 The Rocky film series has gone the distance, and then some.
What's perhaps most remarkable about Sylvester Stallone's stubbornly durable movie universe tethered by fictional Philadelphia prize fighter Rocky Balboa is that it has survived through seven films — with an eighth, Creed II, opening Wednesday, Nov. 21 — across 42 years despite the fact that the series has undulated wildly in quality and tone through the decades.
It's a series that has seen the loftiest critical highs — 1976's Rocky won the Academy Award for Best Picture; 39 years later, Stallone was nominated by the Academy for Best Supporting Actor for his work in 2015's Creed. 
And yet, while there have been films in the series with enough weight to be considered for Oscars, there have been other entries that — despite being wildly popular — bordered on being live-action cartoons. We're looking right at you, Rocky IV, with your talking robot that fetches beers for Balboa's ever-present brother-in-law Paulie. (Yes, that's actually a thing that happens in Rocky IV.)
With Creed II, which finds red-hot actor Michael B. Jordan returning as Adonis Creed, son of Rocky's late rival and friend Apollo Creed, hitting screens nationwide, now seems as good a time as any to offer you the definitive ranking of the films in the 42-year-old Rocky universe. Because there can be no greater authority on such things than a free alt-weekly in Columbia.
1. Rocky (1976) — Of course. The original Rocky is not only the best film in this long series, but one of the finest motion pictures of the 20th century. Far from the bombast that would later mark the films in the middle of the series, Rocky remains a simple, elegant underdog story, one that features a remarkable turn from Stallone as the titular longshot boxer. It also features a heartfelt performance from Talia Shire as Rocky's love interest, Adrian. (Shire is wildly unappreciated in these films.) And then there's Carl Weathers in the defining role of his career as Apollo Creed, a sort of Muhammad Ali-meets-Sugar Ray Leonard boxing champion the likes of which we don't see anymore. Throw in composer Bill Conti's sometimes heartbreaking, often rousing score and you've got yourself an all-timer.
2. Creed (2015) — This spinoff could have been disastrous if handled incorrectly. Instead, director Ryan Coogler (Fruitvale Station, Black Panther) delivered a picture that embodied the fighting spirit of the original while at the same time infusing the series with a much needed contemporary flourish. Jordan is outstanding as Adonis Creed, a character who is at once dogged by the fame and legacy of his late father and consumed by the desire to follow in his footsteps. Tessa Thompson shines as Bianca, a singer (who is losing her hearing) that falls for Adonis. And Stallone shows that old man Rocky might be the best Rocky of all.
3. Rocky Balboa (2006) — This was a comeback film, in more ways than one. It was the first Rocky movie in 16 years, following 1990's insipid Rocky V. And, for Stallone, who had been flailing in the preceding years (see: 2003's Spy Kids 3: Game Over) this return to his signature character kicked off a late-career renaissance. While the in-ring premise was admittedly something of an eye-roller — Stallone was 60 at the time, and Rocky fights a character played by real-life boxer Antonio Tarver, who was 38 — the drama outside the ring has a bittersweet quality that feels particularly authentic.
 4. Rocky III (1982) — OK, here's where things start getting silly. If anything, this one is clearly the most glaring "Hey, it's the 1980s!" entry in the saga, complete with an opening battle between Rocky and a pro wrestler named Thunderlips played by Hulk Hogan (I tried to tell you this one got silly) and a pair of bouts between Balboa and Clubber Lang, portrayed by the one and only Mr. T. His performance as the villainous Lang is about as subtle as blowtorch in a fireworks store, but if you are a certain kind of person (I am that kind of person) it totally works.
5. Rocky IV (1985) — There are three things that you need to know about this film: 1. It came at the absolute height of Stallone's fame, and there was no one telling him, "No," on anything here. 2. The film features the aforementioned beer-fetching, talking robot — really, this was real — which Paulie (the great Burt Young) refers to as his "girl." 3. After a boxing match in Russia, Rocky gives a speech that ends the Cold War. All of this adds up to the realization that you should go watch this movie right now and send me a Groucho's gift card for Christmas for telling you about it.
6. Rocky II (1979) — Some may be surprised to find this one so low on the list. While it's certainly a more serious film than the third or fourth entries in the series, I've always found it to be a sort-of rehash of the original, granted with a bit more polish and a more triumphant ending. Put it this way: If I'm pulling a movie from the Rocky universe off the DVD/Blu-ray shelf to watch, it's never Rocky II.
7. Rocky V (1990) — Ass.