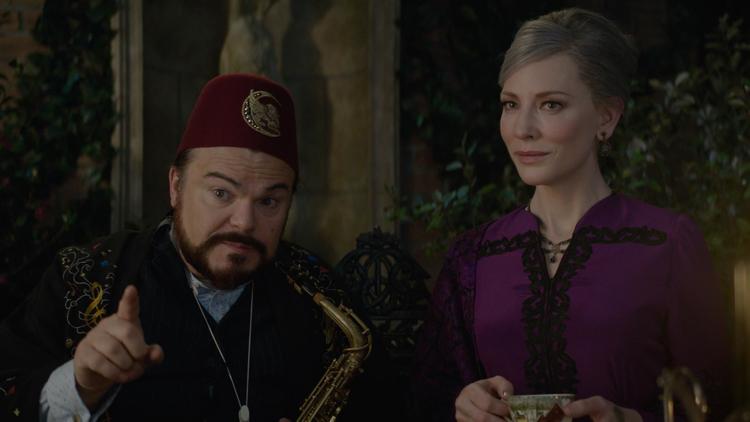 Sometimes, change is good. Other times, it is necessary.
In the case of director Eli Roth, his most recent cinematic effort is a bit of both.
Those who have followed the horror filmmaker's career know it has been one of promise. But it's promise upon which he's never fully delivered.
Roth resoundingly announced himself to horror audiences with 2003's Cabin Fever, a film that nicely set up what would be the director's formula for the next decade. It was, relative to its cost, a commercial hit, grossing $30 million worldwide on a miniscule $1.5 million budget. Meanwhile, it was everything the lion's share of Roth's films have gone on to be: blood soaked and foul mouthed, with a decided mean streak.
It's that mean streak that has seemed to mostly define Roth in the years that followed. He is the director perhaps most closely associated with the torture porn subgenre of horror that was all the rage in the first decade of the 21st century. While the inexplicably popular Saw series is probably torture porn's best-known series from that time period, Roth certainly made an impression with 2006's Hostel and its 2007 sequel. As mainstream wide releases go, the Hostel films were decidedly grim, and wildly gory. 
It should probably be noted that a shorter effort in 2007 — a rollicking trailer for a fake slasher movie called Thanksgiving that was attached to Quentin Tarantino and Robert Rodriguez's high-concept double feature dud Grindhouse — gave a bit of a hint that Roth might be willing to mix in a little fun every once in a while.
The early part of this decade saw much of the same from the director, and his 2013 college-spring-breakers-stumble-onto-a-cannibalistic-tribe opus The Green Inferno missed the mark with audiences and critics alike. It grossed a total of just $7 million, and led Entertainment Weekly's Chris Nashawaty to note, "The Green Inferno is less a riff on spaghetti splatter flicks like Cannibal Holocaust than a desperate-to-shock pastiche of guts and gore served with a wink to audiences with strong stomachs."
And so it seemed that, aside from the occasional deviation (like his remake from earlier this year of the revenge actioner Death Wish), you could be pretty well assured of what you were getting into when you sat down to watch an Eli Roth movie. Intentional or not, he got buttonholed into particularly gory fare.
Which is why I was somewhat surprised to see him behind the camera for The House With a Clock in Its Walls, the latest from Universal and Steven Spielberg's Amblin Entertainment. Based on the 1973 children's horror novel of the same name from author John Bellairs, House With a Clock topped the box office with $26 million last weekend.
Set in the 1950s, the film is about an orphaned boy named Lewis (Owen Vaccaro) who goes to live with his uncle, only it turns out that the uncle (Jack Black) is a warlock who lives in an enchanted house and is in the midst of trying to find the titular, mystical clock in the walls in an effort to thwart an evil spirit who wants to bring about the end of the world.
Yes, Eli Roth has made a family movie. And, for the most part, he nails it.
Part of House With a Clock's charm comes from the cast. Black was the perfect choice for Uncle Jonathan, the impish, mischievous character he plays here, and Cate Blanchett unsurprisingly shines as Florence Zimmerman, a witch who lives next door and who's also Uncle Jonathan's partner-in-magic. 
But the film chiefly works because Roth knows just where to push the right buttons. As it turns out, this is a real, live Amblin movie, one that hearkens back to the studio's '80s hits — Gremlins is a good example — that mixed family sensibilities with real scares. There's some stuff that will make your kids legitimately uncomfortable in this one. I don't know whether it's chutzpah or just bad taste, but there are a couple of scenes (which I won't spoil here) that only Eli Roth would try to slip into a PG film. 
It's intriguing to see a director who became so closely associated with one particular vein of horror suddenly pivot to something quite a bit different. But in delivering the goods with The House With a Clock in Its Walls, Roth has given a jolt to a filmography that had grown stale. For the first time in a while, I'm interested to see what he might take on next.