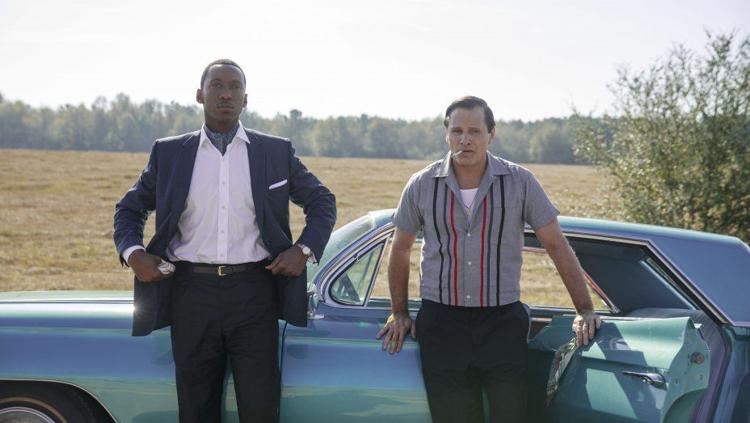 Viggo Mortensen has enjoyed a varied career, but will always be remembered, at least by my kids' generation, as Aragorn in the Lord of the Rings trilogy. But his role in director Peter Farrelly's Green Book — Farrelly's first film not co-directed with brother Bobby — is now the first one I think of when I hear the actor's name.
Mortensen plays Tony Vallelonga, a denizen of the Bronx who works as a bouncer at the famed Copacabana during its heyday in 1962. In another movie, Tony, monikered as "Tony Lip," might have been low-level muscle for somebody like Tony Soprano. In Green Book, he's a blue-collar working guy just trying to provide for his family. When the Copa closes for 60 days for repairs, Tony takes a temporary job as a tour driver for renowned pianist Don Shirley (Mahershala Ali), a cultured and reserved genius as insufferably disdainful of Tony's lack of education as Tony is dismissive of African-Americans. They're both bigots. If you suspect that the rest of the film is this odd couple bickering as they travel from venue to venue, learning to be best friends in a sort of reverse Driving Miss Daisy, you're not wrong.
But most of Shirley's musical tour is in the Deep South. He and Tony can't stay in the same hotel or eat in the same restaurant. Nightly, Shirley gives virtuoso piano performances for people he's a thousand times more talented and educated than. This irony doesn't escape Tony. Nor does the fact that sometimes only Tony's streetwise grit can get them out of a situation escape Shirley.
Green Book is a sorta kinda true story — "based on a true friendship," the marketing advertises. In Hollywood, that can mean a lot of things.
Most surviving relations and friends agree that the film is largely factual, with dissent coming mainly from Shirley's extended family over the musician's estrangement from his own African-American heritage. This is exemplified when Tony is astonished to learn that not only does Shirley not love fried chicken, as Tony presumes all African-Americans must, but that he has never actually even eaten fried chicken, which seems to be hotly contested by people who knew Shirley.
I respect historical verisimilitude, often gleefully citing where Hollywood got it wrong —  if the inaccuracy substantively alters historical reality. The example I like to give is George C. Scott's opening speech in 1970's biographical Patton. Did Ol' Blood n' Guts really say all those outrageous things? Well, yes, but he said them over a career, not in a single speech. As a filmmaker — or even simply as a member of an audience — would I have wanted that speech cut out because its collapsed chronology violated historical accuracy? Of course not. Sometimes the essence of a situation or personality can be better communicated by a slight deviation from fact, and it'll be up to the audience to decide the significance, if any, of the fried chicken debate, or that Shirley's tour actually spanned several months, not just the crucial 60 days before Christmas.
It's historical fact that "Doc Shirley" indeed lived in an apartment above Carnegie Hall, that there was once a "Green Book" of Southern hotels where African-Americans were admitted, and that two men from widely different backgrounds became friends, and that's Farrelly's main concern. 
Green Book offers Mortensen a role unlike any I've seen him play, one as Oscar-worthy as Ali's aloof performance as Shirley. I could even see Linda Cardellini, as Tony's wife, nominated for Best Supporting Actress, as she deftly nabs the last scene, which, at the risk of being spoilery, is heartwarming in its Christmasness. I might not have suspected that Farrelly, co-director of raucous comedies such as Dumb and Dumber, could have pulled off such a delicate film, but he does it masterfully without being overtly manipulative.