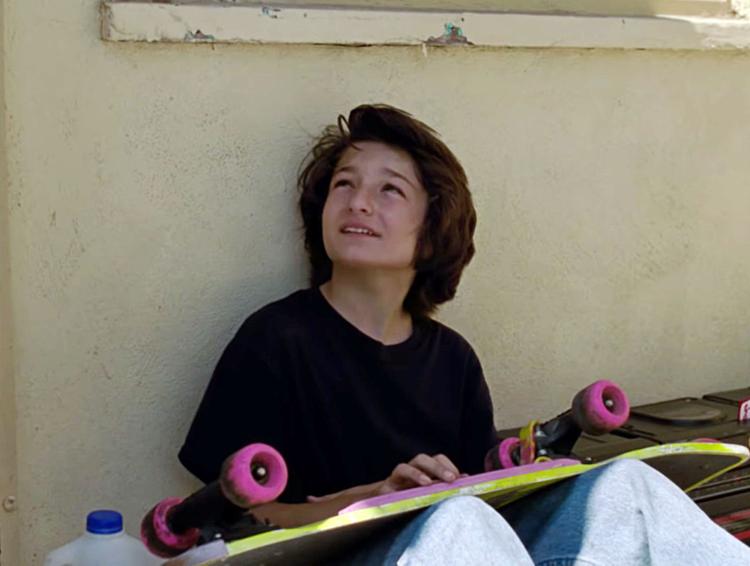 In the AMC's series Mad Men, head ad man Donald Draper tells a room full of clients, "Nostalgia is delicate, but potent. ... In Greek it literally means 'the pain from an old wound.'" 
Not sure if Jonah Hill ever saw that episode, but his directorial debut Mid90s affirms Draper's logic.
The film, which Hill also wrote, begins in silence with the camera panning a hallway of a modest Los Angeles home. Our leading man, 13-year-old Stevie (played by the impressive Sunny Suljic), is violently thrown against the wall by Ian (played by Three Billboards Outside Ebbing, Missouri's Lucas Hedges), his bully of an older brother. Ian beats him and tells him to stay out of his room.
Of course, Stevie doesn't listen, running back into the room as his older brother leaves the home. The room looks similar to that of many a teen who loved hip-hop in the '90s. A poster of Mobb Deep hangs on the wall, various copies of The Source are stacked neatly in the corner alongside an array of CDs from Gangstarr to A Tribe Called Quest. The fear of getting beaten isn't enough to keep Stevie from exploring this tantalizing new world.
Stevie takes quite a beating the entire movie, both figuratively and literally, choosing many times over to go for more. He finds his way into the world of skateboarding, where the more scars you acquire, the more social currency you accumulate.
Stevie's older brother wants nothing to do with him. His single mother struggles to care for her growing boys and look for love. All this leaves our protagonist searching for anybody that who might welcome and pay attention to him.
Enter the crew of skaters with names like Ray, F#!ks#!t, Ruben and Fourth Grade, who hang around an area skate shop. When Stevie shows his value by willingly being the low guy on the totem pole and running errands for the gang, he's quickly accepted.
In an attempt to maintain authenticity, Hill, shooting on 16mm film, decides to be ultra time-specific. He opts to use real skaters with zero acting experience (which really does help the movie, bringing realism much in the same way as the children used in City of God). 
The more controversial bid for authenticity comes in the language used by the characters. The film is filled with N-bombs, F-bombs and tons of content that some may find problematic in this era of extreme social consciousness surrounding popular culture. 
It doesn't bother me. I was same age as these kids in 1996, and I know this is what was going on. Hill does a great job of showcasing the ugly aspects of this culture without glorifying them.
Indeed, Stevie comes to realize the guys he worships are on the road to nowhere. As the elder statesmen in the crew, Ray tells him that once you look at other people's lives closely, "You wouldn't trade their s#!t for your s#!t." He postulates that the best medicine for these times is to skate. 
In all honesty, it's hard for me to remain objective about Mid90s. It encompasses so many things that I loved from an era when I was at my most impressionable. It's no surprise that skateboard culture and hip-hop go well together. Both are subcultures that were and are criminally misunderstood, but those involved in them wouldn't trade it for the world. 
Still, despite my personal attachment to the content, there were quite a few holes. Stevie's mom and brother could have used more fully rounded arcs, and the ending put a bit too convenient a bow on a story that was anything but convenient. 
But seeing Stevie, after suffering so much throughout the film, realize he has a family — no matter how dysfunctional — you can't help but be happy for him.