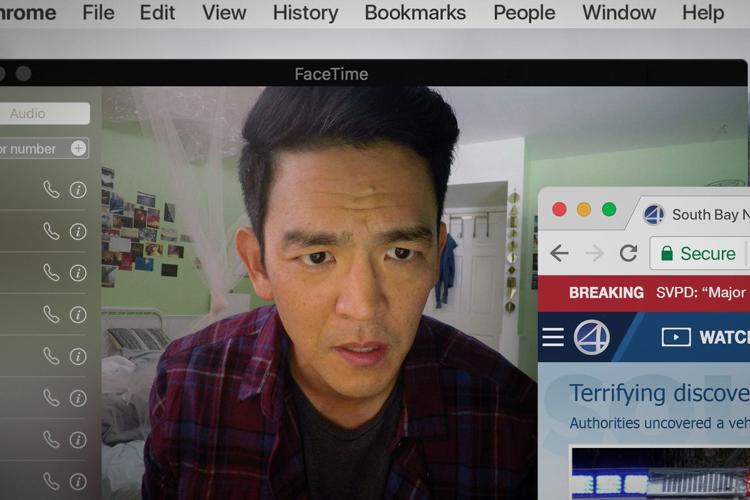 Sometimes simple plots are the most emotionally hard-hitting, and nothing could be simpler — some might say primal — than a single father confronting the disappearance of his 16-year-old daughter.
Dad David Kim (John Cho) doesn't react much at first when daughter Margot (Michelle La) isn't home by the time he turns in. After all, she already said she might be gone very late to her high school study group. When she hasn't returned by morning, David panics, as any parent would. He hacks into Margot's laptop, accessing all her social media platforms, hoping to find clues that may help the police locate the missing teen — and, along the way, discovers certain anomalies about Margot's behavior which reveal a different person than he believed he knew. Maybe the story isn't as simple as I thought, nor is the narrative technique, which I'm sure some will label a gimmick.
Searching is a "browser movie." That's not my original term, by the way. I happened upon it, not surprisingly, while googling "movies told through computers." The conceit is that you're watching a screen — sometimes multiple screens — on a screen.
There haven't been very many of them. The only one I can remember is 2014's Unfriended. I don't count 2016's Friend Request because, while kindred, significant parts of the film are told "offline." To qualify as a browser movie, the majority, if not all of the action, must be seen on, if you haven't guessed, a computer screen, generally a laptop.
I prefer to think of it not as a gimmick, but as a narrative technique, the logical outgrowth of technological innovation and the dramatic cousin of the found footage film. These electronic devices, as all the science fiction writers predicted, have become indispensable parts of society, and will remain so unless civilization collapses. However, it's also true that the vastly more limited production requirements of shooting with an iPhone or presenting your entire feature on a computer monitor seem best suited for the low-budget horror genre.
Stand by for the only spoiler I'll offer: The plot of Searching features no supernatural elements, although the situation of having a child vanish is certainly horrific and conjures all the terror and negative emotions of a horror film.
Cho, beloved by audiences for his comedic turn in the Harold & Kumar comedies and his more adventuresome role in the Star Trek franchise, manages to break through the constraints of the screen within a screen with his portrayal of a desperate father, combing through every clue he can find in his daughter's online footprint. These he offers to a police detective (Debra Messing), until his eager help in the investigation morphs into hindering and worse.
Searching, for the most part, works for me, although I'm not sure about its final resolution, which may be a little too convoluted. But overall, I like director Aneesh Chaganty's pacing in tracing the steps David goes through to discover not only Margot's fate, but her life.
Nevertheless, Searching may already be a bit behind the times, as my own 17-year-old daughter informed me — "Dad, teens don't use Facebook or Instagram any more. They're so ... passé." Well, maybe, but I still have a GPS on your car.