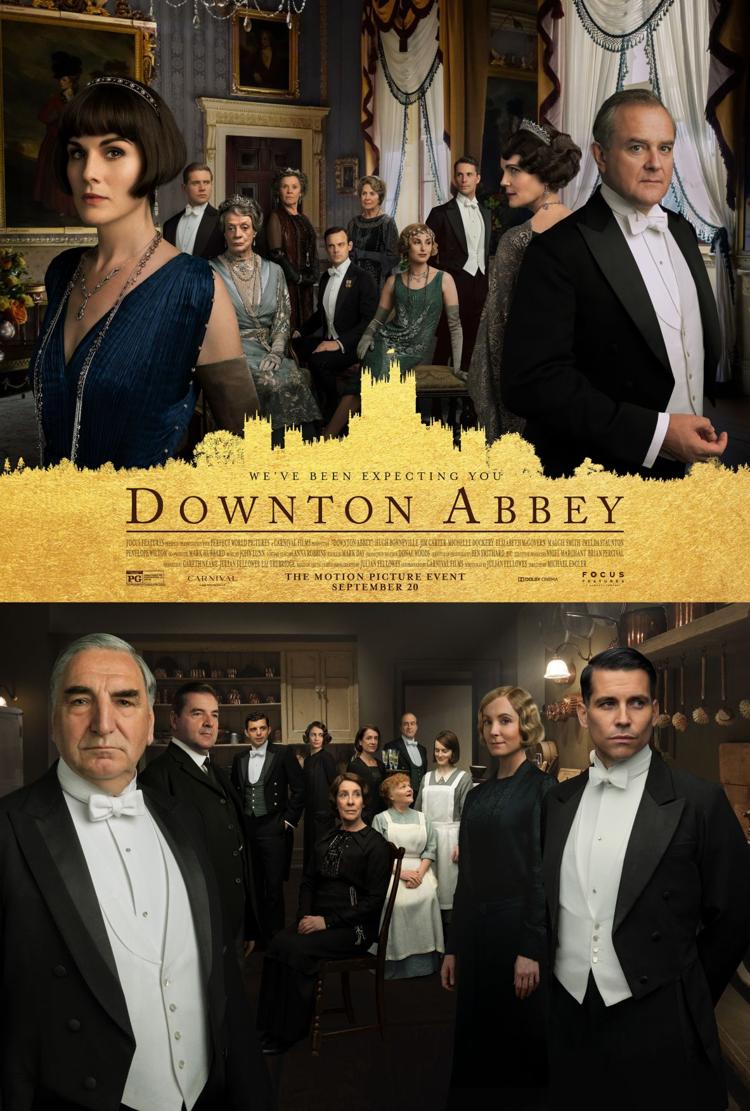 Once upon a time, when a TV series came to an end, you would never see those characters again, and certainly a canceled show would never be resurrected as a big-budget, A-list feature film.
1979's Star Trek: The Motion Picture shattered that convention, followed by other such feature-length follow-ups as Sex and the City, The X Files, and The Simpsons Movie. So maybe it's not so surprising that even though Britain's Downton Abbey ended in 2015 after 52 episodes, its creator, Julian Fellowes, decided to delight the show's fans by orchestrating one more visit to the manor that is the ancestral home of the Crawleys.
Most, if not all of the surviving characters, return in their familiar roles, as the Crawleys and their staff prepare Downton Abbey for a one-night royal visit from the King and Queen (as I recall, the monarch circa 1930 would have been George V). While the Crawleys themselves are largely isolated from the fervor surrounding the royal visit, their staff, headed once again by butler Charles Carson (Jim Carter), are outraged to discover that they will not personally be serving the royals, but will be kept below decks, as it were, as the King and Queen travel with their own cooks and wait staff.
There's a secondary plot, as Crawley cousin Maud Bagshaw (Imelda Staunton), long estranged from the family and now on the Queen's personal staff, returns to Downton Abbey for the first time in years, where she will face grand matriarch Violet Crawley, the Duchess of Grantham (Maggie Smith). Can the family schism be healed?
Here's where I must confess I've only seen two episodes of Downton Abbey, and had pretty much no idea who any of these characters are or why they love and/or hate each other. I believe it had to do with the fact that Downton aired on Sunday evenings here in the Colonies, so my wife and daughter would retire to one room for viewing, while our sons, whom I was obliged to join, claimed another room to watch The Walking Dead.
The good news is that even culturally deprived proletarians such as myself can still pick up the characters, relationships, and situations quite swiftly, and even better, savor the rich performances and dialogue just as if they were courses of a meal prepared by Mrs. Patmore (Lesley Nicol), the Crawleys' cook.
I also enormously enjoyed the exquisite cinematography of Ben Smithard (Blinded by the Light) and the way he captures Highclere Castle, which stands in for Downton Abbey, and the lovely chords of John Lunn, who scored the original series. The climactic scene at a ball thrown for the royals is masterfully edited and grants a graceful farewell for all the beloved characters.
There are a few times when, in his zeal to grant the many characters some reason to be in the film, director Michael Engler (who helmed several episodes of the series) wanders a bit. There was nothing I blatantly objected to, just a general feeling that there are a couple of diversions that are a bit too, well, diversionary.
There's no doubt that the most interesting plotline is between the elder members of Violets and Maud's generation, and their decades-long estrangement, and the general issue of monarchy. Do people deserve to command huge empires merely by virtue of birthright, consigning the people who do the real work to the cellar while their masters play?
No matter how much we all claim to despise divine right, there are few who can deny a certain fondness for the highborn caste whose refinement of dress, speech and manners still defines class and sophistication. This return to Downton Abbey will satisfy not only those nostalgic for the series, but those just as nostalgic for films where culture and erudition are more entertaining than action and effects.