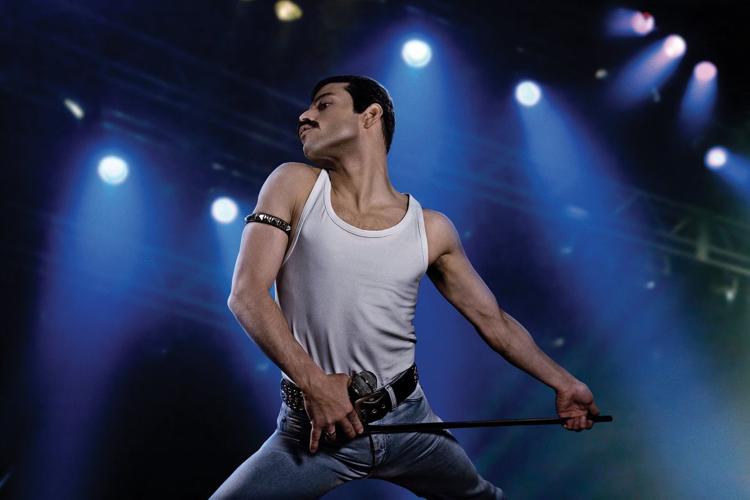 Nothing I say should be confused with an assessment or opinion of Queen's impact on popular music. I'd defer that to current and former Free Times music scribes such as Jordan Lawrence or Dan Cook. All I'm equipped to do is impart something to you about Bohemian Rhapsody, a long-delayed film depicting the story of Queen and its central member, Freddie Mercury. Before you ask who cares about a band formed 40 years ago, I'll mention that my kids and their friends know Queen and their songs, and consider them more important than any contemporary band.
Bohemian Rhapsody, like most musical biopics, starts with the frontman's beginnings, including friction with family, meeting the other members of the future band — Brian May, Roger Taylor and John Deacon, played by Gwilym Lee, Ben Hardy and Joseph Mazzello, respectively — and their early days fighting promoters who fear gambling on a new musical style. There's something cool about watching Queen insist upon their artistic integrity against Game of Throne's LittleFinger (Aidan Gillen), Pirates of the Caribbean's Cutler Beckett (Tom Hollander) and Austin Powers himself, Mike Myers. Myers, as impresario Ray Foster, solemnly proclaims, "No one is going to be head-banging in the car to 'Bohemian Rhapsody,'" cleverly playing up the irony that Myers and Dana Carvey do exactly that in Wayne's World.
Nevertheless, the most interesting relationship in the film is the one between Mercury and his fiancee (but never wife) Mary (Lucy Boynton), to whom he reportedly remained steadfastly dedicated even after his realization about his own sexuality. It's more central to who Mercury was than his estrangement from the band due to the Svengali-like influence of manager Paul Prenter. 
Through it all, star Rami Malek is just as firmly in command of the screen as Mercury was of the stage, perfectly embodying Mercury's fierce dedication and brilliant invention, yet somehow never being allowed to take us into the depths of Mercury's psychology.
For some reason, Bohemian Rhapsody encounters a dramatic wall that it can't seem to get past without significantly rewriting rock history. Anthony McCarten's screenplay not only exaggerates for dramatic effect —  as does arguably every biopic — but takes broad liberties with reality, starting with a preposterous scene where Mercury meets May and the others in a parking lot after lead vocalist Tim Staffell quit the fledgling band Smile, and offers to replace him. Very mythic, except it never happened. 
Following a cursory examination of Mercury's personal sexual evolution and the general problems any radically new artist encounters, McCarten's screenplay finds its drama in the band's early-'80s breakup and Mercury's obsessive insistence that Queen take the stage with almost every other living rock star in 1985's famous Live Aid concert, despite the singer's trepidations due to his worsening AIDS-related symptoms.
However, the facts seem to be that, while Queen did go their separate ways briefly during the '80s, surviving band members' accounts infer there was no dramatic breakup as in the film, and Mercury wasn't diagnosed with AIDS until almost two years after the Live Aid concert. While the film's last act revolves around the band's reunion shortly before Live Aid and their mutual fears that they couldn't recapture their old magic after having been separated for so long, the reality is that they had just come off of a months-long tour together.
One might think that the life of such an extraordinary performer might be dramatic enough in and of itself without the taking of such blatant liberties with reality, but that also should be weighed against the other band members' reported request that the film be rated PG-13 in return for their endorsement. It's also difficult to gauge the effect of the termination of original director Bryan Singer, with whom nearly everyone on the film reportedly had difficulties, although the production only had a couple of weeks left of principle photography when Singer was replaced by Dexter Fletcher.
The net result is that Bohemian Rhapsody feels hollow, not only never truly discovering who Mercury was, but even managing to obscure his complexity. Even so, Malek, while not necessarily looking any more like Mercury than Joaquin Phoenix looked like Johnny Cash, manages by sheer force of personality to dominate the musical scenes in as close an approximation of Mercury's style and nuances as is reasonably possible — even though producers confirm his vocals are a "blending" of Mercury's original voice tracks, Malek's on-camera singing, and "bridging" by singer Mark Martel. 
Contrived as it may be, the climactic Live Aid scene is a tour de force by Malek, and is the closest anyone today will ever come to attending an original Queen performance.