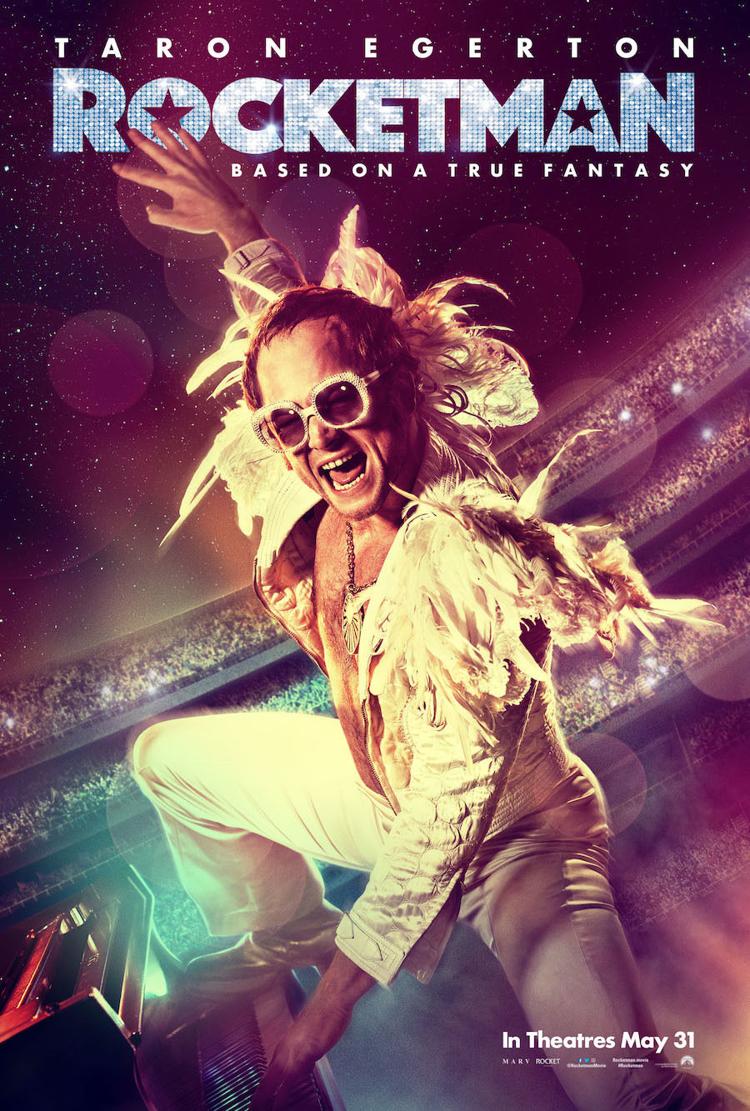 In director Dexter Fletcher's Rocketman, Taron Egerton is masterful as Elton John. But the film isn't exactly a biopic.
It's a bit of a life reimagined and a lot of an over the top musical filled with drama, orgies and cocaine. There are elaborate numbers and dance routines, with Egerton actually singing all the songs.
And for John, this seems the greatest way to approach his extravagant life.
At the core, the movie is a love story. Actor Jamie Bell portrays Bernie Taupin, the lyricist behind the majority of John's famous works and eventually his closest friend. In the film, after realizing a five-year-old Reginald Kenneth Dwight has perfect pitch and is able to play anything he hears, his mother sends him to London's prestigious Royal Academy of Music.
He goes through years playing and singing, backing black soul bands that visit London, before getting in the office of a record label and pitching himself as a music man. When asked his name, he tells the exec he's "Elton," which he stole from one of his bandmates. When asked his last name, he searches the room and sees a picture of The Beatles, and a glow surrounds the face of John Lennon. Elton John is born — even it's just cinematic myth-making, it's entertaining nonetheless.
This is the meeting that partners Elton with Bernie. Together, the piano player and the young songwriter that has the words but not the voice have everything needed to be a star. Their relationship a non-sexual male friendship reminiscent of Red and Andy in The Shawshank Redemption. The film even boasts that after 50 years of friendship and working together, they've never had an argument. Again, it might be a fudge, but it's affecting.
Rocketman will undoubtedly be compared to the last year's Bohemian Rhapsody, for which Rami Malek won an Oscar for playing Queen's Freddie Mercury. But the comparison is in many ways unfair. At times, Malek seemed to teeter on the edge of caricature, and frankly, the film just isn't very good, despite its moving Farm Aid climax.
As John, Egerton doesn't act, he embodies. There are no moments when it seems like he's doing a really good impersonation. He simply is Elton. The singer reportedly told Egerton not to copy him, but to create his own version, and that's exactly what Egerton seems to accomplish.
John once famously said, "There is nothing wrong with going to bed with someone of your own sex. People should be free with sex — they should draw the line at goats."
The movie has its fill of this (minus the goats), eliciting empathy for John, who despite his multi-millionaire status, is for a long time unable to be his free self. The movie revolves around John about to hit the stage at Madison Square Garden, but departing the sold-out show in a full orange devil costume to go to rehab.
It's another example of the film taking artistic license, but it expertly shows the protagonist shedding the demands of being Elton John. It looks exhausting, and filling life with drugs and alcohol and orgies is no substitute for actual love.
Rocketman is a love story in that love is what John is searching for — the plutonic love he finds Bernie, the love he sought from a father who would never hug him growing up, and his eventual ability to love himself.
Egerton might not quite touch Jamie Foxx in Ray with his performance, but he's the beating heart that makes all these aspects land. If Malek got an Oscar, he damn sure deserves a nomination.