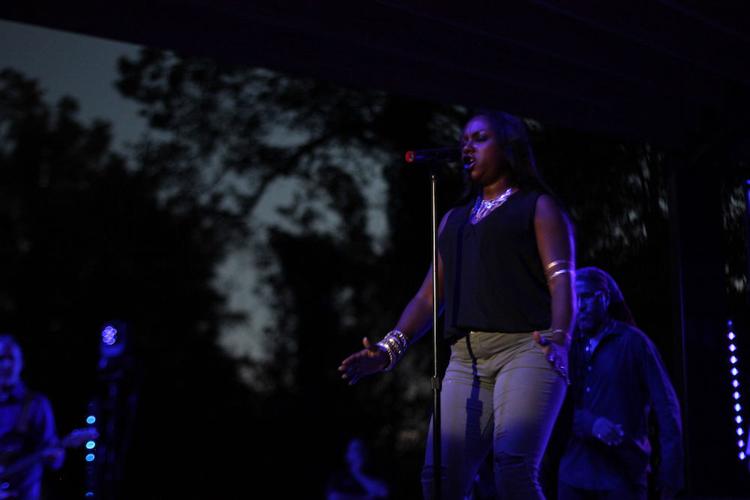 Ongoing
Historical Walking Tours
Saturdays. 12,000 Year History Park, Cayce. guidedwalkingtoursoncongareecreek.eventbrite.com. Weekly tours are led by National Park Service-trained guides.
Lexington Live
Icehouse Amphitheater, Lexington. icehouseamphitheater.com. Free Thursday concert series kicks off April 11 with The Embers and runs through May 23.
Rhythm on the River
West Columbia Riverwalk Amphitheatre. cwcchamber.com/rhythm-on-the-river-concerts.html. Weekly outdoor Saturday concert series runs April 6-May 25 this spring.
March
St. Patrick's Shamrock Parade
March 9. Downtown Lexington. The Lexington County Blowfish present an afternoon parade down Main Street.
Soda City Suds Week
March 21-24. sodacitysudsweek.com. Independently run week of events aimed at promoting the range of breweries and beer-focused businesses around the Midlands, including Lexington. Krafty Draft will host a Guess That Beer Contest March 21 as part of the festivities.
Taste of Lake Murray
March 28. Doubletree by Hilton on Bush River Road. lakemurraycountry.com. Annual tasting raises money for the July 4 fireworks celebration on Lake Murray.
Spring Out Music Festival
March 29-31. Historic Columbia Speedway. springoutmusicfest.com. Three days, three genres, one music festival. Debut year features Wale, Young the Giant, Scotty McCreery.
April
Tartan Day South
April 4-7. Historic Columbia Speedway. tartandaysouth.com. A celebration of all things Celtic.
It's All About Herbs
April 6. Lexington County Museum Complex. lexingtoncountymuseum.org. Free annual herb festival features seminars, plants for sale, baked goods.
Columbia International Festival
April 6-7. State Fairgrounds. cifonline.org. Showcases the music, culture, food and performing arts of the various cultures, nationalities, races and language groups represented in South Carolina.
Dining on the Dam
April 7. Lake Murray. lexingtonsc.org. Certified SC Grown dishes, drinks and beautiful views atop the dam. Sold out for 2019.
BBQ and Blues
April 13. Icehouse Amphitheater, Lexington. icehouseamphitheater.com. Mac Arnold & Plate Full O Blues headlines the 2019 festival.
Columbia Food and Wine Festival
April 26-28. tickets.free-times.com. A premier food- and drink-sampling event with pop-up events around the Midlands.
Soiree on State
April 27. Downtown Cayce. Free community festival featuring food, music, kids' activities.
Cayce Festival of the Arts
April 27. Downtown Cayce. caycefestivalofthearts.com. Artists, crafters and authors gather as part of Soiree on State.
Kid's Day of Lexington
April 27. Virginia Hylton Park, Lexington. lexingtonkidsday.com. Kid-friendly performances, vendors, bounce houses, local sports mascots.
Kinetic Derby Day
April 27. West Columbia. kineticderbyday.com. Human-powered handmade floats, soapbox derby racing and other zany times.
May
South Carolina Big Bass Classic
May 3-5. Lake Murray. bigbasstour.com. Thousands of dollars are at stake in this big-time fishing tournament.
South Carolina Poultry Festival
May 9-11. Batesburg-Leesville. scpoultryfestival.com. Community festival sponsored by some major area poultry producers. What are you, chicken?
Lexington Wine Walk
May 11. Icehouse Amphitheater, Lexington. lexingtonwinewalk.com. Wine and hors d'oeuvres from downtown Lexington restaurant and merchants.
Sister Hazel
May 17. Icehouse Amphitheater, Lexington. icehouseamphitheater.com. '90s band plays.
Lexington County Blowfish Alumni Game
May 27. Lexington County Baseball Stadium. goblowfishbaseball.com. The Blowfish, a summer collegiate wood-bat league team, welcome former Blowfish to the field.
Lexington County Blowfish Home Opener
May 30. Lexington County Baseball Stadium, goblowfishbaseball.com. The Blowfish kick off their season with a game against the Forest City Owls. Games run through Aug. 3.
USMC Ultimate Challenge Mud Run
2019 date TBA. Gaston. ultimatechallengemudrun.org. A daunting 6.2-mile, all-terrain obstacle course packed with boot camp-style traps, including mud holes, walls and trenches.
June
Drift Jam
June 1. Lake Murray. driftjam.com. Floating music festival offers all-American good times.
Lake Murray Independence Day Celebration
June 29. Lake Murray. lakemurraycountry.com. Boat parade and fireworks extravaganza.
July
Lexington County Peach Festival
July 4. Gilbert. lexingtoncountypeachfestival.com. Fireworks! Peaches! A parade! Hurrah!
Independence Day Fireworks
July 4. Lexington County Baseball Stadium. goblowfishbaseball.com. The Blowfish cap off every Friday and Saturday night home game with fireworks, and they'll shoot fireworks on the 4th as part of their game against the Savannah Bananas.
Business Lexpo
July 11. River Bluff High School. lexingtonsc.org. An expo for Lexington businesses. Get it?
Reggaetronic
July 13. Spence Island on Lake Murray. Another floating festival on the lake, you say? This one's centered around reggae vibes.
August
Brew at the Zoo
Aug. 2. Riverbanks Zoo. riverbanks.org. Beer and baboons! Meander through the Zoo or hang out in the plaza while sampling domestics and microbrews.
September
Irmo Okra Strut
Sept. 27-28. Irmo. okrastrut.com. Music, food, games and an okra parade. Forty-six years and counting.
Chapin Labor Day Festival & Parade
2019 date TBA. Chapin. chapinsc.com. Car show, book sale, parade and more community activities.
October
Boo at the Zoo
Oct. 18-30. Riverbanks Zoo. riverbanks.org. If you have kids, you'll want to take them to Boo at the Zoo.
Gervais Street Bridge Dinner
Oct. 20. gervaisstreetbridgedinner.com. Dine atop the historic 1/4-mile-long bridge spanning the Congaree River.
Gaston Collard and Barbeque Festival
2019 date TBA. Gaston. gastonsc.org. Community festival features a parade, vendors and lots of food.
November
South Carolina Peanut Party
2019 date TBA. Pelion. The town of Pelion celebrates the peanut — especially the boiled one. Long held in August, this event moved to November last year in an attempt to avoid gnats and heat.
Lights Before Christmas
2019 dates TBA. Riverbanks Zoo. riverbanks.org. More than 1 million twinkling lights are on display during Columbia's longest running holiday celebration. Guests can roast marshmallows, visit with Santa and enjoy festive holiday music.
Holiday Lights on the River
2019 dates TBA. Saluda Shoals Park. icrc.net. A dazzling, twinkling, massive drive-through light display along the Saluda River.
December
Christmas in Cayce
Dec. 5-7. cityofcayce-sc.gov/festivals.asp. Cayce City Hall lights up, the Riverwalk bursts with the sounds of caroling. Must be Christmas in Cayce.
Holiday Parade of Lights
Dec. 14. cwcchamber.com. This nighttime parade in Cayce and West Columbia draws big crowds, so get there early to claim your spot.
Town of Lexington Snowball Festival
2019 dates TBA. Downtown Lexington. Concluding with the tree lighting in Lexington Square, this festival kicks off the holiday season.
Holiday Open House
2019 date TBA. Historic Lorick Plantation House. lakemurraycountry.com. The Capital City/Lake Murray Country Visitors Center throws an annual holiday open house.
January
Restaurant Week Columbia
2020 date TBA. restaurantweeksouthcarolina.com. Midlands restaurants offer deals, you show up and enjoy.
February
Brunch So Hard
2020 date TBA. tickets.free-times.com. Brunch food, mimosas, bloody marys, live music and laidback daytime fun — brought to you by Free Times.
Lexington County Chili Cookoff
2020 date TBA. Icehouse Amphiteater, Lexington. icehouseamphitheater.com/events. Make chili! Eat chili!