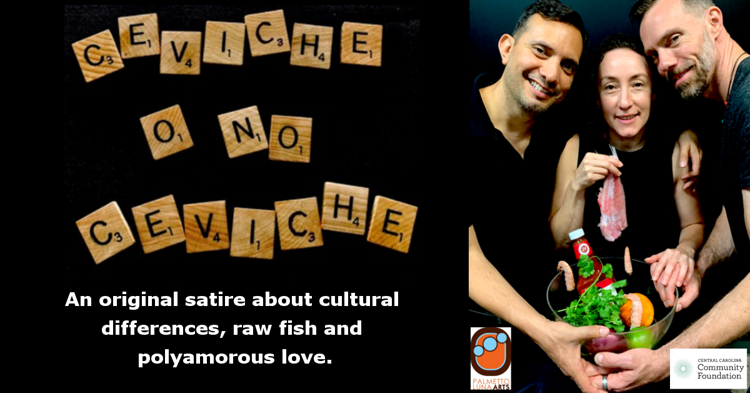 The South American appetizer known as ceviche is typically described as seafood or raw fish marinated in acidic citrus such as lime or lemon juice. That, however, is just the surface — from there, chefs disagree. It's a recipe rooted deeply in cultural traditions, and there's no consistent agreement on just how to prepare it.
For Betsy Newman, the Peruvian dish can also serve as a metaphor for cultural differences — of which there are plenty on display in Ceviche O No Ceviche?, a bilingual comedy in Spanish and English that Newman is directing, and which will be performed by members of La Tropa this week at the Trustus Side Door Theater.
The play, written by Newman and the cast of eight actors over several months, is a broad comedy of manners about a young Hispanic woman, Sol, who is happily living here in Columbia with her roommates (and lovers) Keith and Robert. With an expired student visa, Sol is in desperate need of a strategy for remaining in America. The lovers cook up a plan for a hasty marriage, which creates an awkward inter-family situation. Parents and relatives all have their own religious, racial and cultural baggage.
Based in part of Mira Nair's film Mississippi Masala — which was about the love between a young black man and an Indian woman — the play also took on a personal dimension.
"Everybody had a part in writing it," Newman explains. "Some of it is based on people's lives and experiences."
Generally, actors all contributed different scenes to the play, and then jointly worked the narrative into a whole by collaborating online via Google Docs.
Lucy Jaimes, who plays Sol, is quick to say she is not in a polyamorous relationship. As someone who acquired a green card by becoming a teacher, however, she fully connected with her character's struggle to remain in America.
"As immigrants," she says, "when we [have moved] here and we really like it and are having a really good life and making this society a little bit better, we really want to stay. That's what happened to me. So, in that way, it's my own experience."
La Tropa is an offshoot of Palmetto Luna, a Columbia-based Latino arts organization whose goal is to raise awareness of Latino artists. Although the play will have projected subtitles for non-Spanish-speaking members of the audience, it is directed toward the area's growing Hispanic community.
"It's also some kind of attempt to promote bilingualism," Newman says, broaching "the idea that we can listen to people speak in Spanish and we can deal with another language — and it's even a good thing."
J.B. Marple, who plays Keith, is both the only non-Hispanic cast member and La Tropa's only professional actor.
"The process with these folks has been very different from anyone I've worked with," he offers. "It's very cool. It's very collaborative. There's a different kind of camaraderie. None of them have been raised in the theater experience, so they're kind of figuring it out together and are open to feedback and suggestion."
Marple also appreciates the play on another level, as an act of social consciousness.
"I'm really trying to choose plays that might further social commentary, dialogue, discourse," he says. "The reality is, cultures are merging, period, and they have been from the beginning of this country and long before. The rate of that merging is greater than it ever has been, and scares some people."
For Newman, the ambitions of La Tropa are modest but sincere.
"I don't think there's any ambition to become the next Trustus or something like that," Newman says, referring to the city's lone professional theater company. "It's something that we get together and do once or twice a year. Really, it's a work of the heart."
"It comes out of a community and it's for a community," she concludes.
---
What: Ceviche o No Ceviche
Where: Trustus Side Door Theater, 520 Lady St.
When: Friday, Sept. 13, 8 p.m.; Saturday, Sept. 14, 3 and 8 p.m.
Price: $10