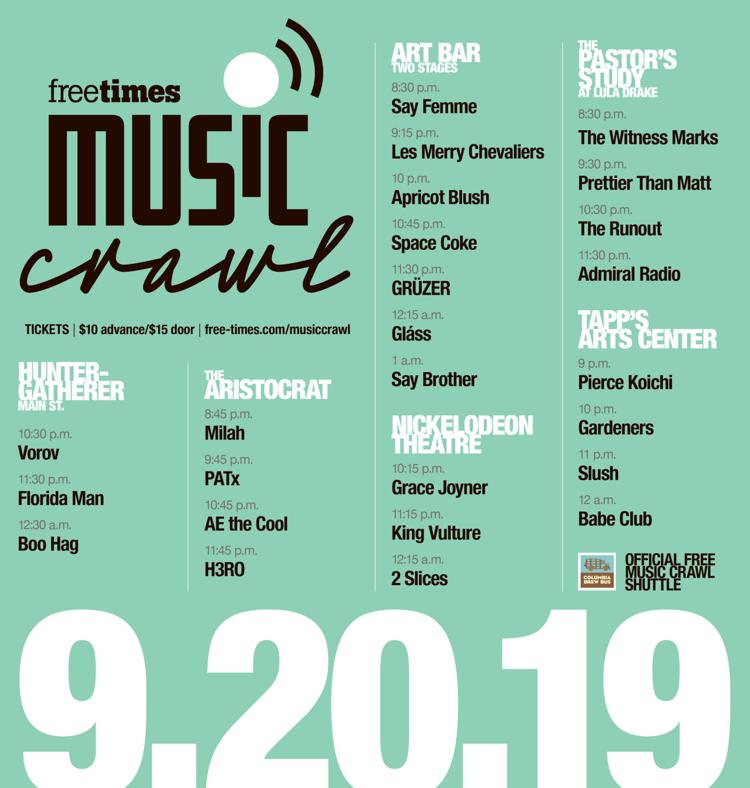 No, friends, it wasn't a one-off.
Free Times' Music Crawl is back for a second-straight year after ending a six-year hiatus in November. And you'd be right in intuiting that we're chomping at the bit to do it again: The event returns on Sept. 20, little more than 10 months since our last outing.
We're a little bigger this year, packing six venues with 25 acts (that's the lineup at the top of this post). We're taking over traditional music clubs (Art Bar, The Aristocrat), an arthouse cinema (Nickelodeon Theatre), the basement of an adventurous performance hub (Tapp's Arts Center), a wine bar's intimate upstairs annex (The Pastor's Study above Lula Drake) and a brewpub with a history of DIY hijinks after-hours (Hunter-Gatherer on Main Street) to offer a broad range of experiences. And we've teamed with the Columbia Brew Bus to shuttle you between them.
As we did last year, we rallied a committee of folks attuned to the local music scene — including representatives from WXRY, SceneSC, Girls Block, Mo' Betta Soul, The Space Hall, #ColumbiaRules, and But I'm Not a Critic Though. They gave their input on who we should book — more than three-fourths of the bill lines up with their recommendations — and we asked their advice on what we should change and how Music Crawl should look.
The biggest shift from last year is that we included some groups that aren't from the Midlands. The committee unanimously agreed that bringing acts from elsewhere in South Carolina and from cities in neighboring states to play here is important. Fostering such cross-pollination is one of the most positive impacts a music festival can have.
For us, that meant placing the ingenuitive, old-meets-new-school indie rock of Columbia's Slush between two similarly savvy acts in Charleston's Babe Club and Rock Hill's Gardeners, and pairing the thoughtful, hypnotic R&B of Augusta's AE the Cool on a stage with the similarly gifted Columba singer Milah and a pair of engrossing local rappers in PATx and H3RO
It meant bridging the Southern-fried doom metal of GRÜZER and the supercharged old-time folk-rock of Say Brother with the bracing post-rock of Greenville's Gláss, and sandwiching the sleek pummel of the ascendent Charleston punks in Florida Man between the viciously churning hardcore band Vorov and the humidly howling garage outfit Boo Hag, two of this city's most intense live acts.
It meant pairing up King Vulture and 2 Slices, two of the state's most colorfully creative acts, and inviting back gifted narrative songwriter (and recent Columbia expat) Ethan Fogus to lead his gorgeously ramshackle Witness Marks on a stage that also includes Prettier Than Matt, The Runout, and Admiral Radio, who offer their own clever twists on Americana.
But while some things may change, Music Crawl remains, as it always was, an opportunity to celebrate some of the best music happening in and around our city, providing attendees with an easily accessible live sampler — and, hopefully, a fun and affirming night.
We hope you join us, and we hope you find at least one new group or sound to enjoy. This Crawl is for all.
Tickets ($10 in advance, $15 at the door) include access to all venues and performances, and are available now.