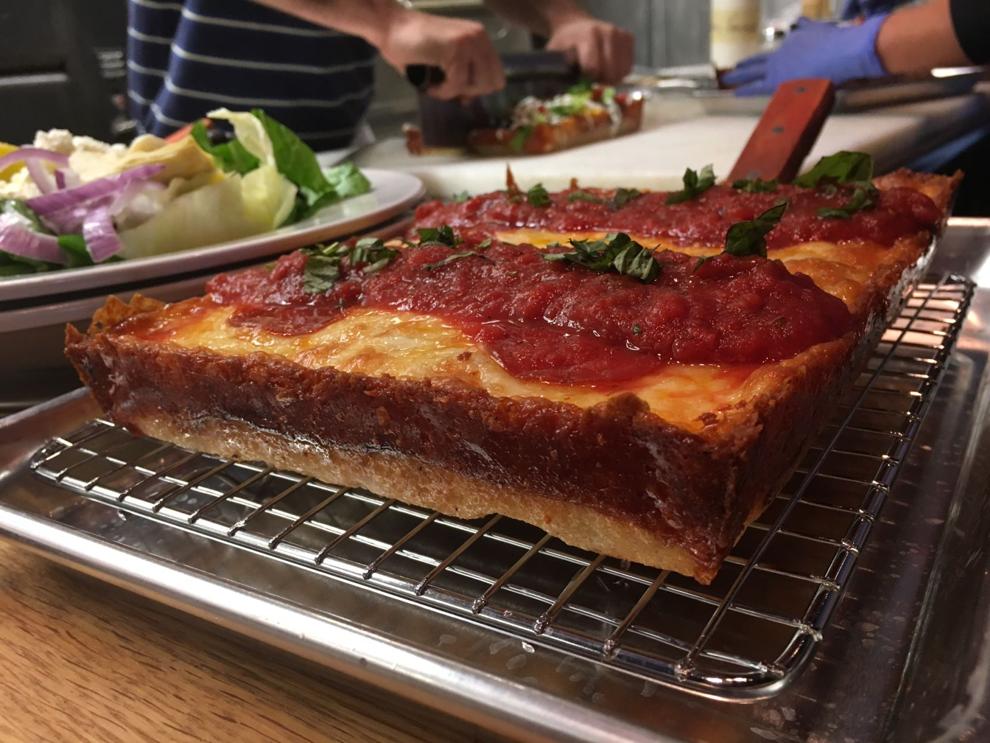 Gabriel Williams knew he wanted to open a pizza restaurant, but he didn't yet know what style of pizza he wanted to serve. That's when he started thinking about the pizzas served in school cafeterias: square and thick-crusted, sometimes with ground beef on top. Though not great by any means, there was something comforting about them.
Thinking about square pizzas led him to Detroit-style pies.
Baked in deep, square steel pans, Detroit pizzas have thick but airy, almost sponge-like, crusts and lots of caramelized cheese along their edges.
And because sauce would weigh down the pie during baking, they aren't sauced until later, after the other ingredients are laid on top.
Though there's some dispute about the style, which originated at a Detroit place called Buddy's in the 1940s — some suggest its recent surge is a Little Caesar's marketing ploy, and the New York Post called Detroit pizza "the new hipster horror" in June as it invaded Williamsburg — it is clearly a phenomenon unto itself. And it's a tasty one.
Williams and other family members — sister Lynette Wehunt and their mother — ran the Forest Acres dance club Salsa Cabana for 20 years. They also ran Mojito's, a Cuban restaurant in the Vista. Both were ruined by water — Mojito's by a busted upstairs pipe that flooded the restaurant, and Salsa Cabana by the October 2015 flood.
Last year, when Moe Baddourah decided to shutter his Italian restaurant Moe's Grapevine in favor of a job at the University of South Carolina, Williams started talking to him about taking over the building.  
He's extended the bar (Note: They won't have their alcohol license until Nov. 22) and opened up the space. The restaurant's name, Rooftop Pizza, comes from the fact that they eventually plan to open up the roof for dining.
The pizzas range from a traditional pie they're calling the Detroiter (cheese, pepperoni and strips of sauce ladled down the middle) to the shrimp scampi pizza (capers, red onion, lemon-garlic white sauce and shrimp), a taco pizza and a Hawaiian pizza with a bacon-accented crust.
If Detroit's not your thing, Rooftop Pizza will also be serving a thinner crust pizza, plus subs, salads and appetizers.
Rooftop's opening makes for an odd situation: There are now five pizza places on Rosewood — Pizza Man, Dano's, Marco's Pizza, Little Caesar's and Rooftop — although the street is less than two miles long. Columbia resident Hardy Childers recently created a semi-jokey Facebook account for the Rosewood Pizza District, though Childers says the idea was more fun when it seemed a CiCi's might also be opening in the former Blockbuster strip mall.
Williams says he's not too worried about competing with existing Rosewood pizza places, as each offers a different style.
"You don't want to eat the same steak every day," he says. 
Rooftop is open for lunch and dinner on weekdays, and dinner on weekends. Reach the restaurant at 803-602-5400.