Motor Supply Co. Bistro just announced a set of cocktails inspired by tonight's Beyoncé and Jay-Z show at Williams-Brice Stadium.
While head bartender Josh Streetman's menu includes offerings like Single Lady (Remy Martin 1783 cognac, peach oleo, angostura and lemon), The 99th Problem ("two ounces Old Forester Bottled in Bond 100 proof, side of Sanpelligrino, bartender commiseration")  and, duh, Lemonade (Jack Daniels, lemon, egg white, sugar), it also includes deeper cuts, like Feelin' It (Herradura tequila, Licor 43 — a fruity, aromatic Spanish liqueur — lime, sour and a black pepper tincture). 
If you're looking for something appropriately festive and fruity, you might start with the Reasonable Doubt, a strawberry-rhubarb shrub mixed with Woodford pure malt whiskey and a brut rosé.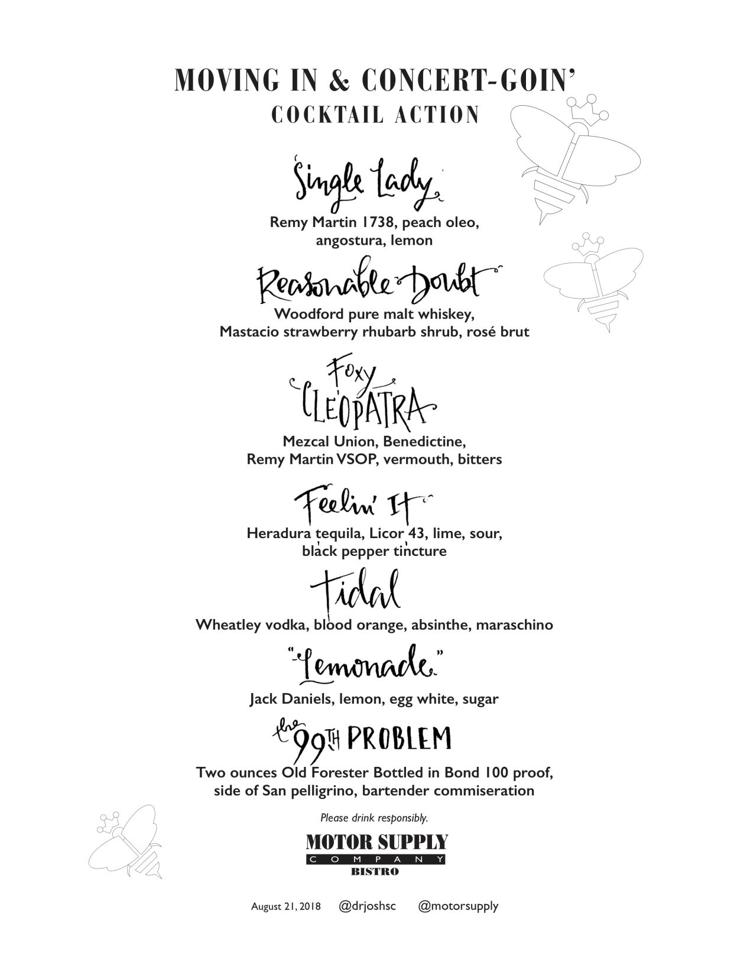 Motor opens for dinner at 5:30 p.m.
Depending on whether supplies last, you might be able to catch some of these tomorrow as well.