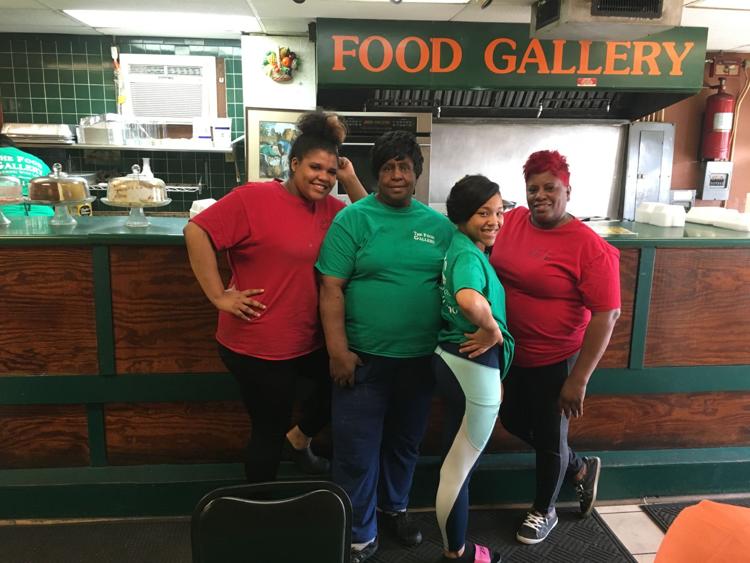 Miyah Taylor says she and her cousin were "being goofy," pretending to make a commercial for Food Gallery, the restaurant she owns with her grandmother, Minnie Morris.
Soo Me and my Grandma own a Restaurant in Columbia, Sc and would love y'all support ‼️‼️ So y'all Retweet This and come see me 😊 pic.twitter.com/BaQgsgE4mp

— RIP DAD ❤️👼🏽 (@MiyahhT) February 24, 2019
The video is literally just 58 seconds of serving utensils being pushed into giant trays and pots of food. There's no sound except some ambient background noise. And it's mesmerizing: You can practically feel the texture of each dish — the rich turkey wings, the thick and creamy broccoli casserole, the dense mac and cheese, the fluffy rice. Little pieces of bone float in the stewed oxtails, rendered out by long, slow cooking.
Taylor posted the video on Twitter on Sunday, expecting some responses from her friends. But the post struck a chord.
"I was at work, and my phone keeps going off," she says. It's been retweeted more than 11,000 times so far, with hundreds of comments.
Why does she think it made such an impact?
"Our food is delicious," she says, simply.
Food Gallery has been open for 28 years. It used to be owned by Taylor's late father — Morris' son.
Morris says she learned to cook from watching her own mother — "when she was living, back in the old days."
In the past few days, Taylor and Morris say, new customers have come from surrounding cities and towns to try the food. The fact that the tweet went viral on Twitter means many of them are college age.
"Next time I'm in the met I gotta go," reads one tweet. "You got me missing my grandmother," says another.
The video seems to have reached some longtime customers, too, like the person who tweeted, "Best soul food in the city! Use to go there all the time when I lived off of Broad River."
Food Gallery is located at 3702 River Drive.