It's a cold but sunny January morning along West Beltline Boulevard, and the neighborhood is alive with activity.
Moms push strollers hurriedly up the sidewalk, their little ones bundled up tight against the cuttingly chilly breeze. Cars slip into the parking lots of businesses — tire shops, auto repair places, cellphone stores.
Towering above it all, a billboard announces the return of 7-Eleven convenience stores to the Columbia area. "We're back! 7-Eleven – Oh Thank Heaven for 7-Eleven" the big sign proclaims.
An innocent advertisement, perhaps, but it takes on an ominous tone if you look deeper. The trumpeting of the return of a convenience store chain known for its sugary Slurpees and other snacks and junk food hits a little too close to home in this neighborhood.
Because, for all of the activity on West Beltline — bookended on the north side by the massive Colony apartment complex and on the south by the long-established, mostly African-American Booker Washington Heights neighborhood — one thing you won't spot is a traditional chain grocery store. There are convenience stores, and the ever-present "dollar spots" — Family Dollar, Dollar General — but there hasn't been a full-on grocery store in that neighborhood since the Piggly Wiggly on West Beltline closed in 2016.
A dearth of nearby fresh grocery options has become a reality in the north and northwest sections of Columbia, particularly affecting the lower income black neighborhoods there. Aside from the 2016 closure of the West Beltline Piggly Wiggly, 2018 saw the closure of the Harvey's supermarket in the 3900 block of North Main.
To be certain, there are traditional grocery stores in Columbia, including on the north side of town. (The Food Lion on Fairfield Road and the Piggly Wiggly on the 6200 block at the far upper end of North Main are examples.) But they are fewer and farther between than in the more affluent parts of the Capital City.
And in areas with a high concentration of lower incomes, transportation to and from stores can be a significant issue. According to U.S. Census data, the median household incomes in the 29203 and 29204 zip codes, which are in the north and northwest portions of Columbia, are about $30,000 and $38,000 per year. By comparison, the median household income in Lexington County's 29072 zip code — just 10 miles away — is nearly $80,000 per year.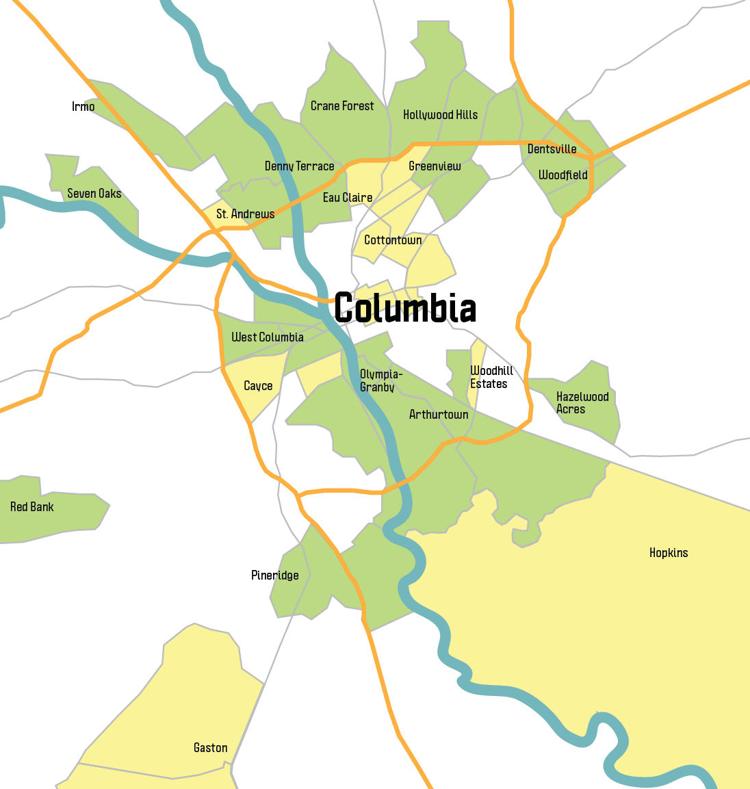 If you talk to officials across Columbia, you'll hear different terms for the areas with low access to traditional grocery stores and the fresh fruits and vegetables that typically come with them. Some refer to parts of North Columbia as a "food desert," a term the U.S. Department of Agriculture defines as "parts of the country vapid of fresh fruit, vegetables, and other healthful whole foods, usually found in impoverished areas." Others refer to it as a food swamp, or an area that lacks "health equity."
However you choose to describe it, many local leaders are worried about the fact that parts of Columbia struggle with access to healthy food.
On Jan. 28, Columbia Mayor Steve Benjamin made food insecurity one of the pillars of his annual State of the City address. The speech typically serves as a menu of what the perpetually-in-motion Benjamin wants to tackle in a given year.
"It's of grave concern to me," Benjamin tells Free Times. "People need to be able not just to access food, but access healthy, quality foods. Children cannot just be raised on McDonald's. They need whole grains and fresh fruit. It's a real issue."
It's a concern shared by City Councilman Ed McDowell, whose mostly African-American District 2 stretches from the northwest portion of the city through downtown and up to the north central part of Columbia. McDowell was one of the members of Council who pushed for the creation of a city Food Policy Committee, a 20-member body that has spent the last couple years studying and discussing food equity and other nutrition issues in Columbia.
"This is a tremendous need in our city. People have now started using Dollar General and the other little convenience stores as grocery stores," McDowell says. "They can be exorbitant in price, and not healthy. They don't have much in the way of fruits and vegetables."
Into the gap have stepped programs like FoodShare South Carolina — and even the region's bus system. They're finding ways to connect people to the fresh food they need to thrive.
Finding Alternative Ways
It's a Tuesday morning, and the FoodShare South Carolina facility — tucked to the side of the Save-a-Lot grocery store on Harden Street — is awash in a swirl of organized chaos.
More than 30 volunteers — old and young, black and white — hustle along a conveyor belt assembly line, laughing, talking, calling out to one another, their hands flying as they stuff a variety of fruits and vegetables into large boxes. Folks stab gloved hands into icy crates, extracting fresh broccoli to add to the haul. Bananas and lemons and deep yellow squash are snatched and boxed and sent down the line. In all, more than 380 produce boxes will be assembled and, later, dispersed to customers across the city.
In the middle of the churn of activity is a woman with short, silver hair and a brilliant smile. Her name is Beverly Wilson, the co-founder and executive director of FoodShare, and it's clear she's the quarterback on this Tuesday morning. She tosses out instructions to workers along the line, hustles to fill in when someone has to step away to take a break, and keeps veggies and fruits organized so that they are easy for volunteers to grab as the boxes come rolling down the assembly line. Whenever another volunteer comes through the door to report for duty, Wilson calls them by name and grabs them in a hug like an old friend.
There are all kinds of family, and it's clear that this is one.
FoodShare, a program of the Palmetto Health/USC Medical Group, started working in the 29203 and 29204 zip codes in 2015, and Wilson says it "emerged in response to the challenges that low income families face in accessing fresh, affordable food."
A key piece of the program is the fresh fruit and vegetable boxes the group puts together. They've distributed over 27,000 of the boxes — more than 570,000 pounds of produce — since 2015. Folks who use their Supplemental Nutrition Assistance Program (SNAP — the official name for the program some call "food stamps") card can get a box containing up to $40 worth of produce for just $10. The boxes are designed to provide up to 10 days' worth of produce for a family of four.
Shari Jackson has been volunteering for FoodShare for about three years. But aside from volunteering, she also participates in the program, getting a fresh food box every two weeks. A SNAP card holder, Jackson says the program helps her stretch her dollars for healthy foods.
"I am a SNAP participant, so I get a box for $10," Jackson tells Free Times. "There is no way I could go to the grocery store and buy this stuff for $10. There is always oranges, always apples, always bananas. There is usually spinach and lettuce. There's usually a potato of some sort, whether sweet or regular. We get onions, lemons and limes. There's usually stuff for a salad in every box. And there's usually something unique, like a butternut squash, that people aren't used to cooking."
Wilson recognizes the trouble with access to grocery stores in parts of Columbia, including the 29203 zip code in the north part of the city. She says those access issues are unfortunately common throughout South Carolina.
"What's going on in 29203 is a microcosm of what's going on all around our state," Wilson says. "Our poor communities are not getting retail grocery stores built in their areas because retailers go to more affluent neighborhoods. Does that mean that those families don't need access to really good, fresh food? No. It means we need to find alternative ways to get to them."
FoodShare has more than 25 partner sites throughout the city that take orders for their fresh food boxes.
"We have individuals, as well as volunteers, that we call our neighborhood coordinators, or partner sites, who are in the metro area, or even in Hopkins or further out," says Gordon Schell, associate director of FoodShare. "They'll work with folks in their neighborhood and take orders, then they'll come in and pick them up and take them back, for folks who may not have transportation."
A key component of FoodShare's operation is that it goes beyond simply selling people a low-cost box of healthy food. In each box, the program includes a recipe card, which has detailed instructions on how to use different items in the box to make a healthy meal. A recent card, for example, included recipes for quick-roasted tomatoes; an avocado, grapefruit and spinach salad; and turkey cabbage skillet hash, among other ideas.
Also, FoodShare has a teaching kitchen on-site, where a couple days a week it provides lessons to program participants on how to prepare meals that are both tasty and healthy. They call them "culinary medicine classes." Medical students from USC also take elective classes in the teaching kitchen, giving them a hands-on look at the connections between food and health.
Wilson says, over time, FoodShare has started looking at all the social determinants of health in a community — education, schools, transportation, food — and works to figure out solutions. She thinks of it as building capacity toward health equity.
"We're not just about food," she says. "We're about building opportunity for communities to achieve the highest health possible. Our box of fresh produce does no good if your apartment doesn't have electricity. We work with families to understand what barriers they're facing, and act as connectors."
Celia Patrick, a volunteer with FoodShare, says she has seen how simple access to fresh food — and directions on what to do with it — has changed life trajectories in Columbia. Her husband is the pastor of Christ Family Worship Church off Two Notch Road, and she says a member of the church came to them with a health problem.
"One of our members was given some bad news about one of her kidneys going bad," Patrick says. "She needed to eat better, and she's a diabetic, as well. So, we blessed her with a box. And she said, 'I did five meals out of that.' She said, 'I ate healthy.' She said that having the recipe really helped her to manage the box and use the box in the way it should be used.
"She's been eating healthy ever since."
Getting a Ride
It would be easy for folks, particularly in middle income brackets and above, to think, "Well, there's a grocery store just a few miles away, why don't these folks just fire up the SUV and ride on down there?"
But in lower income neighborhoods, transportation is often a key barrier to food equity. Without a car or other reliable means of transportation, it can become easier for some to simply walk to the nearby Dollar General or convenience store and work with the limited selection of items there, rather than try to secure a ride to a traditional grocer several miles down the road.
"Certainly, transportation is directly linked to food access," says Carrie Draper, the vice chairwoman of the city's Food Policy Committee and a co-founder of FoodShare South Carolina.
Now there is a perhaps unlikely partnership that is working to help strengthen that link between citizens and grocers.
The COMET, Columbia's bus and transit provider, launched a program earlier this year it is calling COMET to the Market. Through the program, COMET and rideshare services Lyft and Uber are collaborating to offer discounted rides to grocery stores.
By using the promo code COMETMARKET18 in either of the rideshare services' apps, users can get a $5 discount to and from a variety of markets in town, from traditional Hispanic grocers to Whole Foods and beyond.
The program — said to be a first-of-its-kind partnership between a public transit system and the leading rideshare services — was the brainchild of COMET executive director John Andoh, who arrived in Columbia less than a year ago and has set about making aggressive moves within the transit system.
"When I started here, I met with the [Central Midlands] Council of Governments. They basically told me that they wanted to do an analysis to figure out how to address transportation deficiencies to grocery stores, since Columbia had some food desert issues," Andoh says in an interview with Free Times. "They explained to me what was going on with the food desert. I said, 'I don't know if we necessarily need a study, why don't I just see if we can enter into some partnerships with Uber and Lyft and that might resolve some interim issues.' Then I thought we could go back later and have a more holistic analysis done where we involve the grocery stores and figure out what it takes to start putting grocery stores back into these desert areas.
"So, I got a list of all the grocery stores in the market, in our service area, and started discussions with Uber and Lyft."
What makes the COMET to the Market program attractive, Draper says, is that it gives users the opportunity to go directly from their homes to the grocery store and back. That has certain advantages over taking the bus for grocery shopping, where lugging bags and making transfers can be daunting.
"Yes, it is really great and important that we have bus lines that go to or near grocery stores," Draper says. "But certainly I think everybody can relate to how having a bunch of grocery bags getting on a bus is not that easy to do, and that people don't live literally right next to the bus stop. They have to figure out how to carry those home, much less if they have children that they have to navigate. So, I'm really glad that they did [the rideshare partnership]."
Andoh sees it similarly.
"If you are a single parent with three children and you are having to carry bags of groceries, or make all these extra stops, you could be riding the transit system five to six hours to do a simple trip," the bus boss says. "So, if we can bring conveniences to the customer, and reduce the time that they are on the transit system, it makes it more attractive for them to want to make more trips on the transit system."
Benjamin praises the idea.
"We've seen some of the larger grocery stores have the inability to turn the profits they want to see in some of our more challenged neighborhoods, and as a result stores have been closing," says the mayor, who is the current president of the United States Conference of Mayors. "There are a number of innovative ideas that are being launched nationally to try to meet that need. That's why I really like the idea of working with the COMET on addressing this more as a mobility issue, as opposed to having to erect traditional stores everywhere and hope they fly or not."
The COMET also is partnering with FoodShare's fresh food box program, as the main transit station on Sumter and Laurel streets is one of the pickup locations for the boxes. Schell, the FoodShare associate director, says using the bus station as a pickup site has made it easier for customers to snag their food boxes as they ride the bus home in the afternoon.
"We sort of call it 'fresh food on the go,' really to try to meet a need for those individuals who don't have individual, personal transportation and are reliant on public transportation," Schell says of the bus station pickup.
Make It Real
Columbia is far from alone in having neighborhoods with low access to fresh and healthy foods.
A 2015 piece from the Associated Press points out that the nation's larger supermarket chains often avoid low income neighborhoods all together.
According to research in that AP piece, "the nation's top 75 food retailers opened almost 10,300 stores in new locations from 2011 to the first quarter of 2015, 2,434 of which were grocery stores. Take away convenience stores and 'dollar stores,' which generally don't sell fresh fruits, vegetables or meat, and barely more than 250 of the new supermarkets were in so-called food deserts, or neighborhoods without stores that offer fresh produce and meats."
Sam Davis is in his sixth term on Columbia City Council, making him the longest serving active member of the body. Davis represents District 1, the mostly black district in the northern part of the city.
The longtime councilman tells Free Times he does worry about food insecurity, especially in North Columbia. However, he insists city officials remain on the lookout for grocery stores that might be willing to set up shop and help close certain gaps.
"We are taking a lot of the fundamental steps," Davis says. "It's all about working with prospective private grocery stores. Right now, a lot of them are making corporate decisions about where they are going to go. Those are big boxes, most of them. That is slow, but we just need to continue to talk to them and convince them we are a good market."
Meanwhile, the city's food policy committee, which was initially formed in 2017, is set for a big year, with policy recommendations and public forums about its work expected in coming months. Benjamin teased those efforts in the State of the City address.
"Our Food Policy Committee ended 2018 with several hours' worth of feedback from the community on how food insecurity affects their neighborhoods," the mayor said. "This year, they'll host a town hall where they'll publish the data they've collected and strategize with neighborhood and city leaders on the best route moving forward to ensuring everyone has access to fresh foods."
Draper notes the Food Policy Committee has held community meetings in a number of neighborhoods and locations — Pinehurst, Hyatt Park, Gable Oaks, Booker Washington Heights and beyond — where food access topics were discussed and neighbors had a chance to share their "life experiences."
"Our plan is to, sometime in the spring, do a larger town hall where we'll be presenting on that and really trying to set up a space where people who were a part of the food gatherings and experience these issues in their day-to-day lives have an opportunity to speak directly to City Council members and the mayor about what they want to see them do," Draper says.
"It's not an easy issue, but I will say sometimes I think we overcomplicate the issue. There are solutions that we could have if there was the political will to make those happen."
To hear McDowell, the District 2 councilman, tell it, that political will to address food issues in low-income neighborhoods does exist, and the time to act has arrived.
"We've got to take care of each other, man," says McDowell, a pastor. "We've got to take care of each other. We do it sporadically. Our language and our verbiage is such where we talk more than we need to to put things into action.
"There are opportunities that we could utilize. But we've got to stop talking about this thing and make it a real reality in the lives of our residents."
Let us know what you think: Email editor@free-times.com.