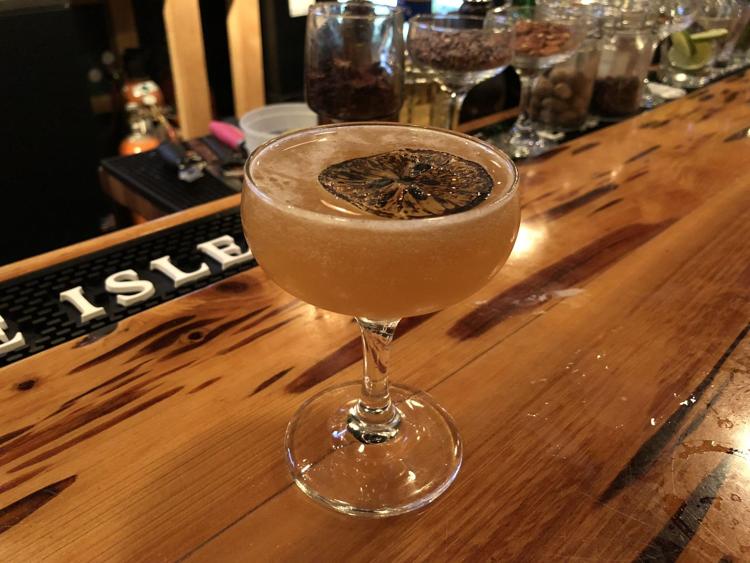 what: The Pearish
price: $9
where: The War Mouth, 1209 Franklin St.
contact: 803-569-6144, thewarmouth.com
As outside temperatures continue to cool, it's time to shelve the tiny drink umbrellas and bid fruity summer cocktails adieu. Columbia might be late to the party, but it's finally feeling like fall, and The War Mouth's current cocktail menu is replete with mixed creations designed to warm guests from the inside out.
The Pearish stands out by subverting the pumpkin-saturated mainstream, opting instead to highlight seasonal Bartlett pears through the use of St. George Spiced Pear liqueur. Made up of dark rum, the aforementioned pear liqueur, ginger and a charred lemon floating as a garnish, The Pearish is shaken with ice and served up cold in a cocktail glass. The drink's golden body takes a cue from the color of the changing leaves, while the flame-kissed cross section of the lemon adds a dark contrast in color and a smoky aroma.
On first taste, The Pearish warms your bones. The boozy heat from the dark rum hits first, augmented by pleasant spice from the ginger. The initial warmth gives way to the subtle sweetness of the pear, which shines through with the delicate, juicy flavor of fruit straight out of a $100 Harry and David basket your rich uncle sent for Thanksgiving. Cinnamon and clove work their way across the palate for a moment, then are cleaned away by the acidity from the lemon. As the drink nears its end, it becomes easier to take a sip through the charred lemon, which adds complexity thanks to the caramelized citrus sugars, giving the drink a second act that might outshine its delicious first half.
At $9, this is a cocktail that won't deplete your wallet and will certainly warm your soul. Get your fill soon, as The War Mouth's seasonal drink menu will rotate to winter in a few weeks.