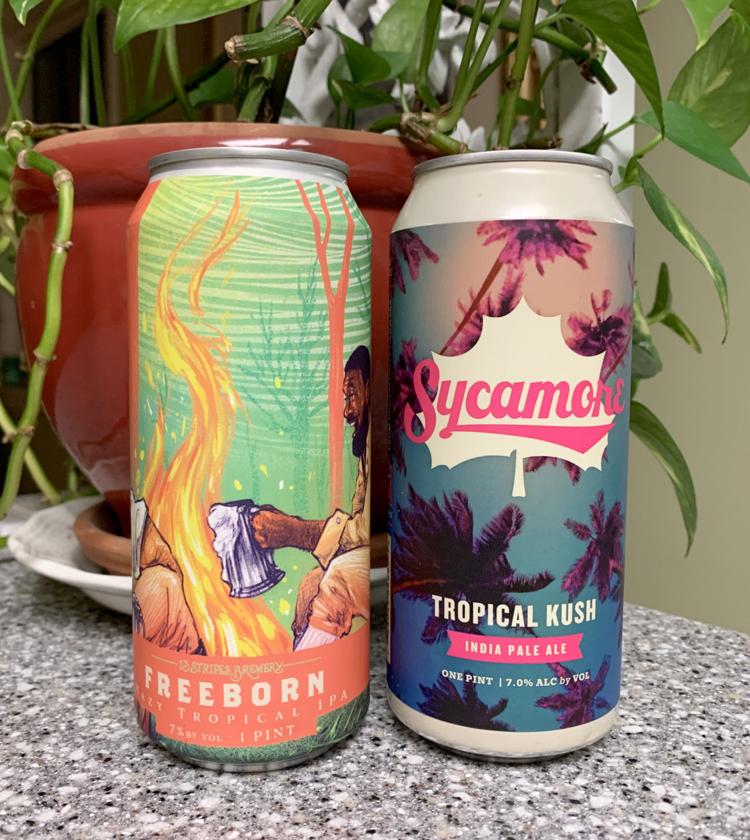 what: 13 Stripes Brewery's Freeborn Hazy Tropical IPA (7.2 percent ABV; $15.99 for a four-pack of 16 oz. cans) and Sycamore Brewing's Tropical Kush (7 percent ABV; $11.99 for four-pack of 16 oz. cans)
where: Green's Beverage Warehouse, 4012 Fernandina Rd.
Though other styles continue to gain traction, the India Pale Ale remains the most popular type of craft, continuing to spawn a number of variations.  For me, the best and most intriguing IPA variation is known by a variety of names — hazy, juicy, tropical, New England    
The most recognizable feature of this style is a hazy appearance, but the defining character is its balance. Traditional craft-brewed IPAs, codified by West Coast brewers such as Stone and Sierra Nevada, are tilted toward profound bitterness, with the aroma and flavor of citrusy hops relegated to a secondary role with little or no malt sweetness or character. Hazy/juicy IPAs are different. Aromas and flavors of hops dominate the taste impression, but the bitterness is mild and malt sweetness presents firmly in the background.  
Freeborn is brewed by 13 Stripes Brewery in Taylors, and Tropical Kush is made by Sycamore Brewing in Charlotte. These beers have the characteristic hazy appearance with a big, creamy stand of foam when poured. Both feature bright tropical flavors reminiscent of tangerine, pineapple and hints of mango. Each features sweet malt characters underlying the tropical notes that enhance the perception of sweetness. Low bitterness makes these dangerously drinkable, but there is enough bitterness in the finish to invite another sip. Sycamore's flavors are slightly more emphatic, while Freeborn's bitterness is slightly higher on the finish. But both are delicious examples of a hazy IPA. Cheers!