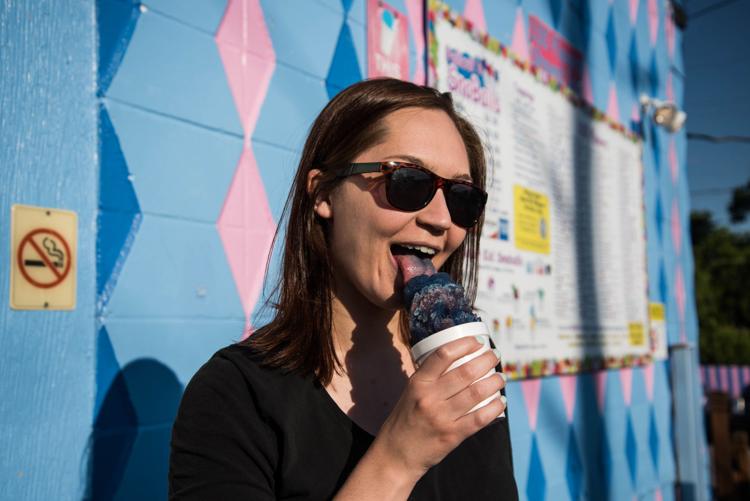 It might not get that cold in Columbia, but it's still cold enough that we're not lining up for New Orleans-style shaved ice the way we are when the sun's rays are beating down. Pelican's Snoballs announced on social media that their last day of brick-and-mortar business for the season will be Oct. 28. They are still available for catering in the off-season though, and will be back in the spring.
Food Truck Court Sees Use Again
After closing down in September 2016, the location of the Food Truck Food Court at 728 Meeting St. in West Columbia has a food truck onsite again and possibly more in the near future. Teresa and DJ Stone, who own and operate The Blended Bakery, a cute 34-foot-long red trolley repurposed into a fully-functioning kitchen, have big plans for the site.
The Euro-style bakery offers coffees, breads and pastries in the mornings, and expands to pies, soups and sandwiches during the lunch hour.
"The trolley is a full kitchen on wheels with double ovens, a proofer, mixer, fridge and prep tables," offers Stone. "We fix everything on the bus."
Stone says that they plan to lease out the site and revitalize it.
"We want to do it differently with both outdoor and covered seating and swings, so people can come enjoy it," Stone says. "We want families to come out, and people on their lunch breaks."
Due to prior scheduling commitments for the trolley, they are releasing their weekly schedule on Facebook for the time being but plan to be on Meeting Street more and more from 8 a.m. to 2 p.m. Their menu, which changes at the beginning of each month, is posted to social media and trolleybaked.com.
Meat Meets Champagne
Combine the refinery of champagne bubbles with the down-home feel of grilled or smoked food and you have Bubble Q, a first-time event at City Roots. Chefs Lou Hutto, Frank Bradley, Kristian Niemi, Gabrielle Watson, Josh Bumgarner, Aaron Siegel and Taylor Garrigan will have six stations set up featuring different grilled or smoked foods, but not just barbecue. Sure, there'll be brisket and pulled pork, but also imagine a smoked pho or smoked tomato gravy for sweet potato biscuits. Each station will have a different champagne from around the world to pair with it.
Tickets are $75 and include a souvenir champagne flute, all food and drink, and live music. Head to f2tproductions.com for more info. City Roots is located at 1005 Airport Blvd. in Columbia.
Got food or drink news? Email food@free-times.com.