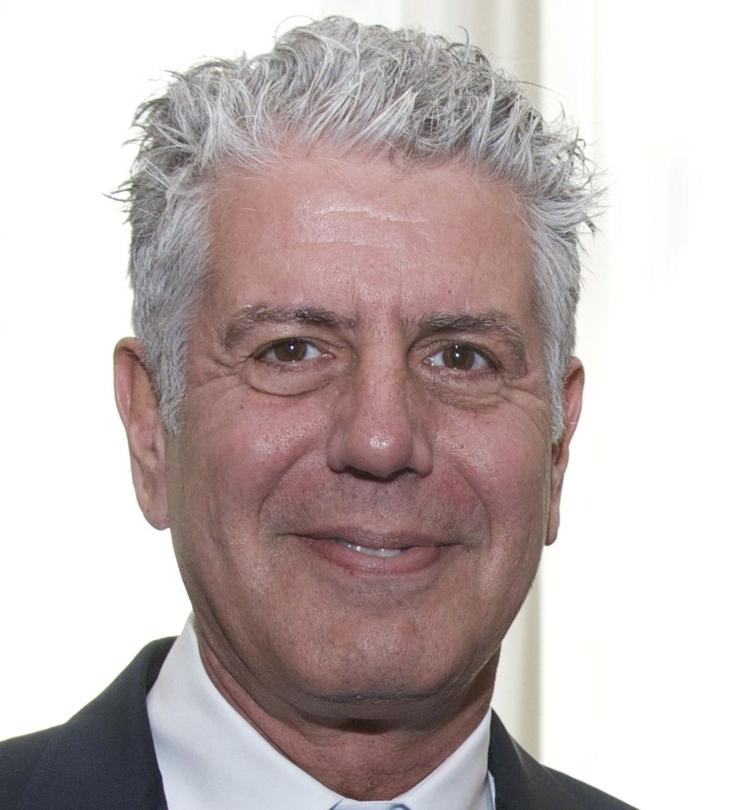 Anthony Bourdain died June 8. The author, chef and TV host (words that poorly describe him) killed himself at age 61.
His death is resonating more and for longer than most celebrity deaths — among chefs and kitchen staffs, for sure, but also among people for whom Bourdain seemed to be living right: always traveling, always learning.
So much has already been written in memory of Bourdain in the past five days, but I think it's worth acknowledging that he made his mark because he blended empathy with being a badass, and because he laid bare the difficult process of growing up.
Bourdain gained some of his earliest fame by building a narrative of kitchen staffs as profanity-driven, New York Dolls-blasting, blood-blistered "pirate crews," as he did in his 2000 book Kitchen Confidential, and by skewering famous TV chefs, like Emeril Lagasse and his "wildly barking, seal-like studio audience," whom Bourdain assailed in 2001's A Cook's Tour. As TV chefs rose in fame, Bourdain, despite himself being a TV chef of sorts, was the anti-hero — lurking in the corner smoking a cigarette and pointing out their ridiculousness.
But if that had been all Bourdain did, it would have gotten old real fast. Instead, he opened his heart to the world. He traveled, and ate and drank with everyone. He was brutally honest but also super kind. In recent years, he began to re-evaluate the "meathead restaurant culture" he'd helped glorify, telling Slate last year as the #metoo movement emerged, "Why was I not the sort of person, or why was I not seen as the sort of person, that these women could feel comfortable confiding in? I see this as a personal failing."
And in doing all this, he showed what it actually means to be punk: not smirking in a corner, but actively working to free your mind of bulls#!t.
He kept trying to do better, too. The first time Bourdain did a show about South Carolina, a No Reservations episode in which he participated in a Civil War re-enactment, it was kind of gross and uncomfortable. So the next time he visited the state, he did better, accompanying Charleston chef Sean Brock to Waffle House. (Brock wrote in a statement this week, "I will dearly miss my friend Anthony Bourdain. … This serves as a reminder that just because people appear to be living a 'perfect' life, they may be struggling and need help. If we don't take care of ourselves, we can't take care of the ones we love. Every life is so incredibly valuable and equally as fragile.")
We don't have to be chefs to be more like Bourdain. But we do have to be kinder, more self-questioning, more adventurous, more punk.
Richland Library Hosts Cooking Classes
If you've been meaning to learn more about cooking or just need some variety in your home menus, the Richland Library's free cooking classes would be a good way to expand your horizons without much commitment.
The St. Andrews branch hosts an adult cooking workshop this Wednesday, June 13, from 6 to 8 p.m. on indoor grilling — covering everything from shrimp and cherry tomato kabobs to skirt steak with chimichurri.
Meanwhile, the Eastover branch will host several summer cooking classes June 18-21 for those 9 and up. No experience is required, and the attendees get to sample the dishes after class.
And if you're planning ahead, mark your calendars for July 11, when the St. Andrews branch hosts a class for adults on making homemade ice cream and waffle cones. Registration opens June 26 for what will no doubt be a popular workshop.
Visit richlandlibrary.com/events for registration and more information; choose "cooking" to see the library's many offerings in this category.
Eat Pizza and Drink Beer for CMA
If you've been meaning to try one of the Hunter-Gatherer Hangar's pizzas, this Sunday, June 17, might be a good time — as 10 percent of the production brewery's proceeds that day will benefit the Columbia Museum of Art. Show up between 1 and 8 p.m. to make your tab count toward the museum's art education and community outreach programs. Not into pizza? You can just drink beer; we won't judge you. Pizza is delicious, though. The Curtiss-Wright Hangar is located at 1402 Jim Hamilton Blvd.
Got food or drink news? Email food@free-times.com.