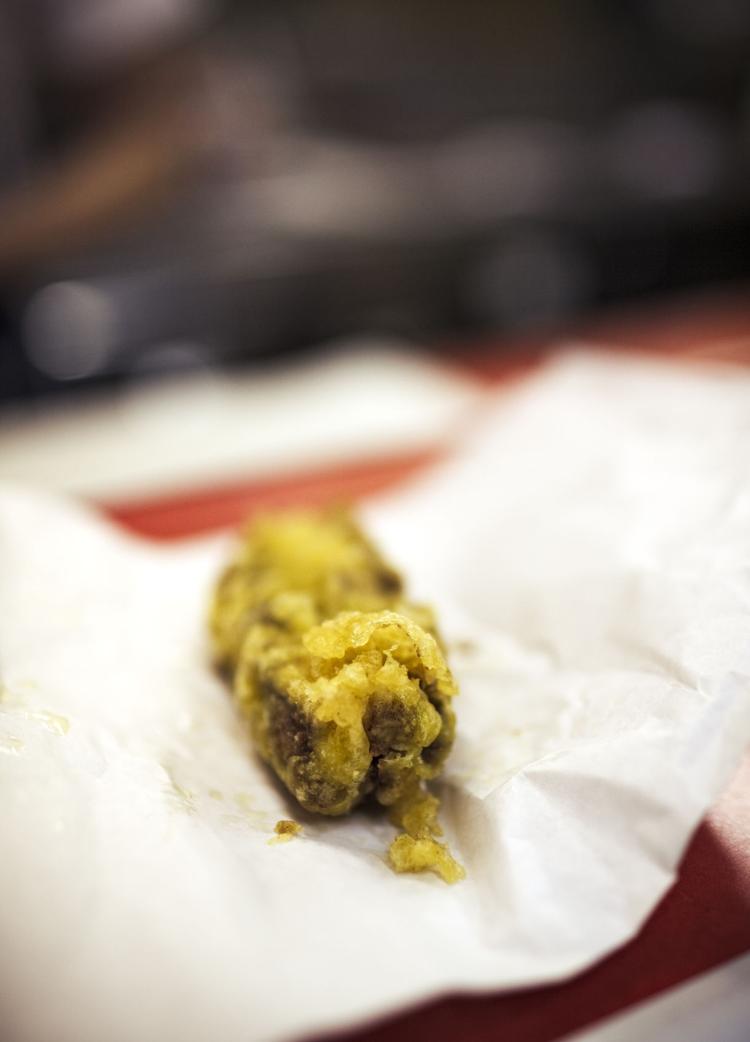 Stock up on your antacids, the State Fair is back in town, smelling up the streets (sometimes all the way up to the State House) with the scent of frying foods. This 149th iteration of the State Fair brings with it some new food offerings, both sweet and savory, but all of them a little odd.
On the savory side, the Red Beans and Rice Sundae features sauteed onions and peppers, diced tomatoes, red beans, chorizo sausage, spices and sweet corn, topped with a choice of steak, shrimp, chicken tenders or pulled pork. The Frito Pie Burger is more mainstream — a grilled hamburger topped with chili and Fritos corn chips.
For the tooth-achingly sweet new options, there's maple cotton candy, and an apple dumpling, which is a peeled and cored apple wrapped in a flaky baked pie crust and served with caramel cinnamon sauce and vanilla ice cream.  
As usual, the fair will run a lunch promotion on weekdays, where fair patrons can exchange a $10 bill for a lunch ticket, and can receive that $10 back if they exit the fair before 2 p.m. This promotion is cash-only.
With Restaurant Week coinciding with the fair, participating fair vendors will post Restaurant Week specials and deals to let fair goers know what's happening that day.
Halls Chophouse Sets Opening Date
Charleston-based Hall's Chophouse announced via social media that the planned opening day for its Columbia location is Monday, Dec. 3 at 5 p.m. The restaurant that also has a location in Greenville will be in the former Oak Table spot at 1221 Main Street.
Though it is still under construction, there will be able about 4,000 square feet of additional space in Hall's than there was at the Oak Table. Reservation information and scheduling will be available online at hallschophouse.com in mid to late October.
U Can Pick Pecans
You can pick if you want to pronounce it pee-can or puh-cahn, and you can pick your own pecans at The Grove in Leesville on Saturdays from Oct. 13 through Jan. 5.
Prices for pecans are $2 per pound for ones you pick, $4 per pound for unshelled pre-picked pecans, or $9 per pound for shelled pre-picked pecans. In addition to the fun of foraging for your own nuts, The Grove will have a family farm day with hayrides, marshmallow roasting over a bonfire, and a hot beverage stand.
The Grove is located at 2852 Neely Wingard Rd. in Leesville. More info available at facebook.com/events/304556586996154.