Pint-Sized Chefs Compete
Imagine a cooking show that takes inexperienced cooks that want to learn more about food, from sourcing ingredients to creating a palate-pleasing plating, and everything in between. The contestants will have gone through a four-week culinary program and will show off what they've learned at the end with a contest that involves a mystery basket full of ingredients and 30 minutes to make three dishes. Now imagine it's kids that are undergoing this challenge.
Watch the future chefs compete at Edventure Children's Museum from 2-4 p.m. on Saturday, Oct. 6. The event is free with that day's museum admission. The kids will be competing for prizes intended to help them in continuing to pursue a culinary education.
Edventure also offers a lot of opportunities to get kids and adults involved with learning about ingredients and meal preparation through its Edventure Eats Cooking Lab. See all of the upcoming opportunities available at edventure.org.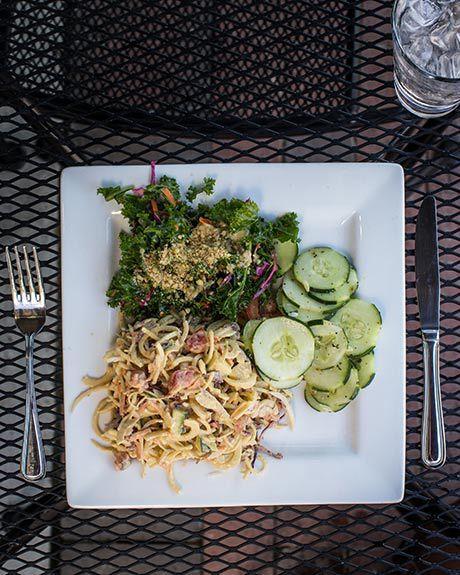 Good Life Cafe Goes Kosher
Main Street's Good Life Cafe has always been a place where people of very particular dietary needs can go out to eat, and it's recently added another to the list: kosher. As of Thursday, Sept. 27, the restaurant is certified kosher, which means that it abides by a strict policy of kosher food laws that include cleanliness and purity.
"For example, when we wash our kale, we wash it three times and on the third time we take the water that runs off of it and use a fine mesh strainer and LED light to make sure there are no creepy crawlies in it," says Kendall Jones, manager at Good Life Cafe. "If so, we wash it and test again until it is 100 percent free of any bugs or debris."
Additionally, Good Life has hired a specific staff member who keeps kosher herself to oversee the task of washing produce and keeping up the kosher standards.
"The reason we decided to do this is because it is a higher standard of cleanliness and quality of food," says Jones. "It raises the quality of our food above anything else in our area."
Good Life Cafe is the second restaurant in the state to be certified as kosher. Jones says that it has been about a yearlong process to convert to kosher that involved a lot of hoops and ordering special equipment.
Got food or drink news? Email food@free-times.com.