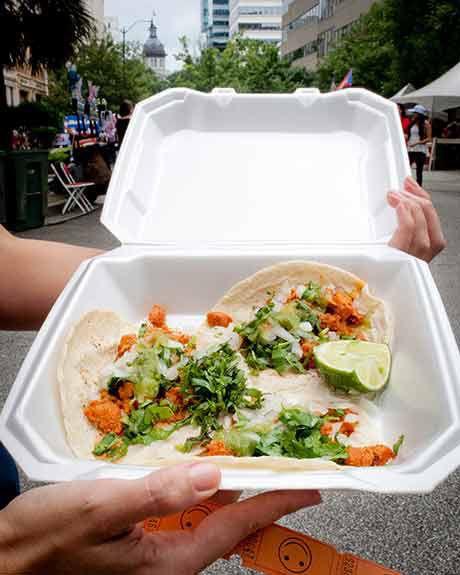 The South Carolina Taco Festival, run by the out-of-town organization A Taste of Your Town, canceled the festival for the third time, leaving locals pretty annoyed at the whole situation.
Originally scheduled for October 21, 2017, the festival was first cancelled due to equipment issues within the company, then two more times due to unfavorable weather forecasts despite being billed as a rain-or-shine event.
As people complained in Facebook comments on the event page, the company's social media person got feisty, replying, "Concerts are rain or shine as well but when there is lighting/thunder, comets, volcano's or swarms of biblical locusts, the most responsible solution is to let everyone live to eat tacos another day."
As we now know, the weather was pleasantly partly cloudy this past weekend, leaving people wondering where they'll get tacos from now. May we suggest some of the area's fine taco purveyors, some of which even sell out of food trucks along Highway 1 in West Columbia?
Judging from replies on the Facebook event comments thread, people who request refunds are getting them back, albeit somewhat slowly. There's no word yet on whether or not the Pennsylvania-based company will attempt to woo South Carolinians again with taco talk.
No Macado's For You Either!
Macado's, an ambiguously themed bar-restaurant popular with college students that was seeking to build on the empty spot at 1908 Blossom St. in Five Points (and right in front of a few homes in the Wales Garden neighborhood) has been denied a rezoning request by Columbia City Council.
Council cited potential traffic safety and alcohol-related concerns in their decision not to allow the rezoning from light industrial to mixed-use development which would make it possible for a bar, restaurant, or other similar business to locate in the space.
The chain has locations in Virginia, West Virginia, North Carolina and Tennessee. This would have been the first South Carolina location for the company.
Doughnuts Go Blueberry
The hot light is on for Krispy Kreme's newest limited-edition release, the glazed blueberry cake doughnut. Available from May 21-27, the cake doughnut is described by the company as "chock full of blueberry flavor … with original glaze to make the experience even more enjoyable."
The popular doughnut chain has been experimenting with limited release doughnuts, the most recent being a lemon glazed doughnut and the most popular being the all chocolate glazed doughnuts released for the solar eclipse in August 2017. The blueberry glaze is a runner up in a nationwide contest that Krispy Kreme held where voters could decide the next limited release doughnut flavors. Lemon won, and the company decided to also release the second runner-up.
The Cayce, Columbia and Lexington locations will have this new flavor available while supplies last.