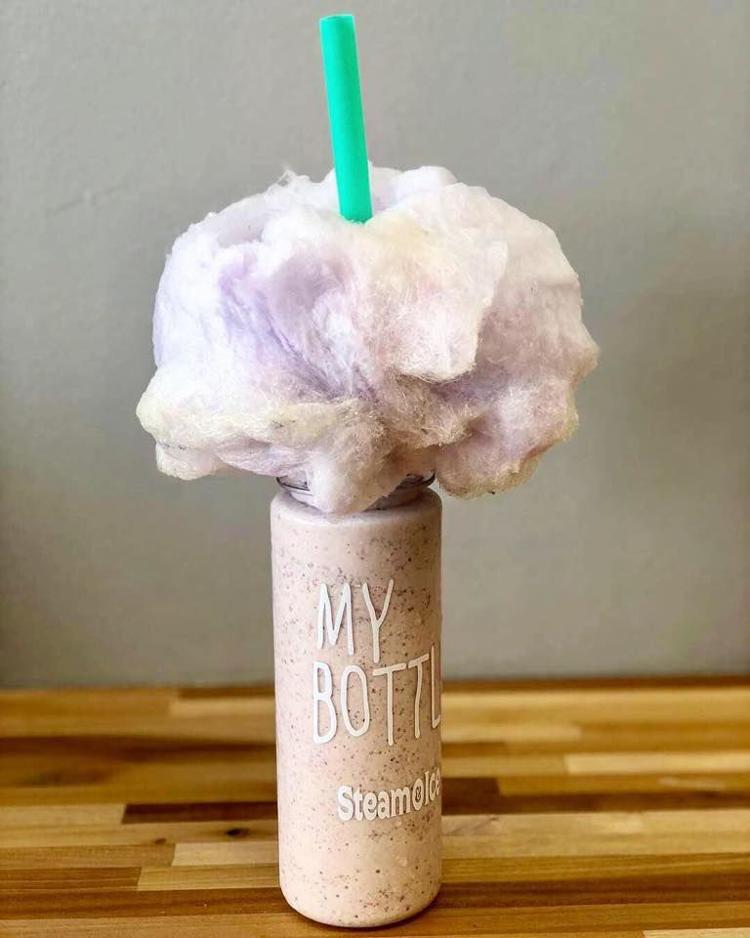 Steam and Ice — a smoothie, acai bowl, milkshake, coffee and all around healthyish sweets shop — is now open at 275 Harbison Blvd., Suite M, next to the 2nd and Charles bookstore. The concept, created by Marcia Johnson and Janee Johnson, is the first of their stores, which they are hoping to franchise down the line.
"Marcia and I have traveled around the globe and felt there was a place in Columbia for something otherworldly and that brings a bit of luxury and magic to the city," says Janee Johnson, one of the partners.
And otherworldly is an accurate descriptor for some of their eccentric creations, like their milkshakes topped with an airy floof of homespun cotton candy in unusual flavors like cookies and creme, caramel and cake batter.
"So even our cotton candy flavors aren't typical," Johnson says with a laugh.  
In addition to cotton candy-adorned milkshakes, they also offer acai bowls, smoothies, hot teas, fruit drinks, coffees, pastries and a small sandwich selection. Johnson recommends the Great Green smoothie, with layers of pineapple and mango, granola and honey, blackberry puree, and green apple smoothie inside. The smoothies are very visual, with easy-to-see chunks of fruit or shredded coconut suspended in the clear glass bottles that they sell, plus add-ins like goji berries and bee pollen. Yes, these treats are meant to be highly Instagrammable, as is the whole store, with ideal photo opp spots built in throughout.
Being very waste conscious, all of their cold drinks come in a reusable glass bottle that garner 50 cents off of the next purchase with reuse. Hot drinks come in reusable thermoses and net $1 off of each drink. Steam and Ice also partners with area high schools to allow students the opportunity to design the glass bottles so that students will have a real-life design credit in their portfolios.
"We are always looking to give back and we love to give students opportunities like this," says Johnson.
Though they are focusing on the Columbia store now, Johnson says they are looking to expand, with their sights set on Charleston and Charlotte. View their extensive and unusual menu offerings at steamandice.com.
Halls Delays Opening
According to a social media post by Halls Chophouse, they will be delaying their anticipated Dec. 3 opening due to "buttoning up a few details." The new expected opening date has not been announced, but will be put on their social channels once reservations are open.
Halls Chophouse is an upscale steakhouse that originated in Charleston and also has a location in downtown Greenville. Their Columbia location will be in the former Oak Table space at 1221 Main St., where extensive renovations have been done to upgrade and expand the space.
Open on Christmas Day?
We're rounding up our annual list of restaurants and bars that will be open on Christmas Day. Email food@free-times.com by Saturday, Dec. 15 with details on hours and specials if your bar or restaurant will be open for inclusion in our list.