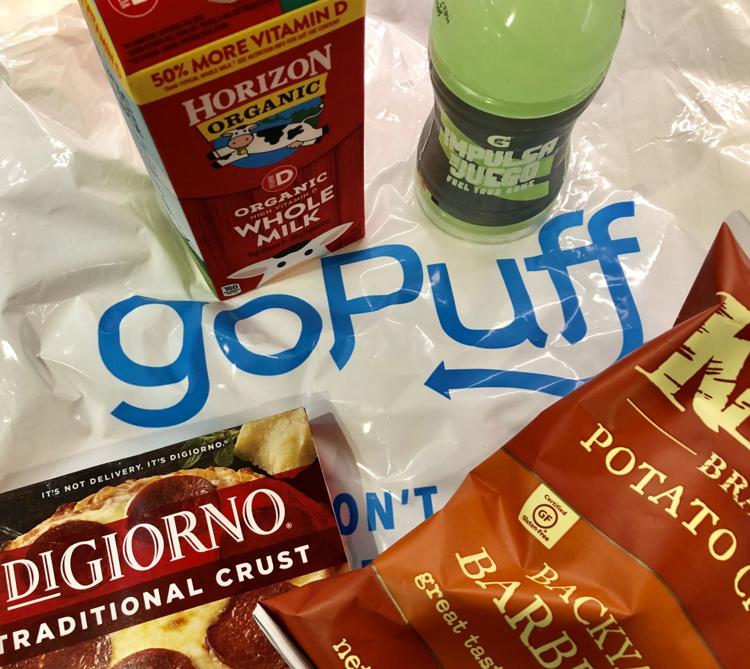 Delivery of food from grocery stores and restaurants is a rising trend in Columbia, but what about those little things that you'd get from the pharmacy or gas station — like Gatorade, rolling papers, or even Plan B?
GoPuff, the newest delivery service to hit the city, delivers exactly those kind of things and more. Part convenience store, part head shop and part adult novelties store, you can get all of these things delivered to your house in as little as 20 minutes with the anonymity of the driver not being the person who packed up your order, in case you got some weird stuff.
The service concentrates on areas with lots of millennials and Gen Z-ers, which means a college town like Columbia is exactly their market. Despite the name that suggests the service is only for people who are too chemically enhanced to make a drive to the store, the service also includes limited grocery products, baby products and other health-related items that make it desirable for those who are housebound or unable to drive.
Orders are entered online, very similarly to ordering groceries online, credit card info is entered (or the option to pay the driver cash is available), and an email comes with an estimated delivery time. The order is put together by workers in a warehouse, which the delivery driver we used said was on Huger Street, and delivered by the nearest available driver.
GoPuff spokesperson Liz Romaine says that in the short time they've been in Columbia, the most popular order time has proven to be 9 p.m. through midnight, and the most popular order day has been Sunday. To place an order or peruse the eclectic assortment of more than 2,000 products available for delivery, go to gopuff.com and enter your ZIP code to see if delivery is open in your area.
Restaurant Switcharounds
A few restaurants in town are switching around locations all at once. Mint Julep, formerly of 120 Sparkleberry Rd.in Northeast Columbia, has closed, making way for Julia's German Stammtisch to move into the location, giving them more kitchen space and seating, plus a new audience.
Julia's anticipates an opening in December, but don't expect very big changes, as they still won't accept anything but cash, in true German fashion.
Taking over the empty space left by Julia's at 4341 Fort Jackson Blvd. is Moctezuma's Taquiera, which will expand its seating capability to more than double of what they currently have at their 506 Beltline Blvd. location, while also adding more parking. And in the spirit of neighborliness, Pedro Gonzalez, the owner of Moctezuma's was reported to be helping Julia's move out of their space. Moctezuma's should open in the new space later in December. The current location will remain open, too.
Pizza for Cottontown
Citta del Cotone, a wood-oven fired pizzeria, has opened in Cottontown as of Friday, Nov. 16. Co-owner and chef Rick Marzan is no stranger to the pizza game, though, as he has made hot pies in Columbia for several years at Noah's Antica Pizzeria in Irmo, which closed in 2015.
The name of the shop actually means Cottontown in Italian, a nod to the moniker of the surrounding neighborhood. Citta del Cotone will serve up Neapolitan-style pizza and will have both eat-in and carryout options at 2150 Sumter St.  
Got food or drink news? Email food@free-times.com.