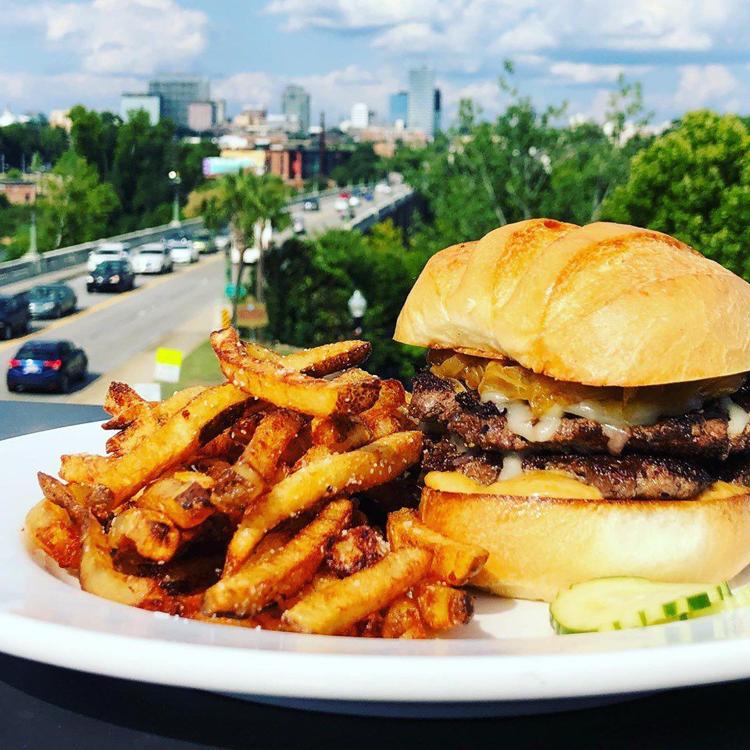 Brunch options continue to grow in the Columbia area. Recently, Black Rooster joined the Sunday game with their Frenchish brunch menu. Perhaps the most fun is the Croque Consieur. A Parisian cafe classic, the sandwich is filled with ham and gruyere that's grilled and topped with mornay, an intensely creamy, cheesy sauce. Though optional, it is completely worth adding the fried egg to really send the fork-and-knife sandwich over-the-top. 
Black Rooster's menu also includes a weekly quiche of the day, french toast with an elegant Grand Marnier syrup, and their signature burger, the Royale with Cheese — a massive, double-patty burger with gruyere, caramelized onions, a demi-glace aioli and house pickles. 
Also back in the brunch game is Rosewood Market, which took a few weeks off to work on the menu. New additions include build-your-own breakfast bowls, quiches, overnight oatmeal bowls, and various brioche tartines with either avocado, housemade ricotta and jams, or almond butter.
Black Rooster (201 Meeting St. in West Columbia) is open from 10:30 a.m. to 2:30 p.m. for Sunday brunch, while Rosewood Market's deli (2803 Rosewood Dr.) is open from 9 a.m. to 2 p.m. 
Get Your Okra Strut On
The annual Okra Strut returns for its 46th year this weekend. Started by the Lake Murray-Irmo Woman's Club in the early 1970s, the festival was created to help fundraise a new library. They got the inspiration for an okra event after hearing local radio personality Gene McKay mention okra during one of his broadcasts. The idea to have an okra festival was born, and the Town Council and Okra Strut commission have been frying okra annually ever since. 
The Okra Strut (7507 Eastview Dr.) runs Friday, Sept. 27, from 6 to 11 p.m., and all day Saturday, from 9 a.m. to 10 p.m. There will be live music on Friday from Terence Young and the Finesse Band — the creators of the official Okra Strut dance — and Bon Jovi cover band Slippery When Wet. Saturday features headliner Edwin McCain, who had several top 40 radio hits including "I'll Be" and "I Could Not Ask for More." The famous Okra Strut parade is Saturday morning at 9 a.m.  
Learn About Healthy Eating 
The American Heart Association is teaming up with Carolina Nutrition Consultants to host a free event Thursday, Sept. 26, to educate the community about heart-healthy eating in a fun, family-friendly environment. Chefs from around the Midlands will be taking part in a competition to create their best healthy dish. Guests at the event will be able to vote on their favorite dish and help decide a winner. 
The event not only promotes healthy cooking, but also highlights some of the local culinary talent in the city. The winning chef will be featured in Columbia Living Magazine and at the Midland's American Heart Association's 30th annual Heart Ball in February.
Restaurants and chefs participating in the event include Greg Martin of Primal Gourmet, Javier Uriarte of Hendrix, Dom Tidwell of Good Life Cafe, Mike Ellis of The Grand and Michael's Cafe, Jon Cooper of River Rat Brewery, Jason Bruner of 1801 Grille, Lawrence Wright of Blue Cross Blue Shield, and Bryan Tayara, chef/owner of Rosewood Market.
The free event takes place at the South Carolina State Museum (301 Gervais St.) from 6 to 8 p.m.