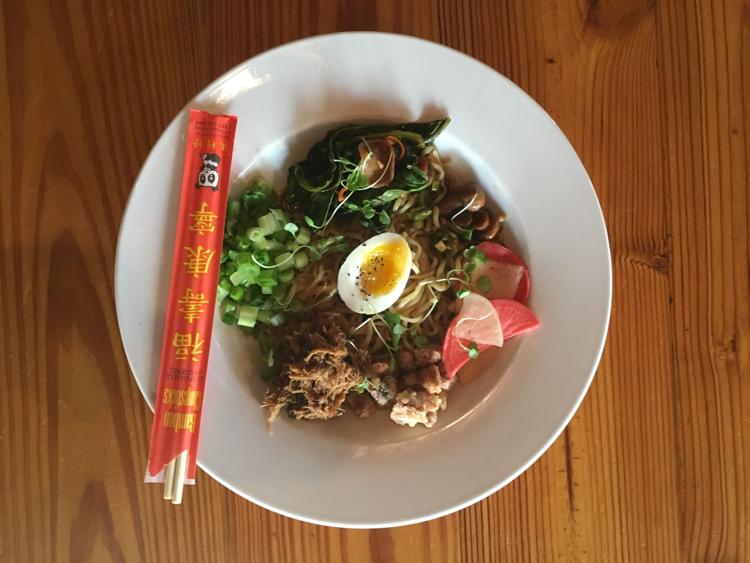 what: summertime ramen special
cost: $15.95
where: Hunter-Gatherer Brewery and Ale House, 900 Main St., 803-748-0540
hours: Mon-Thu 4-10 p.m.; Fri-Sat 4-11 p.m.
Hunter-Gatherer's new Rosewood-area production brewery has sucked up a lot of attention in recent months. So you'd be forgiven for having missed that the brewpub's original location south of the State House is turning out some excellent food under the guidance of head chef Alex Strickland.
Strickland, who was a line cook at Terra for the previous six years [online copy corrected], took over at Hunter-Gatherer in February. And while H-G's core menu looks startlingly similar to 20 years ago — with burgers, gyros, salads, hummus, and bar-style pizzas on those little metal trays — it's in the specials that Strickland is flexing his muscles, creating top-quality creative food at decent prices in a comfortable atmosphere. There's often a fish or seafood dish as well as a meat on the board, along with a chef-curated cheese plate, and starters like smoked and confited chicken wings.
The summertime ramen, a recent entrée special, is an ideal Columbia dish: When it's hot and humid out, you don't necessarily want a steaming hot bowl of soup and noodles, so it's served at room temperature. I chose fluffy shredded pork as my protein; it came atop of a pile of broth-moistened homemade noodles, with a variety of toppings: a soft-boiled egg, housemade kimchi collard greens, sliced pickled radishes, marinated mushrooms, candied cashews and green onions. Gingery and refreshing, it offered up a variety of textures and flavors.
Most importantly for a brewpub, the ramen pairs well with Hunter-Gatherer's flagship Wheat, giving some new dimension to an aging standby. Even with a shiny new production brewery, H-G has clearly chosen to keep its English ale-based portfolio pretty tight, rolling out just a handful of new beers over the last several years. It's clear we'll have to look to the menu if we're looking for frequent innovation — and fortunately the new chef is providing just that.