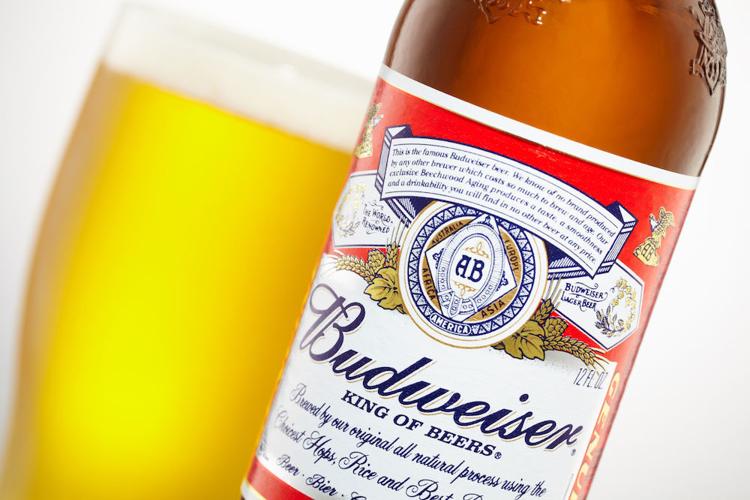 Recently MillerCoors Brewing launched an advertising campaign featuring commercials for Coors Banquet beer and Miller High Life. I'm intrigued by these commercials because I thought those once-famous beers had lost their prominence. Banquet was all but replaced by Coors Light and High Life was replaced by Miller Lite as the flagships for their respective breweries.
But these effective vintage-style commercials had their intended effect, at least on me. I decided to try these beers again after many years. To sample them fairly, I decided to taste them side-by-side along with another former flagship beer that has been eclipsed by a light beer: original Budweiser. 
These three American beers were created by German immigrants during the late 19th century, and their success propelled the growth of their respective breweries. The beers were based on the German pilsener style, though there are substantial differences. Traditional German pilseners then and now use only malted barley as their base grain while these American ones use other grains such as corn and rice ("adjuncts") in addition to malted barley. These adjuncts were used then and now for a variety of reasons, but the one undeniable fact is that corn and rice lighten the body of the beer, making it thinner on the palate and presumably adding to the "drinkability." 
Here are my impressions from this tasting:
Miller High Life: The beer pours crystal clear with a creamy white collar of foam and no discernable hop aroma. The flavor is muddled with corn accents overlaying the somewhat coarse malt flavor. Bitterness is fairly high and not particularly smooth with a very dry finish and an odd slate-like aftertaste. The beer is thin. Miller has for many years used hop extracts instead of other forms of hops for its beer. These extracts are light-stable so they are not susceptible to spoiling by exposure to light, so Miller is able to use its classic clear bottle to enhance its "champagne of bottled beer" image. The effect of hop extracts is debatable. Personally I think extracts add little flavor or aroma to the finished beer and the bitterness from extracts is coarse and less refined than that from other hop forms.
Coors Banquet: This one pours similar to High Life and again has no real hop aroma, though I did pick up some mild sweet malt in the aroma. The malt character is smooth with some sweetness. I perceived a hint of corn along with some unusual banana-like flavor at mid-taste. Coors uses corn syrup and hop extracts, though the bitterness was somewhat smooth and not as coarse as the Miller. The body is thin, and the finish is dry with a slate-like aftertaste much like High Life.
Budweiser: This is another handsome beer in the glass and has a slight spicy hop aroma. The flavor is smooth and refined. There's little or no malt flavor, with a hint of rice and green apple at mid-taste. Some spicy hop flavor adds to the clean, crisp taste that is balanced by firm but smooth bitterness. The body is thin without the odd aftertaste of the other two.
None of these are bad beers. They are as intended by their brewers — simple and uncomplicated beers that are best served very cold to make them more refreshing. Of the three, Budweiser has the most flavor and is best all-around, followed closely by Coors. 
Even so, all-malt beers have a cleaner taste with more flavor than those with corn or rice. There are a number of European styles and craft versions of those styles that are simple and uncomplicated yet still taste better than any of these three American beers. The German helles style is a perfect example — try Paulaner Original or Benediktiner Hell. Both are refreshing and tasty beers that will not challenge your palate.
The blandness of beers like these three helped spawn the craft beer movement, and for that, we should be grateful. In response to the success of craft beer, the megabrewers have not changed their beers; instead, they have chosen to buy craft brewers.