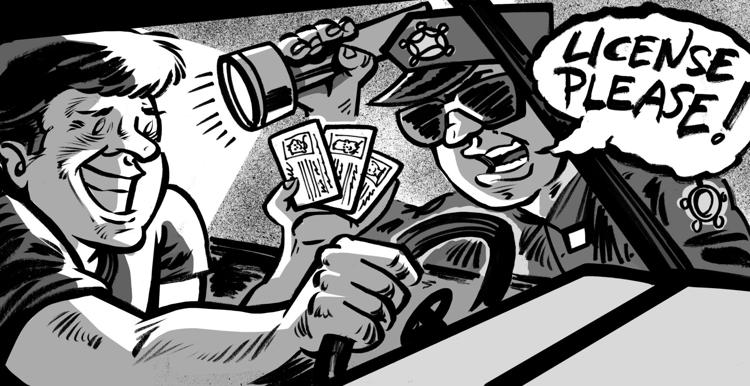 This information comes from local police reports. It does not mean anyone is guilty. This is not a court of law.
Cash and Pies: Cops got a call after a man robbed a food spot on Lakeside Avenue. The suspect got away with $38 in cash and $36 bucks worth of pizzas. Nothing like robbing to make you want to overload on carbs.
Multiple I.D.: Authorities pulled over a 20-year-old man after he was driving around on Assembly Street without his lights off (at night). When cops approached turned out he tried to use a fake ID After the officer asked, the driver showed several IDs he had in his stash. Wondering if he used a fake ID with the name McLovin (now just realizing that even a Superbad reference is still over ten years old).
Date Night: Authorities nabbed a 52-year-old man after trying to grab an $18 bottle of wine and a lighter from a store on Harbison. Sounds like this guy was in the process of having a very nice date. Too bad he got caught and some lady missed out on a candlelight wine evening. Probably for the best, because if the guy was going to cook dinner that s#!t was probably stolen too.
ATM Machine: Cops are searching for three men that drove an SUV into a pharmacy on Forest Drive and then tried to snatch an ATM machine once inside. Surveillance caught a grey Tahoe driving into the business and shows suspects trying to take the ATM before just giving up and driving away. The SUV was later found abandoned on a street nearby.
Tip of the Week: If you're going to try to steal meat from a grocery store, and your only idea is to sneak it in your pants, just don't do it. You will get caught and after we know where those steaks have been, ain't nobody gonna eat it afterwards. A 59-year-old man got nabbed after trying to steal $25 worth of meat from a store in North Columbia by putting it in his trousers. When loss prevention realized that the bulge wasn't all him (sorry to hurt your self-esteem) they discovered the attempt to steal meat.
Let us know what you think: Email editor@free-times.com.