South Carolina can be a hell of a place for a woman.
At least that's what the numbers tell us.
This is, after all, a state that is perpetually among the worst in the nation in regard to domestic violence, with a report earlier this year from the Domestic Violence Advisory Committee listing South Carolina as the sixth worst state in America in regard to women killed by men.
It's a place where, according to the Women's Rights and Empowerment Network, women earn 27 percent less than their male counterparts for full-time work.
And the Palmetto State is a place where women continue to lag in regard to political representation. There are only 27 women in the 170-member state Legislature, including just four ladies in the state Senate. According to figures from the National Conference of State Legislatures, only five other states have a lower percentage of women in their state houses.
The dearth of women in the Legislature tends to show through in the issues that do — or don't — gain steam in the General Assembly. For instance, in 2019 — the first in a two-year session — bipartisan legislation that would help close the gender pay gap in South Carolina didn't make it out of committee. But a "fetal heartbeat" abortion ban, which would make it illegal to get an abortion after a fetal heartbeat is detected, likely somewhere around six weeks into a pregnancy, passed out of the House and is likely to be taken up by the Senate in 2020.
But there are those who are trying to help.
Particularly in Columbia, 2019 has been a year in which women's advocacy groups and initiatives have increasingly become a part of the cultural and political narrative.
It's a year that has seen the launch of a group aimed at encouraging more women to seek elected office. A movement has been established to elevate the voices of women of color in the political process across South Carolina. Women's rights groups are continuing to push and prod and toil with the male-dominated Legislature to achieve — bit by bit — better outcomes for women in the Palmetto State. And there are arts and history organizations launching dynamic projects that illuminate the idea that sometimes the past can show us the way forward.
Some might argue that women in Columbia and elsewhere are having a moment in 2019. But several women leaders in the Capital City say it goes far beyond that.
'The Tide Has Turned'
After descending the stairs into the Starbucks in the basement of Main Street's Sheraton hotel, Barbara Rackes grabs an iced coffee and apologizes to Free Times about the condition of her voice. She's getting over a bout of laryngitis, and her words are still coming out just above a whisper.
But while her physical voice was still on the mend, her social and political voice has perhaps never been stronger.
Long a force in Columbia's business and communications scene, Rackes is now working as the president of South Carolina Women in Leadership. A multi-partisan group that formally launched in April, SCWIL is a nonprofit that, among other things, encourages women to seek out positions in elected or appointed office.
It might seem, at first glance, to be a daunting task in a state where, despite the fact that 52 percent of the population is female, only 16 percent of the seats in the General Assembly are held by women.
And Rackes knows that significantly changing those numbers won't happen overnight.
That's part of the reason SCWIL is, among other initiatives, encouraging women to make themselves available for various appointed boards and commissions in cities and counties across South Carolina. The organization has created a portal on its website that lists more than 700 open seats on various boards and commissions in the state. Many times, Rackes notes, service on appointed city or county boards — like an accommodations tax committee or a police advisory board — will give women the confidence they need to take the next step, such as running for county council, or even the state Legislature.
"We want people to take baby steps," Rackes says. "We know that what we are working to accomplish is going to take a long time. Women have not had the confidence to run for office. So, we're trying to give them many alternatives to lead that don't require them to run for office, and maybe they'll get comfortable enough — or mad enough — to run.
"We are finding that women now are seeing so many things not getting done. They look at our Legislature and say, 'They are representing us, what have they done? Where are roads? Where's our better education?' So, we are going to do something, and we're doing it at the grassroots level."
In the months since its launch, Women in Leadership has stressed its multi-partisan status. Rackes notes that the organization won't endorse candidates or specific issues. But she says it will work to encourage a greater sense of cooperation and collaboration in government at a time when politics has become hyper-partisan.
"It's fundamental to our credibility," she says of SCWIL being multi-partisan. "Our three pillars are fair voting, filling the elected and appointed pipeline [with women candidates], and reducing polarization. There are actually people who don't go by parties. There are people who vote independently. We don't register by party [in South Carolina]. People are insistent that they'll cross party lines. Hopefully, you're voting for the person. But it hasn't always looked that way.
"To that end, we want to reduce the importance of the parties by showing that, by working together, we can accomplish a lot more."
Rackes sees the way women are beginning to seize the political and social conversation the last couple years. How more than 100 women were elected to Congress in 2018, an historic number. How the U.S. Women's National Team became the darling of the soccer world this summer after winning the World Cup, and is using the platform to demand pay equity. How there are numerous women's groups working vigorously in Columbia to achieve better outcomes for women and families.
But she also notes that she's seen momentum ebb and flow in the past. She remembers that many women in the 1990s were spurred into political action after the rancorous Anita Hill hearings during the confirmation of Supreme Court Justice Clarence Thomas, but the fervor was not sustained in a widespread way.
Rackes thinks the current climate of emerging women leaders isn't just a blip.
"I think it would be absolutely impossible for you to put us back in the bottle," Rackes says. "We're out and we're out for all the right reasons. I've always been a leader. An entrepreneur, a community leader. I'm more excited now about the women from all walks of life — poor, rich, black, white, we've got a great Latinx community — than I've ever been. It's like the tide. I don't think the tide is going back. I think the tide has turned.
"We are not going to stop until we see real progress in the state of South Carolina."
'Folks are Daring to Dream'
South Carolina has long enjoyed an outsized role in the realm of national politics, in large part because of its "first in the South" status when it comes to Democratic and Republican presidential preference primaries.
The Palmetto State is currently in that spotlight once again, with many of the roughly two dozen Democratic presidential hopefuls parading into the state for campaign speeches, church visits, photo ops at greasy-spoon diners, and other events ahead of the Feb. 29 Democratic primary here.
As that political noise swirls from the foothills of the Upstate to the shores of the Lowcountry, Columbia's Kayla Mallett is working to make sure the voices of black women — who are often a critical force in Democratic elections in South Carolina — are heard and respected.
Mallett, 33, a Columbia College graduate who has worked in children's advocacy, is the founder of Black Women 2020. She has been hosting roundtable discussions across the state — recent stops include Georgetown, Aiken and Clarendon, among others — in which black women have been invited to discuss the cultural and political issues that are important to them as 2020 approaches.
"Obviously our state is a bellwether for politics and a lot of attention will continue to turn toward candidates as we move toward 2020," Mallett tells Free Times. "There's a lot of excitement around candidates. Black women typically deliver the votes, especially for the Democratic Party. We knock on doors, we go to beauty and barber shops. When the story is told, a lot of times, that level of leadership, that delivery of votes and the role that black women play, often doesn't get spoken. That story … doesn't always get told, the true story of black women in South Carolina.
"So, Black Women 2020 is largely about elevating the voices of black women in South Carolina and saying, 'Yes, we are excited about the 2020 election, but we also are very concerned that black women's voices don't often get heard.'"
Mallett notes that, as she has talked to women across the state, she has heard about issues that concerned them, such as the disproportionate number of black women who die from pregnancy complications. (The Centers for Disease Control reports that black women are three to four times more likely than white women to die from pregnancy-related causes.)
She says social justice also is top-of-mind for many.
"I think a lot of our concerns are rooted in social justice issues, especially as nurturers and caregivers in our communities," Mallett says. "We still see police brutality and injustice in our justice system. There's nothing that impacts our community that doesn't also impact us, probably even more so than the next person. I think we care about a lot of issues, but specifically those that kind of threaten our humanity."
As part of Black Women 2020, Mallett also has created a publishing space called Come As You Are on the website Medium, where black women are encouraged to share essays on their experiences.
"It literally is like, 'If you are a black woman and you have a reflection you'd like to share on why it's important to support black women, then you can publish here,'" Mallett says. "Because it's hard, if you are not an established writer or you weren't a journalist or an English major or a politico, to have your voice heard. Making space for the most marginalized voices, making room for those voices to be heard, that encourages the conversation to continue.
"We have tools where we can do that now. We can elevate voices. No offense to the press, but we don't necessarily have to wait on you guys to get our stories out there or have our voices heard."
Mallett thinks the expanding role of women in the political conversation can stretch beyond being a fleeting occurrence. She thinks it can be an "awakening," a time when women can gain a lasting foothold in the halls of power.
"When you think about politics, there was a time when you just kind of had to depend on surrogates or grassroots leaders or elected officials to tell you what you should think or believe," she says. "There was an almost monolithic idea of who was qualified to be in a leadership role. What I think we are seeing, because of more access to information, because of the Internet, is that people are starting to see there are more possibilities and more ways of doing things and that energy is kind of being harvested.
"I think folks are daring to dream, and I think a lot of those people are women."
'More Women at the Table'
Ann Warner and the staff at the Women's Rights and Empowerment Network have been busy.
Based out of an office on the third floor of the gleaming BB&T tower at the corner of Main and Gervais streets, directly across from the State House, WREN has, in just less than three years since its founding, become one of the state's leading advocates on issues important to women.
Warner is WREN's CEO, having arrived at the nonprofit after eight years working at the International Center for Research on Women in Washington, D.C. During a recent discussion with Free Times, she says timing is at least a part of the reason WREN, a nonpartisan organization, quickly became a go-to voice in women's advocacy in the Palmetto State.
"We launched right before the [2016] election," Warner says. "It was a time when people here in South Carolina and across the country were paying close attention to women's leadership at the highest levels of political office, and the way that women's issues were being portrayed. That was a moment in time that was unique. Before that, and since the founding of this country and this state, we know that women have faced incredible challenges in terms of basic equity, as well as having to suffer from domestic violence, not having equal access to economic opportunity or pay or leadership in political spaces.
"So, this has been a long time coming, and I think we tapped into a particular energy at that moment that really has only continued to build."
Noting the scarcity of women in the General Assembly, Warner says she thinks getting more women into elected positions is critical. She notes how lots of women already are running households, community organizations and businesses.
"They just haven't been fully unleashed in terms of the more formal channels of power and decision making in the state," she says. "I think that is a big reason why we continue to see a debate on things like access to abortion, even access to contraception, and a whole slew of issues. If you had more women at the table, I think there would be more reasonable conversations that are informed by life experience and exposure to people with different points of view."
Even though political power in South Carolina is still heavily tipped toward men, WREN has, through State House advocacy, helped move the needle on issues important to women.
For instance, this year the nonprofit pushed for the adoption of the South Carolina Lactation Support Act, which would require employers to provide reasonable time and space for employees to express breast milk at work. That bill passed the House of Representatives, and will be taken up by the state Senate next year. WREN also supported a bill that would ensure that pregnant women who are incarcerated are not shackled or restrained during delivery. That bill passed out of the House with overwhelming support, and will be considered by the Senate in 2020.
But there is still work to do. WREN has pressed to close the gender pay gap in South Carolina, a state where, among full-time workers, women earn 27 percent less than their male counterparts. WREN supported bipartisan pay equity legislation that was introduced in the state House and Senate this year. However, those bills languished in committee in both chambers.
Warner insists WREN will keep up the fight on the pay equity measure.
"We are very optimistic that that bill will get more traction next year," she says. "I think that all the attention [on equal pay] we have seen recently with the [national] women's soccer team has given us an opportunity to bring it back into the spotlight. It's a really good bill, and it's a positive, proactive way to close our wage gap. In South Carolina, our wage gap is just huge."
"It's not going to correct itself," Warner adds. "We're going to have to take some more decisive, bold action to do that."
'Through the Past and Present'
There are lessons to be learned from the past.
At the same time that women are striving for new heights in politics, business and leadership in general, there are at least two groups in Columbia that are fostering dynamic projects that examine the accomplishments of notable women throughout the history of the Capital City and South Carolina.
In March, WREN and Historic Columbia launched Columbia City of Women. It's an initiative that reimagines the map of downtown Columbia and shines a light on the accomplishments of 12 women who have been historically important to the city. The list ranges from current figures (like the University of South Carolina's national championship winning basketball coach Dawn Staley) to heroes from the past (like late civil rights advocate Modjeska Monteith Simkins).
Columbia City of Women's website features an interactive map of downtown Columbia, with icons for each of the initial 12 honorees at locations in the city that are important to their legacies.
Former South Carolina First Lady Rachel Hodges is the mastermind behind Columbia City of Women. She notes that — in a Capital City filled with historic markers and other monuments to history — there is a paucity of places that outright celebrate the contributions of women. According to Historic Columbia, only six of 145 landmarks in Columbia are specifically named for women.
Hodges says City of Women is not out to change any currently existing monuments in the city, but rather seeks to elevate the accomplishments of women who have wielded influence in Columbia and beyond.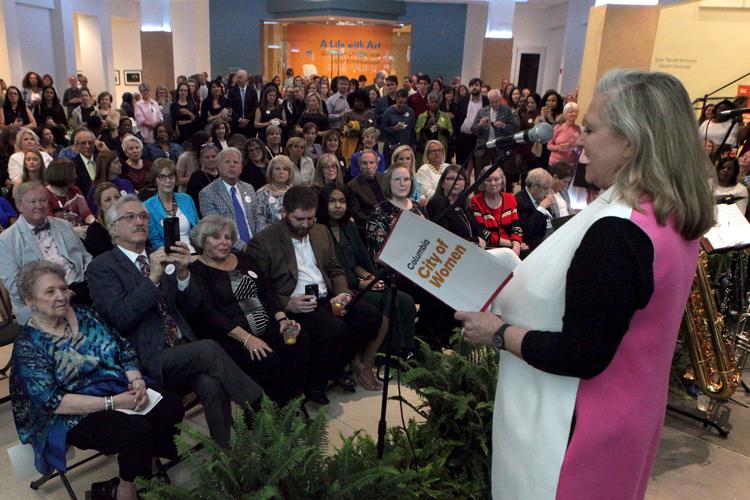 "This is an effort to begin a conversation and have a place to say, 'Look at all of the women, through the past and present, who have done amazing things to overcome barriers and be trailblazers in many areas, to bring a woman's view and voice to our community in an effort to make it better for women and their families,'" she says.
Hodges says one of her dreams for the project is to eventually place physical markers in Columbia acknowledging the City of Women honorees.
"We've had discussions on that from the very beginning," she says. "Take [City of Women honoree and former state Supreme Court Chief Justice] Jean Toal, for example. Why can't we take her name and put it on a brass marker embedded in the sidewalk in front of the Supreme Court? Or Dr. Lilly Filler, who did so many amazing things in healthcare, but also did huge things in recognizing the Holocaust and Jewish families in Columbia, why can't we have her name embedded in brass in the sidewalk at Memorial Park? Why can't we have Dawn Staley's name embedded in the sidewalk in front of Colonial Life Arena?"
Meanwhile, the celebration of important women in the state's history will cross over into the arts scene in a significant way this fall, as Columbia's Jasper Project presents The Supper Table, a multi-faceted effort that will honor a dozen noteworthy women from the Palmetto State. Among those who will be honored are late Mayesville native, educator and civil rights activist Mary McLeod Bethune, late Silver native and tennis star Althea Gibson, and the late Sarah Leverette, the first female law professor at the University of South Carolina.
The Supper Table is an homage to Judy Chicago's famed art installation The Dinner Party, a feminist masterpiece that celebrates its 40th anniversary this year.
During a recent chat at a North Columbia coffee shop, Cindi Boiter — the Jasper Project's executive director and project director for The Supper Table — talked about the influence of Chicago's work, and how she has thought for years about a South Carolina-centric homage.
"As soon as I learned about it, years ago, I thought, 'God I would love to do that in South Carolina. I would just love to do that for women who led lives worth celebrating that nobody has celebrated, or who have been rarely celebrated,'" Boiter says. "So, about 10 years ago, I started thinking that I really wanted to do that."
Now that decade-long dream is on the precipice of reality. The Supper Table will debut Sept. 6 at Trustus Theatre, and will feature the work of nearly 60 women artists, including filmmakers, actresses, writers, painters, poets and more.
In addition to the 12 historical women who will be remembered via artistic place settings at the table, an additional 120 South Carolina women will be honored in the project via painted tiles.
"It allows us to illuminate what these women have done and are doing, as well as to focus on the amazing women's arts community that we have in South Carolina and in the Midlands," Boiter says.
The Jasper Project executive director says she's taken notice of the different women's groups and initiatives that have gained momentum in Columbia and elsewhere the last couple years. She's hopeful that a multidisciplinary project like The Supper Table can help sustain that momentum in the arts community.
"I think that bringing these women together, bringing these 60 artists together, and having them all in the room together, seeing each other and recognizing that they have each other's backs, that they are interdependent, I think that is a way that we will grow from this," Boiter says. "These women will recognize how powerful they are. … We have amazing groups of women who have come together and have said, 'We want to support each other.'"
"These women have already come together," she adds. "The Supper Table is a ceremonial way of just honoring the culture that they have already created."
Let us know what you think: Email editor@free-times.com.