Last month, one of Columbia's most popular indie rock bands made a splash by eschewing traditional tactics.
The rumbling, heartfelt Dear Blanca hosted a mostly outdoor day party at the new Elmwood Avenue location of the Cola Town Bike Collective, pairing their tunes and those of the sleek and sardonic Charleston punks in Vanity Plates with local barbecue and coffee, an outdoor art gallery and a pop-up arcade, and a crushable hoppy blonde ale brewed in collaboration with the nearby Cottontown Brew Lab. The DIY fundraiser for Dear Blanca's current recording endeavors started at 4 p.m. and was packed for pretty much all of its four hours.
"It's probably going to fund their album," reflects David Stringer, who runs the Columbia-based Palmetto State music blog SceneSC. "And this is just a day party that they threw together that had artists, photographers, a brewery, and created something from scratch."
These days, such instances are increasingly common in the Soda City, with entertainment more often seen on late-night club stages spreading to other rooms at earlier times. Cottontown's Curiosity Coffee Bar has kept its modest stage busy since installing it last fall, hosting music, comedy, improv and more, and starting shows in the early evening and afternoon. With three dedicated performance spaces within its former department store building, Tapp's Arts Center entertains even broader programming with a variety of start times.
Tried-and-true rock clubs — the Vista's Art Bar, State Street's New Brookland Tavern — keep the late hours popping, but they're far from the only option.
"Columbia was a real late-night town before The Senate," Stringer notes, musing on how the bigger names and earlier start times at the large-scale rock club that opened have impacted the local landscape. "Once they came in, they were kind of regular-schedule music. New Brookland was always known for running a little bit late, and everything kind of ran late. It was a late-night music crowd. And now there's a lot more options for people who don't want to be a late-night person and still see music — more than there's ever been, it seems."
Opened as an outpost of Charleston's long-running Music Farm in 2014 and rebranded last year, The Senate, the club attached to the Vista's Tin Roof, frequently gets creative — for instance, pairing free, early Vista After Five concerts on its parking lot each spring and fall with complementary ticketed shows inside the main room.
"There are of course several variables in deciding on show start/event start times: How late do you want the show to run, how many acts and how long each set is," offers Derrick Osborne, general manager for the Tin Roof and The Senate. "Of course the end time is dictated by the day of the show and the demographic for the show. Some people may not want to be out late on a weekday as they would a weekend. We generally target a time that allows people to have time to get off work and grab a bite to eat before a show if we can. Weekdays that is obviously a little tougher because you don't want the show to run too late for people that have to work early the next morning. On weekends we have much more flexibility but still consider that people may want to grab dinner before a show and are more likely to stay out later on the weekends."
Greg Slattery, who co-owns Curiosity Coffee Bar, keyed on the idea that aging music fans lacked options when it came time to book the room — a sensible position for a 33-year-old who gets up early to serve java.
"It stemmed a lot from being a little older now within the scene and realizing a lot of people that love music and love going to shows have hit an age where they just can't stay out as late as an Art Bar headlining, 1 a.m. slot allows," he says. "A lot of times when you're going to a show at New Brookland or Art Bar, the ticket name, the marquee name is the person that's playing at midnight or 1 a.m. And the acts prior may or may not be who you're going for. So to me it was this idea of wanting something earlier to sort of placate that crowd of people that I felt like missed going to shows."
Stringer sees inspiration for the rise of early live music in Columbia's ever-growing variety of daytime festivals and events, highlighting the annual Jam Room Music Festival, the weekly and eternally packed Soda City market and the monthly First Thursday art crawl on Main Street as prime examples.
"One of the biggest things opening up the music scene I've seen in the last few years is things like Jam Room," Stringer posits. "It starting right after Soda City, where people don't really have the option [not to listen] and they're seeing some of the best local bands in Columbia. It's those events that — I mean, people are really finding cool ways to have music earlier in the day, and bands are really receptive to it."
Slattery feels similarly, citing the early evening starts and reliable attendance at Arts & Draughts, the Columbia Museum of Art's quarterly beer and music parties.
"You look at events like those ... and you see huge crowds of people," he says. "And what I also loved about that scenario was a lot of times it had a lot less to do with who was playing and more to do with the concept of hanging out with good people, with what they hope is good music and that they're willing [to go] a lot more so than they are a show that starts at 9, that really means 10, that really means you're not leaving until 2 in the morning. So for us, we felt like it was a good opportunity."
So far, Slattery reports that Curiosity's early shows don't lose money. And they're easy to staff. If he wants to host a show from 6 to 9 p.m., that only means staying open an hour past the shop's regular 8 p.m. closing time, so he doesn't have to mess with adding an extra shift. But the concerts aren't without their challenges.
"It's also a discussion with the artists," Slattery offers. "That's maybe been the most difficult part. It hasn't been difficult getting people to come to the shows. It hasn't been difficult to staff the shows or anything like that when we do something early. It's been convincing the bands or the artists that, 'Hey, there's going to be bodies in the room at six o'clock.'"
Tapp's also frequently hosts early shows. Executive Director Caitlin Bright tells Free Times that the center opens doors for most events at 7 p.m.
"We start a lot earlier than most other venues," she observes. "Seven is pretty early. But people seem to like it. ... They're not going to a bar and showing up late, so people don't have to start at 10. And bands seem to like it. They're like, 'I'm out of here at 11:30,' and I'm like, 'Now you go to the bar.'''
Gina Ercolini and Kevin Jennings are about a year into booking concerts at Art Bar, and they say there's still plenty of demand for late-night shows. The club books live music three Fridays a month (three acts, the first starting at 9:30 p.m., the last at midnight) and every Saturday (four acts, the first starting at 8:45, the last at 12:30 a.m.). Ercolini confirms that the logic behind that structure has a lot to do with keeping people in the bar and buying drinks for as long as possible.
"That's been the traditional reasoning that's been relayed to us," she says. "The reason why it's later at Art Bar is we've noticed the [way] traffic flows. A lot of bands, particularly the headlining band, would prefer their set to be earlier. I understand. But we get anywhere from a third — to sometimes on busy weekends even more — just people who come in and pay five or six bucks because they want to hang out at the bar and they're not necessarily there for the music. And the peak time for people who just are out and about in the Vista, off for the weekend, visiting friends, what have you, and they just want to stop at Art Bar, that's 10 to midnight. So if our shows start much earlier, there would be a whole [unserviced] section of that walk-in crowd, and it's quite substantial."
"Back in the day when we used to go party and stuff, no one would leave the house until after 9," Jennings adds. "I'm the type of person that wants to leave the house early and go get dinner or whatever, but most of the people I hung out with, it was always leave the house at 9, figure out where you're going, usually by 10 o'clock."
But both he and Ercolini emphasize that they flex the way they structure their bills.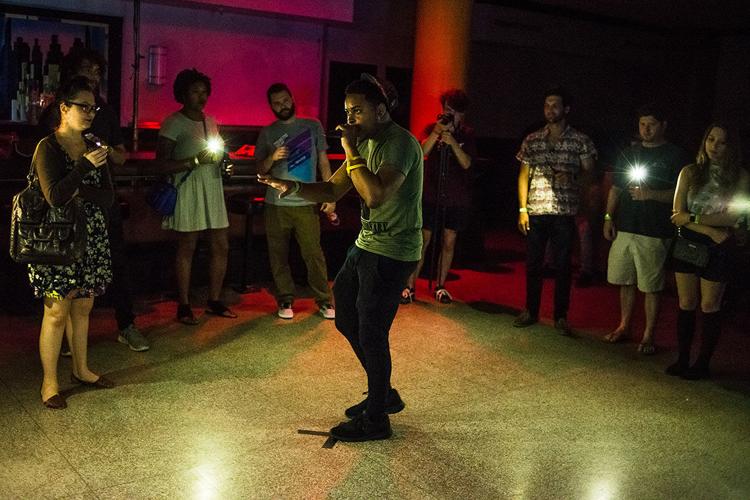 "We don't always put the headlining band on last," she says. "I've heard a lot of people say, 'Why is this band going last? In-town bands always are the last band.' Well, that's not always the case. Or they have a perceived formula. And we look at each one and try to determine. We have no problem with bands that take that 12:30 slot packing the place. It just depends on a whole variety of things. So it's not that the crowd is diminished at that point. It depends on the band. It depends on what's going on that weekend. It depends on what's going on that night."
A big point of emphasis is accommodating touring bands.
"We've had bands drive eight hours to get here and play a show and have a six-hour drive after the show," Ercolini offers, "so we want to take those things into consideration where they might be the headlining bands but we'll put them earlier for their travel."
"It's mostly just trying to create a good environment for the bands," Jennings says. "You want them to come back. And you want them to tell their friends because you want those bands to come play."
Candice Johnson, who runs the local music blog But I'm Not a Critic Though, points out that a big part of when shows start has to do with the style being played. Hip-hop typically sets its clock later than rock, she explains.
"Rap shows rarely happen during the day," Johnson says. "Hip-hop shows normally start, at the earliest, maybe eight or nine o'clock. Some start at 10, and they last until 2. I feel like it's kind of a genre difference, but it's just when the crowds want to come out. Normally, people planning events are trying to cater to their crowd, and so depending on the crowd they're trying to get, whether that be an older or a younger crowd. Of course, your older crowd would prefer to come out in the daytime and your younger crowd would like to wait until later on at night."
Alex Strickland, who frequently books metal and punk shows at New Brookland Tavern and Hunter-Gatherer on Main Street, points out that these genres similarly tend toward later starts. His Hunter-Gatherer bills are particularly late as they have to start after the brewpub's dinner service. Strickland sees a distinct reason for this scheduling trend.
"In this town specifically, a lot of people who are into metal are also in food and beverage," he explains. "So the people that work from 2 in the afternoon until 10, 11, midnight, they can actually go to a show and still catch part of it if not all of it. That doesn't apply to everybody. But at least the homies that I know, the homies that come to an Alex Strickland-booked show, you can kind of tell the 'Oh, I worked all night, and I got here as soon as I could' type of vibe."
As to whether these late hours keep people from giving local metal and punk a try, he doesn't see it as much of a problem.
"Metal in itself is something that you kind of have to go outside of the norm to be able to accept," Strickland says. "Especially the kind of metal I book, where there's very little clean singing. It's always loud as f#!k. There's tons of super crazy noise that's not necessarily melodic or even rhythmically attuned to someone's musical taste. It's very abrasive. So that in itself is already limiting."
Johnson demurs similarly when asked how the lateness of hip-hop impacts its audience.
"Some people will only come out to see one type of show no matter what day it is," she responds, "and then some people are open to trying new things."
Several of the people Free Times spoke to pointed to an exciting aspect of hosting live music earlier in the day: When it takes place at times more commonly associated with other arts — theater, comedy, film, etc. — there's a greater chance that those crowds might intermingle, increasing everybody's reach. Tapp's is a particularly strong example, with events across divergent disciplines frequently overlapping in its performance spaces.
"We do really well with creating a music mall," Bright says, speaking to times when Tapp's activates its downstairs rooms The Space Hall and The Soda Live and the upstairs Skyline Room all at once. "People really like traversing and exploring, so that works. And then we can set things up so that there's breaks, and it works out really well."
"[Recently], it was an all-female hip-hop show downstairs and a book tasting event upstairs." she recounts. "A lot of independent authors brought their books, you got a ticket to go in, and then you would get excerpts of the books and you could sit with them, and then if you're interested you could buy them. [The events] were staggered. They had like an hour overlap, which we were a little bit nervous about. But then it worked out well because weirdly, some people from the book tasting then heard hip-hop downstairs, and they were like, 'I'm gonna go check that out.'"
On a more basic level, Stringer is excited by living in a place where events happen more often at various times of day.
"It just creates a city where people can't complain anymore that there's nothing going on," he says. "Now it's impossible to avoid the fact that there's something going on. All you have to do is go outside, walk around downtown, and there's something going on every single weekend in Columbia. There's no excuses anymore. There's something all the time. And it slows down a little bit during the summer, but not much."
But he comes back to the most basic advantage of earlier shows.
"It's funny, you always see the memes and stuff of their back hurting when they're over 30 and at a music show," Stringer laughs, "like a Hard Times article or something. But people do age out. Every few years. People have families. People have different obligations, but you still want to go to shows."
Let us know what you think: Email editor@free-times.com.