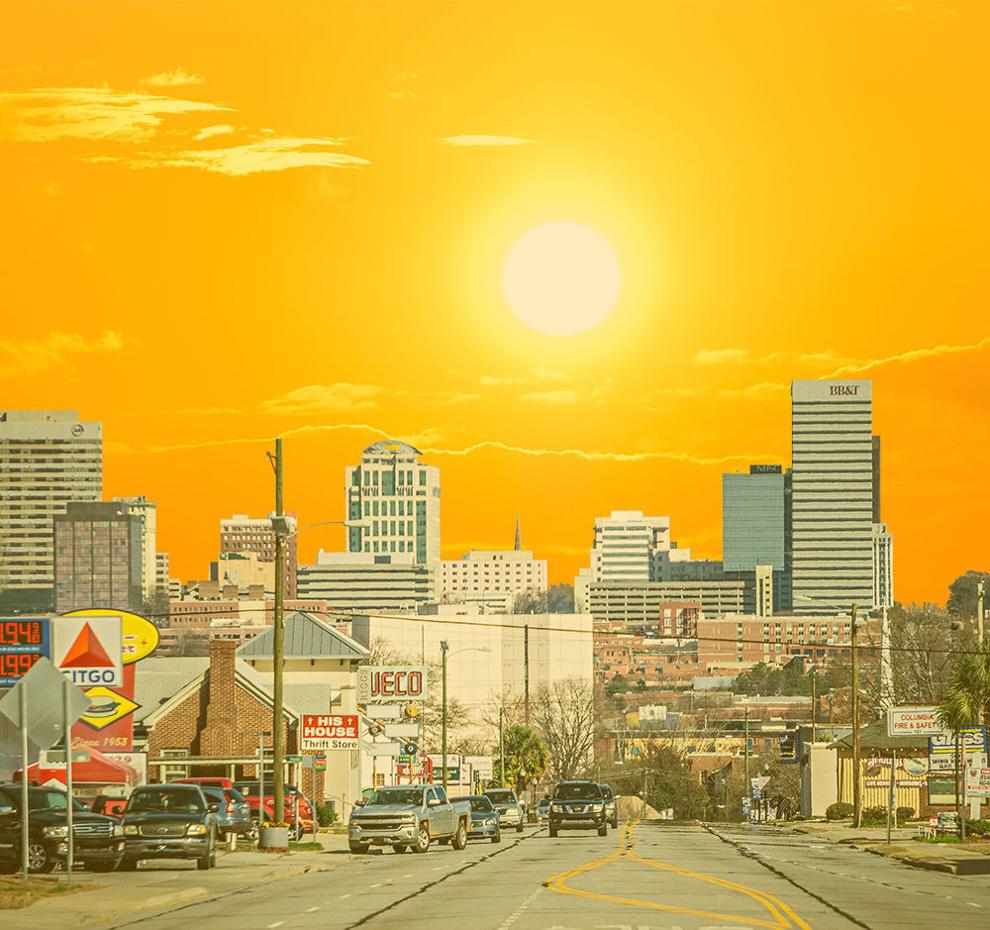 In the brutal back-to-back summers of 2015 and 2016, a YouTube video made by a man named E Cornell went viral multiple times, hitting The Weather Channel and garnering hundreds of thousands of views on Facebook.
"Hey, family, this is E Cornell, and I am in Columbia, South Carolina," Cornell says, speaking into his cell phone camera as he sits in a car. "Baby, when I tell you that it is about 993 degrees out here — ain't no birds flying. Ain't no people walking. I saw a couple of folk playing basketball, threw the ball up in the hoop, ball didn't even come down; it didn't want to touch the ground. … I ain't never getting out the car."
He winds himself up to a fever pitch — "H-H-O-T-T hot!" — and then breaks into an improvised song: "Hell is a hot place I don't want to go…"
Cornell — whose voicemail greeting these days identifies him as a "lifestyle image success coach," and further exhorts callers to "Have an awesome, awesome, awesome and more than awesome day" — did not return a call seeking more information about the video.
But he was right about one thing: It's hot.
Last summer was the hottest Columbia summer on record, dating back to 1887. Last year was the hottest year on record in South Carolina. And 2016 wasn't an outlier — temperatures have been rising since the 1970s, across the planet and here in the Capital City.
Climate scientists also tell us that it's going to get worse.
Over the millennia, the earth's climate has gone through natural periods of cooling and warming. As the U.S. Environmental Protection Agency explains it, natural variation doesn't account for the current warming. Since the Industrial Revolution in the 1700s, humans have dramatically increased the amount of carbon dioxide and other greenhouse gases in the atmosphere, which is trapping heat, among other effects.
(At least that's what the cached version of the EPA's web page says. The current version reads: "This page is being updated. Thank you for your interest in this topic. We are currently updating our website to reflect EPA's priorities under the leadership of President Trump and Administrator Pruitt.")
Recent hot summers — not to mention the unseasonably warm spring of 2017 — got us here at Free Times thinking: When is it going to be too hot in Columbia to get out of the car? Could Columbia become unlivably hot?
And what of the other potential effects of climate change — what do those mean for the Capital City?
The answers — which range from more toxic poison ivy to stress on farmers to increases in insects that may carry deadly diseases — aren't pretty.
But there are some things we can do about it.
The Heat, the Heat
The visitors bureau recently stopped marketing Columbia with the phrase "Famously Hot" in favor of "The Real Southern Hot Spot." We get the point: The city is an unusually hot place. And like the rest of the planet, it's become hotter in the past several decades.
The highs are higher: According to the National Oceanic and Atmospheric Administration, in the past 30 years Columbia saw an average of 3.5 days a year over 100 degrees, compared with an average 2.3 days over 100 each year during the 30 years before that. (Climate trends are often measured in 30-year intervals.)
Averages aside, in 2015, Columbia had 10 days above 100 degrees. In 2016, it had 16.
But Kirstin Dow, a professor of geography at the University of South Carolina, says it's the rise in overnight low temperatures that's most concerning. Minimum temperatures are rising, as are the number of nights above 75 degrees. According to a National Oceanic and Atmospheric Administration report on South Carolina, there were an average of eight nights a year over 75 degrees during the last five years — "more than double the long-term average."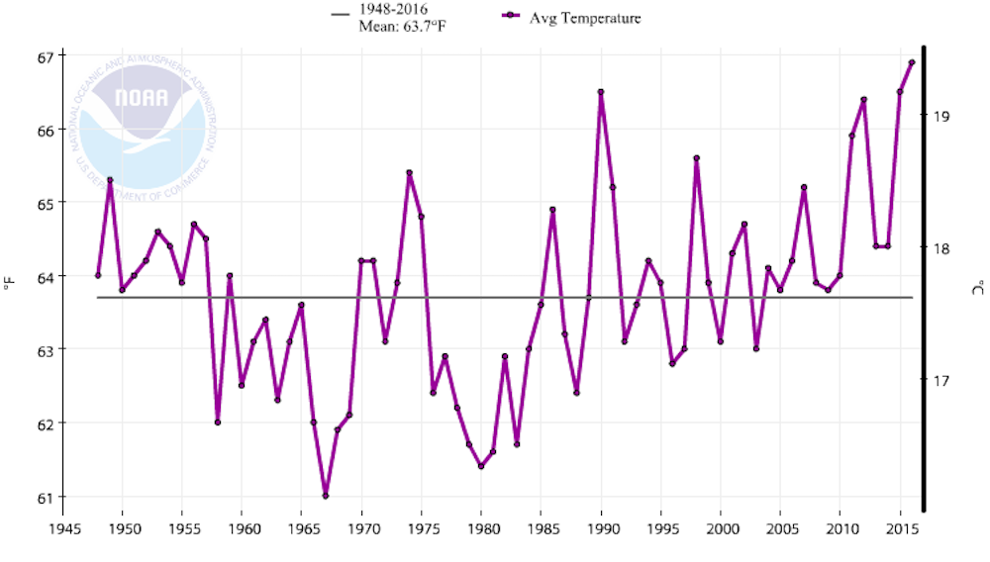 "Look at that," Dow says, pointing to a graph. "You know that over 69, 70 gets to be those really hot, humid mornings."
Lack of cooling is hard on people, particularly the elderly and vulnerable.
"When we get exposed to extreme heat, our bodies need time to cool off," says Dow, who is a lead author on the National Climate Assessment, a key periodic report on climate change. "You need to be able to cool your house overnight and cool off overnight to recover. If you don't get that, you don't recover as well as you used to. That heat stress becomes more difficult for people who are not in a position to find a comfortable place to be."
And because Columbia is a city with pavement and skyscrapers — not to mention situated in a bit of a bowl topologically — it holds on to that heat even more. Dow notes that the high temperature is usually a few degrees higher in downtown Columbia than at the weather station at Owens Airport, which is usually used to report weather for the city.
"There's an urban heat island effect," Dow says. "That's the other piece of human-induced climate change here in Columbia.
"'Famously Hot' is sometimes funny. Sometimes it's a little close to home," she concludes.
Climate scientists say the warming will likely continue.
Models vary, but according to the third National Climate Assessment, released in 2014, temperatures across the Southeast will rise between 4 and 8 degrees by the end of the century.
Average temperatures are one thing — but more very hot days are quite another.
According to the Environmental Protection Agency, by the time people born now are reaching old age, there will be twice as many days above 95 degrees in the state as there are now.
"Seventy years from now, temperatures are likely to rise above 95 degrees F approximately 30 to 60 days per year in much of South Carolina, compared with about 15 such days today," says an EPA report on the state.
There's no one good answer to when Columbia will become unbearably hot. It all depends what bothers you most: longer summers, warmer nights or those really H-H-O-T-T days.
And by the time it gets too hot, other factors, from water scarcity to mosquitoes, may have driven people away already.
Mosquitoes, Spiders and Poison Ivy
Jim Gandy is the chief meteorologist for WLTX, Columbia's CBS affiliate. He's also an outspoken voice on climate change.
He's particularly irked by politicians and other public figures who say dumb things about climate change.
"It drives me nuts that people blatantly don't know what they're talking about," Gandy tells Free Times. "I see my job as trying to correct that. I'm in a fortunate situation: I'm a scientist who's on TV."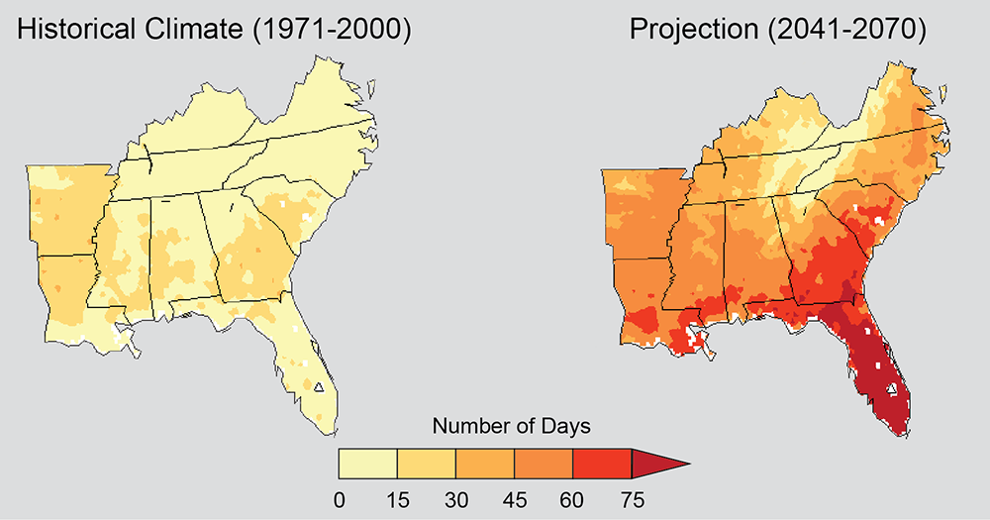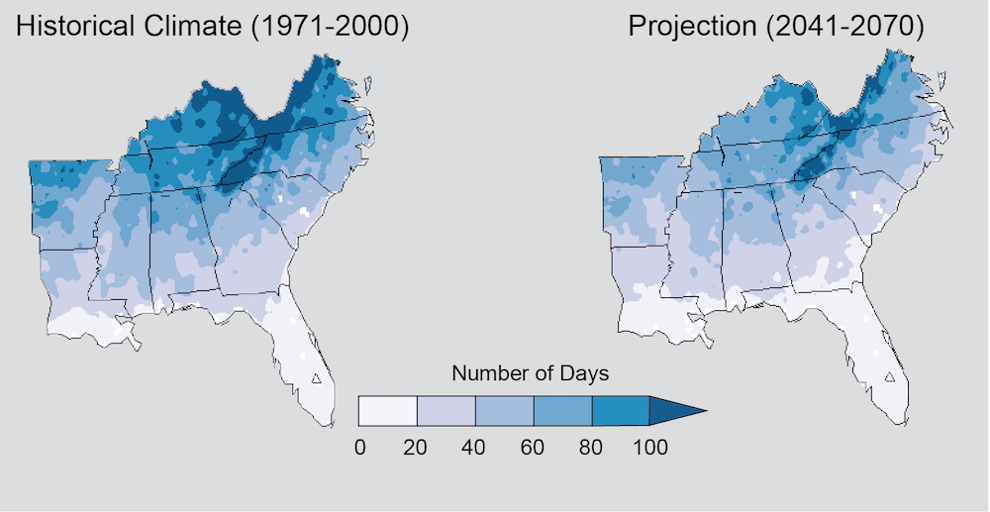 There are those who doubt climate change predictions — but the overwhelming consensus in the scientific community is that fossil fuel emissions are causing the climate to change.
"The debate is not whether we're causing it," Gandy says of climate change. "Everything that we look at tells us that it's the humans, human civilization is causing this ramp-up in global warming."
When he's talking about the dangers of climate change for Columbia, one of his favorite warnings involves a certain toxic plant.
Citing a Duke University study from 2008 and follow-up research, Gandy says the increased carbon dioxide in the atmosphere doesn't affect all plants equally.
"Yes, plants grow faster with more carbon dioxide, but weedy plants grow even faster. And poison ivy grows fastest of all. … Poison ivy also becomes more toxic. It's not by just a little bit. Further research has showed the toxicity levels of poison ivy has now doubled since the 1950s."
As carbon dioxide levels keep increasing, Gandy says, poison ivy's toxicity levels are expected to double again by the end of this century.
"That's a stunning effect," he says. "If you are already allergic to poison ivy, you're going to increasingly have problems. It also means that people who were not susceptible to poison ivy before are becoming more susceptible in the future."
Among the other effects of climate change that could affect Columbia:
Stronger Weather: According to climate researchers, climate change won't necessarily increase the rate of storms, or have an effect on any given storm. But they do say that climate change is increasing the odds of extreme weather. That could mean a heat wave, a drought, or a Category 4 or 5 hurricane. In a city that's occasionally walloped by hurricanes, ice storms and plain old wind and rain, storms can do costly and dangerous damage.
Also, researchers from the University of South Carolina concluded that the catastrophic flood of 2015 was made worse by warmer temperatures. A warmer-than-average ocean meant the storm off the coast sucked up more water, which was then dumped across the state, including here in Columbia.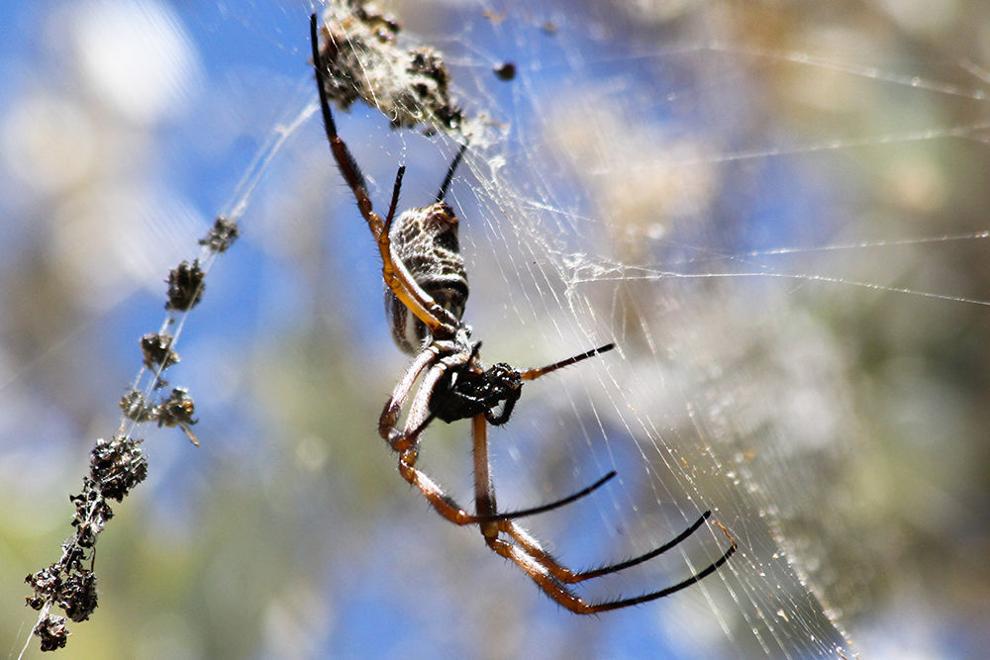 More Insects and the Disease They Carry: Fleas, ticks and mosquitoes all thrive in warmer climates — and they all can carry what are called vector-borne diseases (dengue fever, West Nile virus, etc.). According to the Centers for Disease Control, "Because warmer average temperatures can mean longer warm seasons, earlier spring seasons, shorter and milder winters, and hotter summers, conditions might become more hospitable for many carriers of vector-borne diseases." But while there may be more bugs around, it's still uncertain whether that could mean an increase in potentially deadly diseases. That's because people's behavior influences the spread of such diseases — and, to paraphrase the CDC, as it gets hotter, people in places like Columbia might just spend more time inside, stemming the spread of diseases.
More Pollen: As the globe warms, spring comes earlier — which means plants burst into bloom and release pollen earlier. According to the latest National Climate Assessment, ragweed pollen season in North America has gotten longer — by as many as 11 to 27 days, depending on latitude. The effect is less dramatic in warmer parts of the country like Columbia, but the effect still holds — and Columbia is already ranked the 16th worst city in the U.S. for spring allergies by the Asthma and Allergy Foundation of America.
Big Invasive Spiders: At Congaree National Park, just outside Columbia, climate change is having an unusual manifestation: an invasion of golden silk orb weavers. These large yellow-and-black spiders (sometimes called writing spiders or banana spiders) spin huge webs; they're not dangerous to humans, but they're not native to the area. A park expert recently told The State the spiders started showing up in 2008 in large numbers — as a result of climate change: "Winter temperatures — particularly overnight lows — were in the past too chilly for orb weavers to survive in the interior of many Southern states, scientists say. Since 1991, average temperatures have risen at Congaree National Park by at least one-half degree, according to the Park Service."
That's just a sampling of the weird effects climate change could have on Columbia. There could also be dire results for the state's largest industry.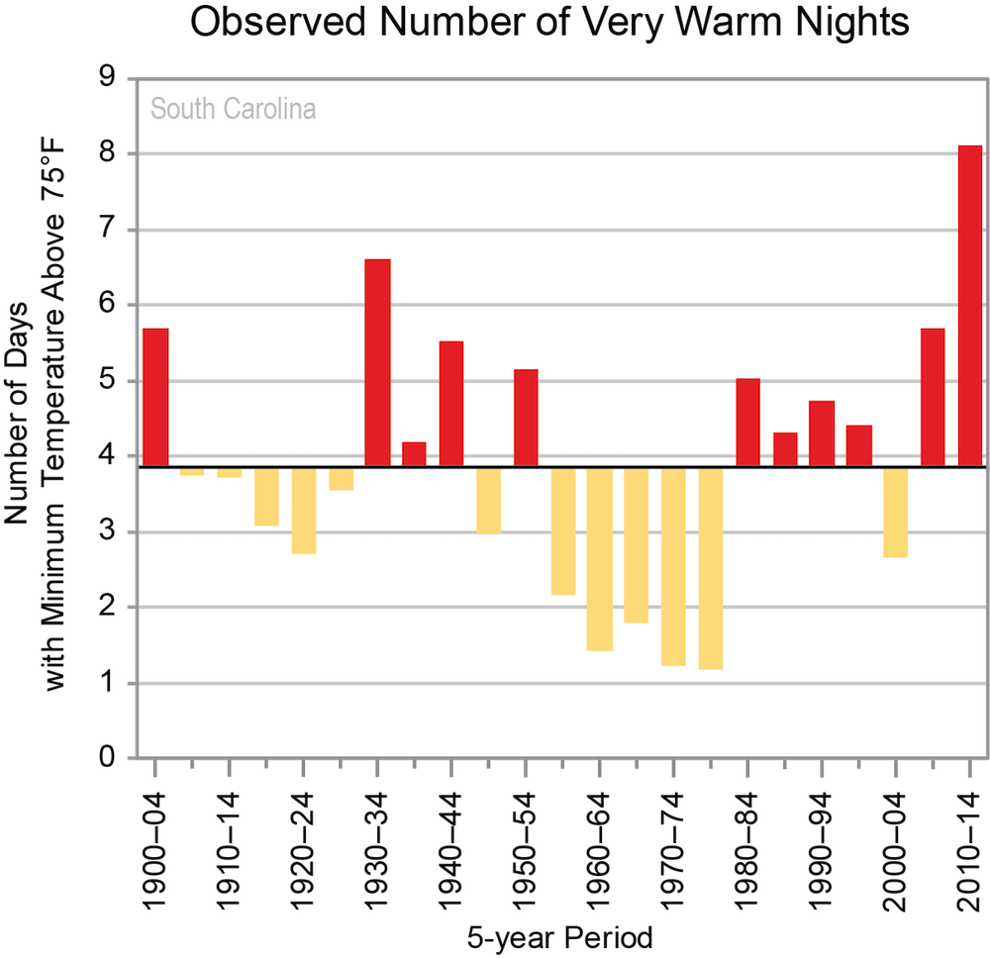 Farmers Take Warning
Given that climate change seems to mean more of everything — heat, extreme weather, mosquitoes — it seems logical to think it would mean more rain in Columbia's future, too. But that's not actually the case.
In general, says Dow, climate models don't show Columbia's average rainfall rising much in the future. That's a problem, because it'll be hotter.
The overall effect will probably be less water in the soil, Dow says.
"The concern here for us is that the average amount of temperature increase we're really confident in is going to be enough to evaporate that extra water," Dow explains. "So we're not going to get the benefit of having additional water. We're likely to see more water stress, less water actually in the soil. Even if it falls, it's not going to stay."
In the Midlands, agriculture is big business. Orangeburg and Lexington counties consistently rank among the top agricultural producers in the state, and the rest of the region is a powerhouse as well.
Plants need rain. They also need cold. Fruit trees and berries, in particular, need a certain number of cold days in order to set fruit and reproduce — which means that rising lows are a problem for agriculture.
Those are just a few of the climate change-related concerns for South Carolina farmers, says Lisa Jones Turansky, chief conservation officer for Coastal Conservation League.
"When I think about climate change, I think about it in two different bins: what we already know, what's happening today, and then predictions," she says. "What we know now is that we are having more extreme weather events than we have historically. We know we have been having more floods and droughts. … We hear from farmers who work with us about weather events like the flood — how these affect how they grow food. Those conversations are conditions that are happening today."
So farming in South Carolina has already become more temperamental, she says.
Just this year, a cold snap that followed an unseasonably warm February killed off 85 to 90 percent of the state's peach crop, the Department of Agriculture told media in March. The state's peach crop usually is worth about $90 million, with a $300 million impact on the state's economy. Berry crops also took a hit.
And it could get even harder.
"In the future, scientists have predicted that crop yields will be affected on a global scale because of temperatures," Jones Turansky notes. "This will increase pests, and new pests will need new pesticides and more herbicides. All these changes will chip away at a farmer's bottom line, which is already pretty difficult to hit."
There could also be an impact to water resources in the state, she says, as there's very little oversight of water withdrawals by farms and industry.
"These are resources that in our state are minimally regulated and somewhat under the radar," she says. "We've always been fortunate to have ample water supplies and resources. As there are droughts in the other areas of the country, big agriculture is looking to us. We are not necessarily prepared … to accommodate the threat."
In other words, the future could stretch resources thinner for farmers and agribusiness in the area — and that would affect us all.
What Columbia Can Do About It
Climate change can seem like a far-off, vaguely threatening thing rather than something that's going to concretely affect our lives. When we see projections for the Southeast, they often involve forces like sea level rise that can seem distant to people in Columbia.
South Carolina also has an unfortunate history of interfering with scientific inquiry into climate change. In 2011, the state Department of Natural Resources produced a report showing the probable impacts of climate change on the state — but the report was suppressed for a year and a half until someone leaked it to the media.
Now is the time to do something about it, say those interviewed for this story.
Despite the gloomy climate prophecies that make up her academic work, Dow is still optimistic that humans will correct their behavior. And, she says, "it would be a lot less expensive and less disruptive if we got to it sooner."
"To compare it to road repairs in South Carolina would be to trivialize it and I don't want to do that — it's not as simple as that — but we know that costs mount up when you don't invest."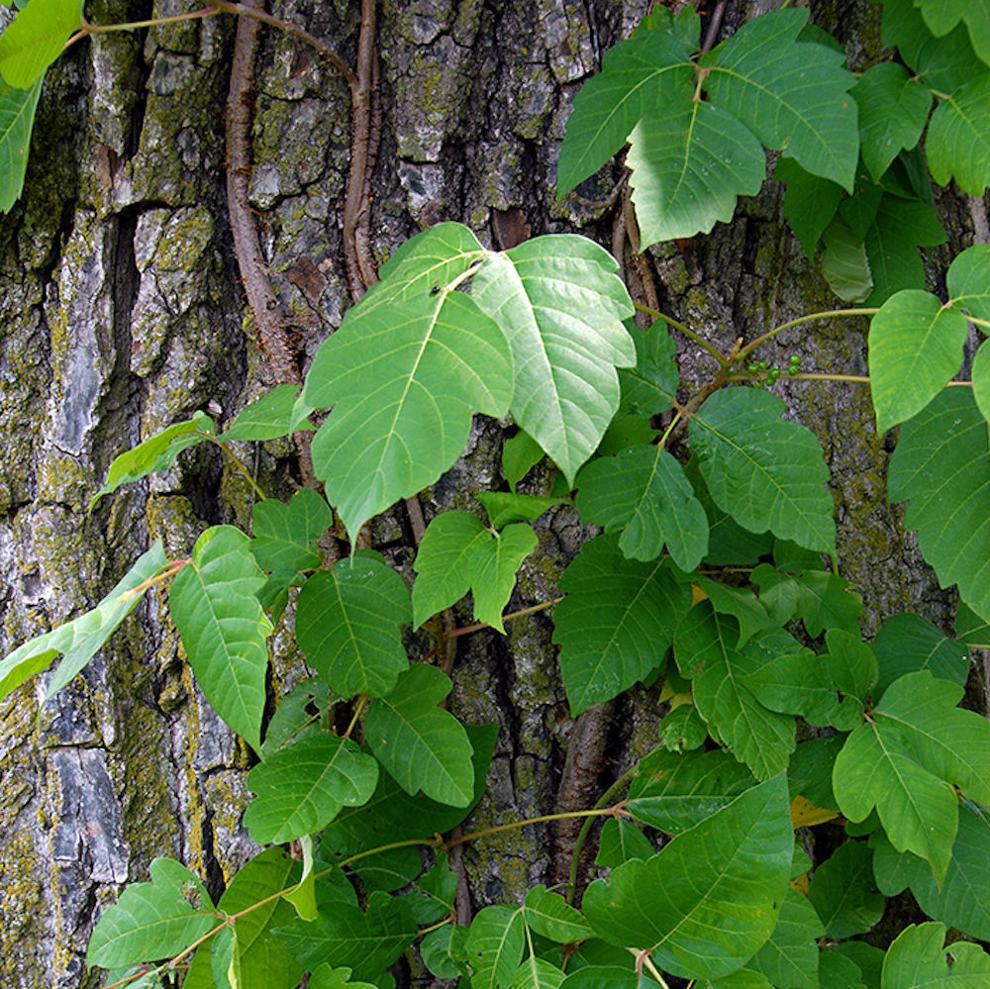 Curbing climate change doesn't just mean reducing emissions — though that's a major target of governments across the globe. It also means smart urban growth — redeveloping downtown areas rather than sprawling further outward, for example, or planting more trees now to replenish Columbia's aging urban tree population.
Mayor Steve Benjamin has clearly been thinking about it. Just last week, the Sierra Club announced he would co-chair the Sierra Club's Mayors for 100 Percent Clean Energy campaign.
He tells Free Times the city has been "trying to make sustainability a way of life in Columbia by aggressively reducing our carbon footprint" — with energy-efficient streetlights, green roofs, etc. He also cites half a billion dollars in water and sewer investments over the past decade — one result of which is to conserve water. (Some of those improvements are being made on the order of the EPA, which threatened legal action over the city's crumbling infrastructure.)
Just as the climate change will have local effects, it also has local solutions.
"It's a time we're making important choices," Dow says. "Columbia's expected to grow 30 percent in the next coming years, and we can continue to expand our heat island or we can continue to think about choices — about how much green space we use, how we use pavement.
"A lot of the solutions to dealing with temperatures are local."