In South Carolina, like many Southern states, the word "barbecue" conjures different images in different places, with our beloved pulled pork covered in highly specific sauces depending on where you are. It's a complex beast, with various interpretations embraced around the globe. In the U.S. alone, barbecue can mean anything from mustard pulled pork to smoked brisket to the simple act of grilling outdoors.
Here, we take a look at three very different styles — and definitions — of barbecue that can be found in the Midlands. We start with a classic twist on the Midlands' ubiquitous sweet and mustard-y pulled pork at Big T's Bar-B-Que in Gadsden, where we meet the family who hopes to keep the tradition alive. We then make a stop in West Columbia to visit with a local legend who makes a little known style of Mexican barbecue known as charcoal chicken. Finally we go to the heart of the city to meet Texas-style barbecue pitmaster Robbie Robinson and learn about the challenges of making his type of barbecue — and of selling it from a food truck.
Three different stories, three different traditions, each found in vastly different spaces — but all three number among the barbecue traditions that make the Midlands a special place for carnivores.
Big T's Family Affair
Many Columbians have sampled Big T's Bar-B-Que at the location on Garners Ferry Road at the southeast fringe of the city. But far fewer have traveled 15 or 20 minutes further down the road to Gadsden to visit what owner Teddy "Big T" Brown calls "headquarters."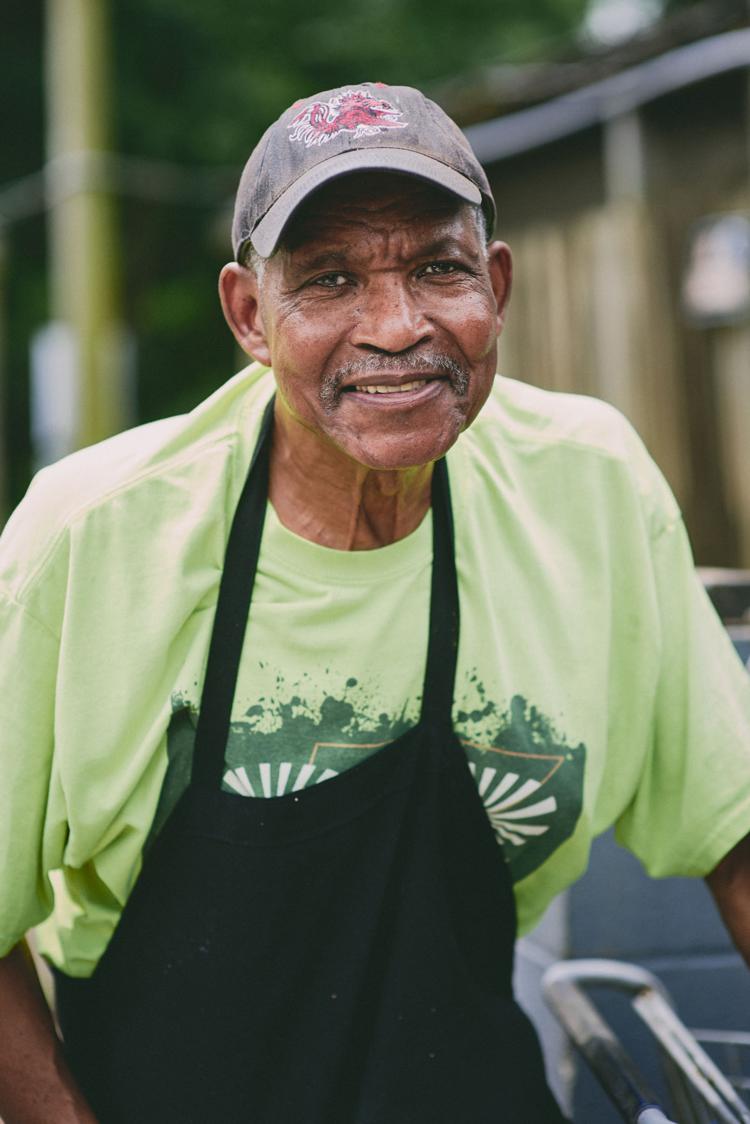 "I started about 33 years ago," he recalls. "Probably longer than that. I started with my great-uncle. We used to cook in the ground over there. That's how I got into the business during the '80s."
Brown points back to the oldest part of the property, a long slender building that anyone could easily miss from the road. Though modest from the outside, it's filled with the rich family history that's built Big T's into a local success.
It all starts at the back, where hickory and oak are chopped and burned in a warped box that releases the embers below.
On the day Free Times visited the pit, Charles Brown, an employee and friend of the family, was in charge of the wood. It's impossible not to admire his ability to dig into the intense fire in the midst of the Midlands' famous summer heat.
Next to the burn box is the entrance, a dimly lit room that contains the centerpiece of the business: the low laying metal pit. The quiet darkness of the room makes it easy to see the steady burning of the embers below. Charles Brown checks on the fire every once in awhile, adding freshly made embers to places he sees slowly dying out to keep the meat cooking evenly.
It's morning at this point, the beginning of a process that will take anywhere from 12 to 16 hours to complete.
"I start at 7:30 in the morning and might not leave 'til 10:30 at night," says Travis Brown, Big T's son and the primary pitmaster for today's cook. "It's a long process. Slow process. Longer the better. A lot of people rush the meat. I don't. I take my time with it. I slow it down. That's the best way to do it. Not rushing it."
Smoke fills the room, but the smell is fragrant and balanced, not at all unbearable. This is evident in the final product. The tender pork has just the right hint of smoke from the wood without being overbearing.
"In my mind it's most basic," Travis says of the barbecue. "Salt, pepper and vinegar on it, and put it in the pit."
Their special sauce blend gets poured over during cooking. It's a little bit Midlands, but also a little bit not.
"Our sauce is different," Travis describes. "A lot of people use ketchup-based. Some people like mustard. I use a combination of all three: mustard, ketchup and vinegar."
The resulting sauce has a golden hue, with a taste that is most similar to the Orangeburg "rust gravy" or "Orangeburg Sweet" popularized by Duke's BBQ.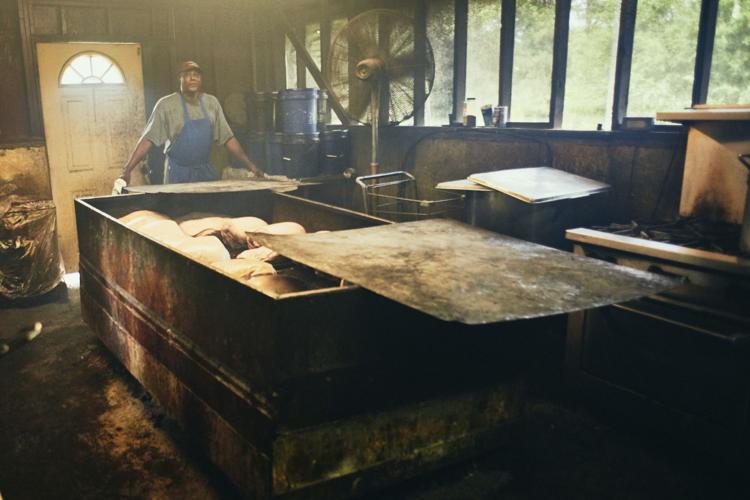 The sauce also plays a role in their take on hash, the hotdog chill-esque stew that's served atop rice on traditional Midlands barbecue plates. Like Brunswick Stew, hash was born out of a need to use up all parts of the meat typically not sold. The smoked pork remains are put through a processor until fine and cooked down until the mixture reaches a thick, porridge-like consistency.
The hash at Big T's is special. It's dark and rich, with a slight hint of extra spice and sweetness from the sauce that's gently ladled on top, bringing out all the flavors of the stew. Unlike other spots in the area, where it can be thin and soupy, the hash here is thick and meaty, perfectly fine to eat on its own over rice.
The second you move away from the wood fire and warm, glowing pit, you enter the final area of the business, where the sides are prepped and sauce made. During Free Times' visit, Patricia Brown, a cousin of Big T, was found finishing up her last few boxes of collard greens. During the Fourth of July, Patricia says that the business goes through as many as 50 boxes of collards to meet demand. Along with collards, Patricia and others do everything from mac and cheese to green beans to coleslaw to fried pork crackling throughout the week to round out the menu.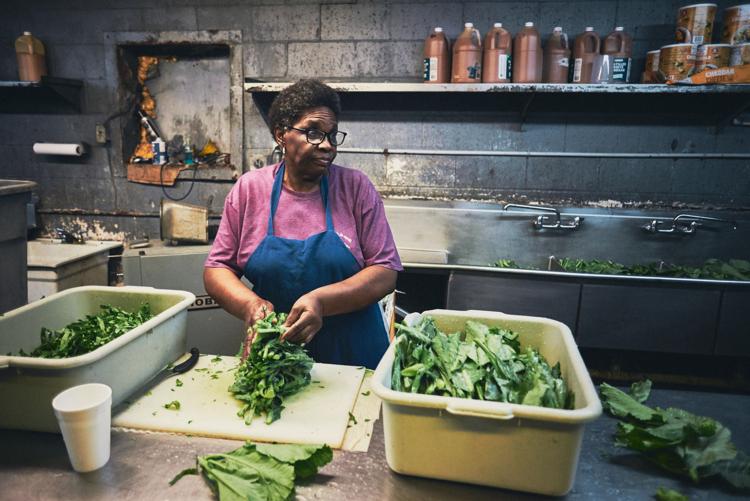 Family runs deep with Big T's. Many members have come and gone through the years. Both Patricia and Cindy Brown, Big T's sister, worked for many years at Fort Jackson. Patricia retired and joined the family business to help out along with Cindy.
Big T himself has mostly passed the operation to his sons, who now run the pits and manage the family business. As for Travis, he seems born to be in the business. It's been a part of his life from almost the very beginning. He learned how to work the pit while he was a teenager and steadily transitioned into management as his father got older. Today, he and his brother manage all three locations — there's another in Columbia on the Sparkleberry Lane Extension.
"I warmed up to it," Travis says. "Watching [Big T] do it day in and day out, sunup to sundown — once it grew on me I got a love for it. We put too much years into it to let it go just like that."
You Need This Smoked Mexican Chicken
If you drive down Meeting Street in West Columbia with your windows rolled down, it's nearly impossible not to catch a whiff of Julio Salomon Esqueda's charcoal grill at work in front of Jimmy's Mini Mart. Even from a distance, you can see the large, soft puffs of smoke fill the air.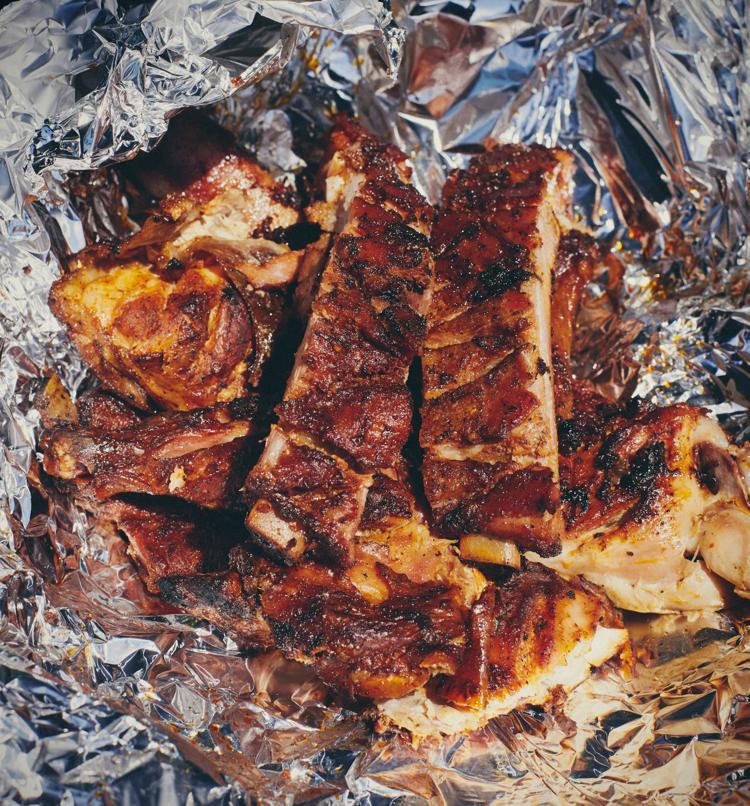 Esqueda can be seen working diligently, going back and forth between helping customers and checking on his chicken and ribs. He somehow seems comfortable wearing a long-sleeve shirt and jeans along with a Gamecocks hat despite the formidable heat. Esqueda is an older gentleman, but moves with the grace and assurance that he's gained through working on his business, Pollo Jarocho, for the last seven years.
In front of Esqueda are two grills filled with pound after pound of whole chicken. He calls it pollo al carbon, or charcoal chicken. He also does the same with ribs. The large, whole chickens are butterflied and marinated in a deep red seasoning. The combination of the seasonings and charcoal lends a deep, smoky flavor to the meat that's ridiculously addictive. The smoke activates the marinade and gives it a very particular taste unlike any other barbecue found in town.
Esqueda serves his meat with a bright salsa made with avocado, jalapeño and lime. Over at the nearby El Mariachi restaurant nearby on 12th Street — one of the few other places in town to get the dish on Saturdays — you can also get warm, soft tortillas to eat the chicken, along with a powerful red chili sauce that adds attitude to the meal.
Pollo al carbon is one of the more uncommon dishes that you can find at Mexican restaurants in the United States. While traditional tacos are mainstays throughout the work week, a handful of restaurants pull out grills and sometimes even barrels on the weekend to make this dish.
To learn more about the dish, Free Times reached out to Pablo Valdés, a cultural anthropologist from Mexico currently living in the Mexico City area.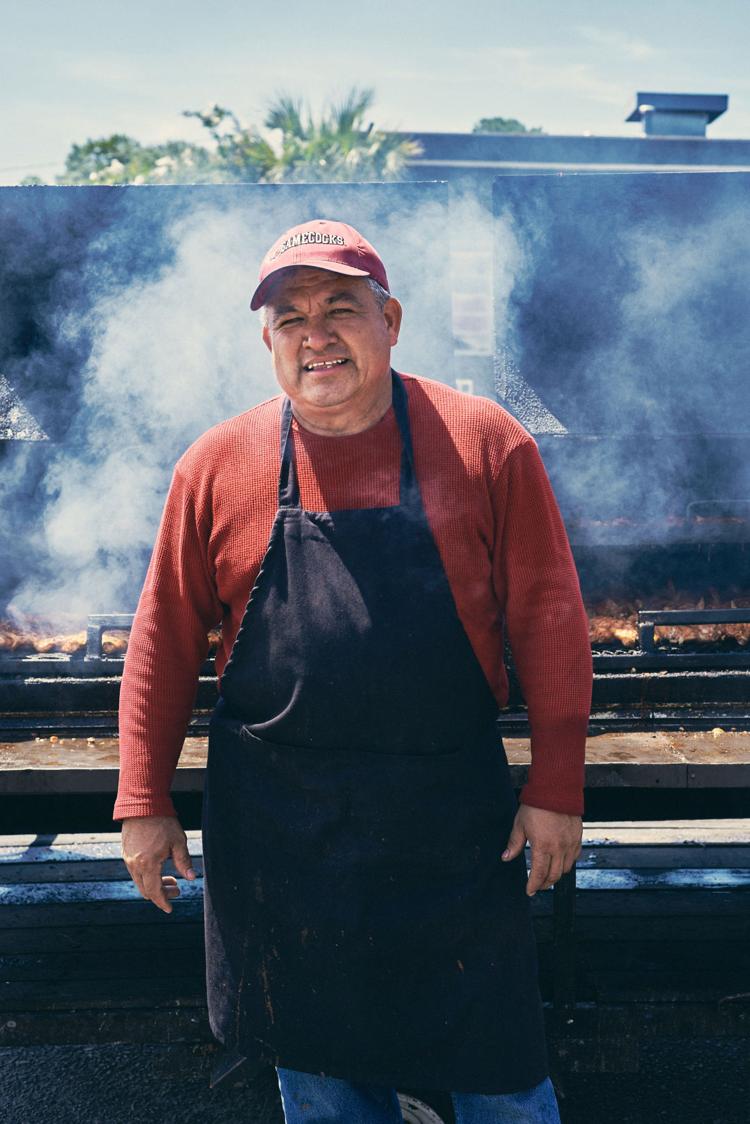 "Everyday," Valdes says about the frequency of grilling in Mexico. He says pollo al carbon and pollo rostizado, a spit roasted chicken dish, are common items in the country that one can find any day.
Much like here, there is a distinction between grilling and barbecue in Mexico.
"Barbecue is a whole different thing," Valdés explains. "It is regional. In the Altiplano [central Mexico], or around Mexico City, they use a great variety of meat for different kinds of barbecue, mixiote, etc. The traditional way, they make a fire in a pit, then cover it with leaves, usually banana leaves, and then [cook] the animal whole."
That specific style of barbecue is often pulled apart. Grilling, however, means that the meat is served whole.
"It may be a chicken leg, or a piece of red meat, and you see the chicken grilling," Valdés says. "Pollo rostizado is more usual because you can fit more in a small space, but pollo al carbon tastes way better."
Valdés suggests that the spices can vary greatly from person to person and regionally.
"It's a secret," says Esqueda with a smile, speaking through a translator. He checks on his chicken, turning pieces and revealing the beautiful char of the meat that's slowly grilled all morning.
While there's a simplicity to the chicken and ribs, preparation for service on Saturday starts on Thursday as he puts together the spices and prepares the meat. He's onsite as early as 7 a.m. Saturday to set up and start grilling. As soon as meat is done grilling on his two smokers, he packs them into one of his many coolers and starts the next batch. He's become popular enough with Columbia locals — not just Hispanics, but "white, black, Asian — everyone," he says with great enthusiasm — that the meat typically sells as fast as it comes off the grill.
"It's a miracle," Esqueda says of how he started his food enterprise.
He hurt his foot years ago, which prevented him from doing physically demanding labor jobs. He learned how to grill while working at a local store, eventually deciding to take a shot and start his business.
The going was slow at first, and he wasn't sure if success would come. But his food stood. Today, business can be so brisk that he has lines in the Citgo parking lot. He also sells on Wednesdays at the US1 Metro Flea Market on Augusta Road.
"This is my job," Esqueda says. "My life."
It's a job he built and maintains mostly on his own. All of his family still resides in Mexico. The day Free Times visited he had some assistance from a friend at his church.
He says he hopes that one day he can open a restaurant and expand the business. Until then, he'll be out here in front of the Citgo, thankful for those who appreciate his barbecue.
Irving Juarez translated for Esqueda.
Robbie Robinson's Journey to Pitmaster
"Beef rib!" Robbie Robinson yells out to a passerby who asks what he's smoking.
It's hard not to notice Robinson, the owner of City Limits Barbeque, and his new Austin Works 1,000-gallon smoker. It's an impressive device, almost comparable to a small submarine in shape and size. Underneath the hood there's a quiet simplicity to the design, with a basic wood burner at the end that feeds into the long metal structure.
For Robinson and his business, this new smoker is a potential game changer for his growing success – and his quest to become a legitimate pitmaster.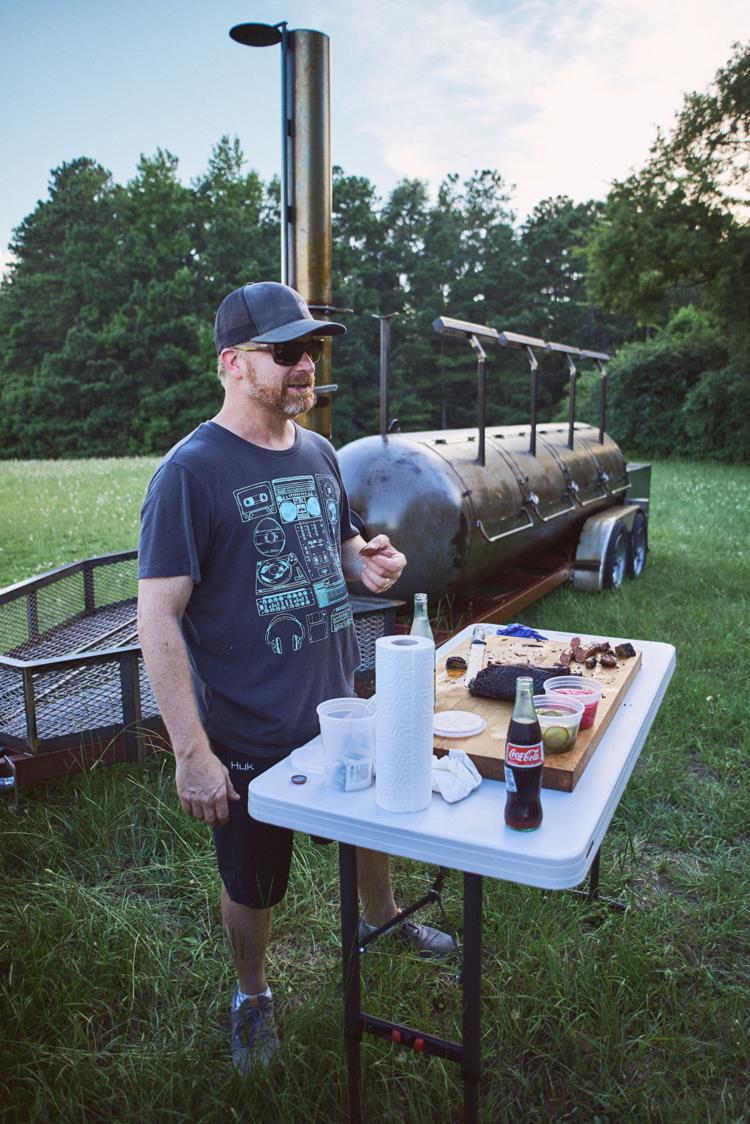 Born and raised in the Lexington area, Robinson has a different background than many chefs, becoming a certified public accountant and landing a consulting job that took him around the United States.
Settling back in Columbia after years of travel, Robinson started playing with the idea of opening a restaurant. He considered several ideas related to barbecue until one day he gave beef rib a try.
"I never had brisket before, and I never had beef rib, but I could tell when I tried it that it was something special," Robinson recalls. "It just really fueled the idea of how this would work and if it would fit here in the Columbia market."
Robinson put his analytical background to use, researching everything he could about Texas-style barbecue and weighing the potential for success in the Columbia market.
After much thought and practice, he launched his City Limits Barbeque food in 2015, albeit with mixed results.
"I learned the importance of having lists quickly," he says, reminiscing about his first day and all the mishaps that occurred, from forgotten equipment to flawed promoting.
Over time, however, he improved his craft by constantly practicing recipes and traveling to workshops and different businesses to hone his skills. His dogged exploration of what makes the ideal bite is one of his defining strengths. He's always dumping time and energy into trial and error, testing different cooking times and techniques to get the flavor he seeks.
The beef ribs are a perfect example of the work he puts in. The beautiful bark — the dark crust that forms when meat is cooked over long periods of time, the broken-down sugars and proteins left from chemical reactions with the spices on the outside — helps create a perfect balance of smoky exterior and incredibly soft and juicy interior that literally melts in your mouth. There's few experiences remotely close to it in the Midlands.
Though he hasn't been in the barbecue game long, the experience Robinson has accrued determinedly cooking beef ribs, brisket and other products over and over — making subtle adjustments to temperature, time smoked and seasonings — and his desire to keep finding new plateaus has won him a dedicated following in the Midlands that continues to grow with every service.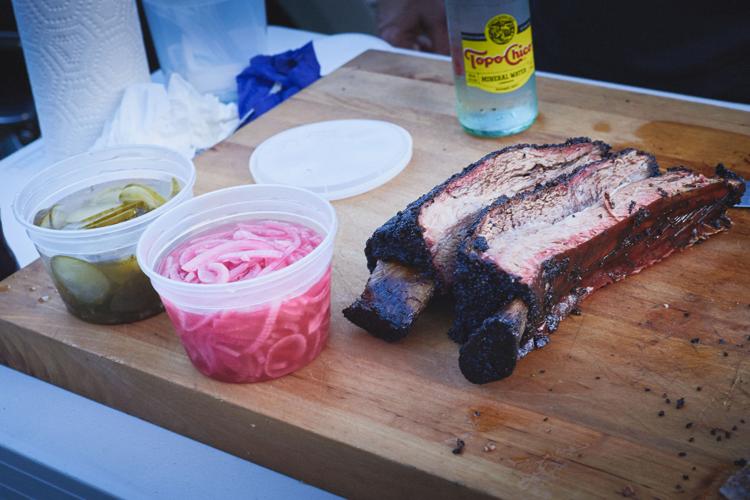 But there have also been many ups and downs. Besides getting through the raw experience of opening a new business, Robinson quickly discovered the pitfalls of serving Texas-style barbecue, and doing it from a food truck.
Compared to more familiar Midlands concepts, Texas-style barbecue requires an even greater investment of time, which limits the number of meal services Robinson can conduct.
Due to the size of his previous smoker, preparation for less than a few hours of sales could take up to two days of work. Cooking goes deep into the night before a pop-up, with different meats cooked at various times in order of what can and can't rest prior to Saturday service without sacrificing quality.
It's true that he could have quickly smoked brisket and beef ribs that hit a relatively average level for greater profit. But It's his insistence on providing the Midlands with the best possible experience in this genre of barbecue that keeps him up late at night working on his craft, refining his process — from learning the science of how meat cooks to the subtle changes in how different smokers work to the down-to-the-minute impact cooking has on his product.
Now armed with a new smoker that greatly increases his capacity, he's running with the mindset that this could be a really special business not just for himself, but for the Midlands.
"I think we can create something like a Terra where a person can say, 'Hey I'm going into town and recommend seeing this place,'" Robinson says. "We're going to work very hard to be in that conversation. To have someone be able to say go to Terra, go to Motor Supply, and if you have time, check out City Limits. That's the goal."
Business for Robinson has grown greatly in the last three years, particularly thanks to a partnership with Craft and Draft, where he started doing monthly pop-ups. The stable location and the opportunity to steadily gain a following helped foster the belief that his business can grow.
"It's at 2 to 4 in the morning [before service], that's when life decisions are questioned frequently," Robinson admits. "'What am I doing? I'm exhausted.' But then we get to 11:30 a.m., and I look out the window and there's a huge crowd. I slice a brisket, and we cooked it right, thank goodness. To invoke something out of somebody I don't even know, it's special. I think it's worth it."
Let us know what you think: Email editor@free-times.com.