A lot goes into being Tameika Isaac Devine.
That much is apparent when a Free Times reporter ducks into the administrative offices on the third floor of Columbia City Hall on a recent afternoon, just as the fifth-term at-large city councilwoman is wrapping up a photo shoot.
Clad in a fashionable black dress, Devine is saying goodbye to Columbia stylist Naida Rutherford and Rutherford's assistant, Kashmir Imani. Devine has been getting fashion help from Rutherford for the last several years.
"It's for the brand of Tameika," Devine tells Free Times, when asked about working with a stylist and participating in semi-regular photo shoots. "If someone is going to hire me to come speak, they want a package that looks put together. If someone is going to vote for me, or I'm meeting with Vice President Biden or whatever, I need to look the part."
Devine is, to say the least, busy.
First elected to one of the two at-large seats on Columbia City Council back in 2002 — she was the first, and still only, African-American woman ever elected to the Council — Devine also is an attorney, co-founder of the Jabber & Isaac law firm on Richland Street. A married mother of three — her husband, Jamie, is a member of the Richland District One board of commissioners — Devine also is involved in a number of efforts loosely or directly associated with her position on Council.
For instance, she's a member of the National League of Cities, where she co-chairs the Council on Youth, Education and Families. She's also helping spearhead SC Women in Leadership, the recently formed multi-partisan organization that is working to encourage more women to run for elected office or seek appointed leadership positions.
But her work in the law and local government is only part of the picture. In the last several years, she's begun to take all the swirling pieces of her life — the councilwoman, the lawyer, the businesswoman, the mom, the church member (she attends the influential Brookland Baptist), the wife — and coalesce them into a sort of singular image.
It's a burgeoning brand, and it has turned her into one of the more public-facing members of Council, perhaps even rivaling Mayor Steve Benjamin.
Simply put, she's turned being Tameika into a going concern.
Devine launched The Possibilities Institute, a business through which she offers public speaking, life coaching, and more. She's authored two books, runs a lifestyle website called A Devine Life, regularly appears on various local radio programs and, earlier this year, launched, with her husband, a series of online TV shows called "Date Night with the Devines." The program features Tameika and Jamie going on double dates with prominent local couples — Brookland Baptist Pastor Charles Jackson and wife Robin; state Rep. Wendy Brawley and husband Paul, etc. — and discussing issues related to marriage, family and professional life.
The general thesis behind the Devine brand is the idea of work-life integration, balancing professional, civic and home life in a way that does justice to all of them.
"Over the last few years, I've kind of had to figure out where my sweet spot was and what people wanted to hear from me," Devine says. "What I had to realize is what most people come to me about is the fact that I'm a professional woman, a working mom. I realized that's my gift, talking about work-life integration. There are women who put their careers on hold because they have small children. Or women who don't have children and wake up one day and they are 40 years old and they say, 'Can I have children now, because I've spent all my time on my career?' I've had those stories.
"So, I started there."
But as Devine's profile continues to grow, it can be tough to discern where Tameika The Councilwoman ends and Tameika The Brand begins.
'It's All in Who I Am'
Before the books and the Internet TV shows, before the stylists and the photo shoots and the speaking engagements and the motivational Instagram posts, there was Devine's initial foray into public life, her first election back in 2002.
Aaron Bishop is a pastor at Grace Christian Church and a longtime member of the Richland One school board. (He also ran for the District 2 seat on City Council back in 2015, coming up about 20 votes short to Ed McDowell). He's known Devine for years, and remembers when she first ran for City Council. His father threw her a fish fry fundraiser to help with that first campaign.
"Meeting Tameika in the beginning of her campaign to be a community leader, I saw promise then," Bishop tells Free Times during a phone chat. "She has always been transparent and she'll speak truth to power. To see her go from a single woman to a married woman to a mother and still being a leader in the community, she's done a great job balancing womanhood and leadership. She is a leader in her own right."
Devine remembers what initially sparked her flame to run for Council. She was working for the state attorney general's office at the time, and had been working with then-Columbia Police Chief Charles Austin to get some money for a domestic violence program into the city's budget. When the funding wasn't approved, she decided to seek the at-large seat in the 2002 election. She would eventually defeat incumbent Councilwoman Frannie Heizer.
"I had always been engaged politically, just never thought I'd run for office," Devine says. "My parents always used to say, 'Be the change you want to see.' So, I thought I should do something about it. I should run."
In the nearly two decades since — at the end of her current term, she will have served nearly 20 years — Devine has emerged as a power player on Council. She is the body's mayor pro-tem, is generally viewed as Benjamin's top lieutenant, and has formed alliances with members with whom she might not always see eye-to-eye politically.
One such alliance is with District 4 Councilman Daniel Rickenmann. Though Rickenmann is a white male Republican and Devine is a black female Democrat, the pair are known among city insiders as friends and willing policy dealmakers.
Rickenmann says that relationship goes back to his time as an at-large member of Council. He was an at-large (i.e. citywide) member from 2004-12 before stepping away to focus on business. He returned to Council as the representative for District 4 in 2016.
"We created a working relationship when I was an at-large member. We did a lot of open houses together and things like that," Rickenmann tells Free Times. "We felt like we could work together and solve issues, and we always tried to make it where, even if we didn't agree on an issue, we'd try to make it better than it was. It just seemed to always work, and I think that's kind of channeled over to Council as a group."
Rickenmann also is typically among the first to rib Devine about fostering a branded image.
"I give her a hard time," he says, with a chuckle. "She's on Facebook and Instagram more than anybody, promoting, whether it's Date Night with the Devines or The Possibilities Institute, or she's with this presidential candidate or that presidential candidate.
"She's on social media as much as my teenage daughters."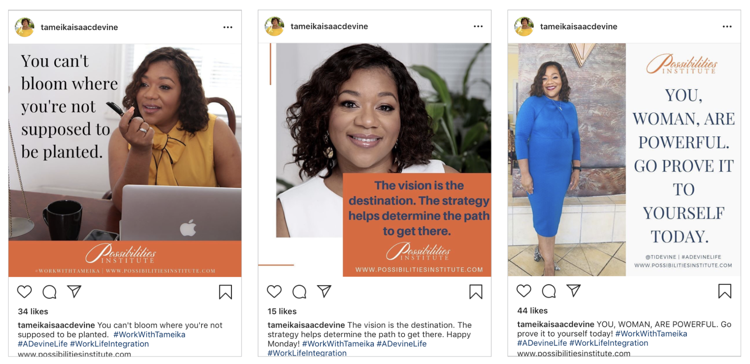 While Devine says others — including Benjamin — encouraged her for years to give public speaking a try, her initial foray into that realm came about after a personal tragedy.
In 2014, she was 37.5 weeks pregnant with a son — his name was to be James Henry — when an ultrasound revealed that the baby had no heartbeat. A knot had developed in the child's umbilical cord.
James Henry didn't make it.
In the days and months that followed, Devine says she had a period of intense grief, and some depression. But, eventually, she and Jamie got to the point where they could talk openly about the tragedy. They co-authored the 2015 book Born Into Heaven, which was about learning to cope with the loss of a child.
Devine says writing that book, and speaking about James Henry, opened her eyes to the possibility of speaking and life coaching.
"Really, after [James Henry's death], I started getting asked to share the story of our loss at different churches," she notes. "Then we wrote our book, and that was really just therapeutic. But it really opened up the fact that I could be a speaker and an author as part of a career."
"I like the law and I never want to give up practicing law, but I needed something that supplemented my Council and legal salary," she says. (Members of Columbia City Council earn $13,350 a year, and Devine says being a council member can limit her ability to take on cases.) "So I decided to turn that into a business."
Eventually, Devine settled on helping women find balance between their professional and personal lives as the central theme of The Possibilities Institute and her brand, in general. She authored a second book — 2018's Think Like a CEO, Act Like a Mom — in which she bills herself a "work life integration strategist." She maintains an extremely active presence across multiple social media platforms. Her Instagram page, in particular, seems to encapsulate her brand in a nutshell: pictures of her kids, moments from various city events and more than a few highly stylized photos of herself, splashed with motivational sayings (sample: "The vision is the destination. The strategy helps determine the path to get there.") and directing viewers to The Possibilities Institute website.
Devine says she has a virtual assistant, who lives in Georgia, who she pays to help create the aesthetic for some of the motivational social media posts. And ​the mother of one her daughter's friends — a stay-at-home mom — maintains The Possibilities Institute website.
"I hope to, in the future, have a staff," she says with a laugh.
The carefully put-together image can make it tough to see the line between Devine's being an elected public servant and a one-woman media entity.
When asked whether she thinks there have been — or could be — conflicts between her brand and her role with the city, Devine insists she knows where her job as a Council member starts and stops.
"No, I don't worry about any misinterpretation," she says. "It's all in who I am. People who elect me or who represent me or who hire me, they know it's all a part of who I am. It shouldn't make a difference. What I do try to be very careful about is making sure there is no appearance of self-serving as far as a Council member. I am very clear. If people locally ask me to come speak, and they are asking me to speak specifically because I am a councilwoman, then, of course, I don't charge them, at all.
"I'm very careful about that, that people don't confuse what they are getting and what they are coming to me for."
Bishop, the pastor and Richland One board member, knows a bit about balancing personal branding with public service. He and his wife, Jennifer, have an online video series of their own — LoveBites — in which they talk about issues related to marriage and relationships.
He says Devine's various gigs — from public speaking to writing to Date Night With the Devines — give people a window into her world.
"She says, 'This is me. I'm going to show you my work-life balance,'" Bishop says. "'I'm going to show you I'm bleeding where I'm leading, but yet I'm still leading. Here's who I am.' I think that provides trust. People can see into her eyes. … It's opening up your doors to vulnerability, but also accessibility."
Open Possibilities
What remains to be seen is where Devine's intertwined existence leads her, both politically and in business.
In city government circles it has long been whispered that she'll one day seek a higher political office — perhaps even the mayoral seat.
The at-large councilwoman admits she gives thought to running for other seats.
"Always," she says. "But I'm so happy where I am. Right now, there is no immediate desire or plan to run for another office. [The at-large seat] is up in 2021. At that point, I'll be at nearly 20 years. That's a long time. I still like what I do and that's only two years from now, so I think that I still will want to serve. … Of course I've thought about other offices, but I'd have to see what's available at the time."
Free Times asked Devine whether she would run for mayor in the future, and specifically whether she'd ever take on Benjamin.
"I'd never run against Steve," she says, and then takes a pause. "Well, you never say never. … I don't plan to run against Steve." Devine stressed she thinks Benjamin has done a good job as mayor.
For his part, Benjamin says he could foresee Devine aiming for higher political office.
"Tameika has a lot to offer, and she's demonstrated not only the ability, but the willingness to sacrifice for the public good," the mayor tells Free Times. "That's something we need more of right now. I think, whatever she decides to do, whether it be service as mayor or as a legislator or even in statewide office one day, she'd be good at it."
While Devine and Benjamin are widely viewed as Council allies, they've been on opposite sides of issues a few times. For instance, when Benjamin pushed hard for a strong mayor form of government in 2013, Devine insisted the city should keep a council-manager style of government. Voters eventually defeated the strong mayor proposal in a referendum.
But Benjamin says they've agreed more often than not.
"I think it's strong and healthy," he says of his relationship with Devine. "I think there's always room for reasoned disagreement. I think, on 90 percent of the issues, we see eye-to-eye. And on the others, we certainly understand that we can have a policy driven disagreement. It's rare that I agree with even my mom or my dad or my wife on 90 percent of issues. So, there is consistency."
As for the rest of it — the law practice and the speaking engagements and the Date Night shows and the books and life coaching and so on — Devine says it remains a work in progress.
She says she is still just getting started on the public speaking circuit, working her way through modestly paying gigs.
But she is hopeful that it could one day become a full-on career.
"I'm still on this journey," she says. "Many people want me to come and they don't really have a budget. I like what I do, but, I'm trying to get into speaking and getting paid for it. My hope is that this will complement my public service, whatever that ends up being in the future."
She wants other women — in and outside her own family — to see the value in being themselves.
"I do hope I'm that example of a black woman who is an entrepreneur, and looks at ways to not just follow my passion and do stuff that I love to do, but figure out how to do it and be profitable at it, and build it to a good business, and teach my girls that it's an option for them, as well," Devine says. "I don't know if people see women, especially black women, as business owners, as entrepreneurs.
"I hope people see me that way."
Let us know what you think: Email editor@free-times.com.