By 4:15 p.m. on a sunny Thursday, the rooftop of Hendrix has 24 people on it, with more arriving by the minute. By 5 p.m., it'll be pretty much be full.
The Main Street restaurant opened in January, serving higher end bistro fare given a Peruvian flair by its chef, Javier Uriarte. The second-floor bar features plenty of smart craft cocktail influence. But as the weather has warmed, it's the third-floor party porch that's become the main attraction for many.
"That was something that really attracted us to the space was the roof is 2,400 square feet," owner Jon Sears says. "To be able to get a rooftop space that large — there's nothing else really like that in Columbia."
For years, you could count the area's truly deluxe outdoor drinking spaces on one hand: Jake's patio and yard, Carolina Ale House's roof overlooking the Vista, the criminally underutilized Sheraton Rooftop bar, a few others.
But increasingly, it seems Columbians are able to indulge their love for eating and drinking outdoors.
Breweries have led the charge, perhaps because they recognize more than anyone the allure of drinking outside. It has a similar mystique to the Shower Beer: You have an alcoholic beverage somewhere you don't normally have an alcoholic beverage, and it feels special. Plus, combine fresh air and mood-elevating sunshine with alcohol, and you really have something.
River Rat Brewery has dumped resources into its outdoor spaces, most recently into a slick rooftop space with views of Williams Brice Stadium. The Curtiss Wright Hangar, home to Hunter-Gatherer's production brewery, has big garage doors all around that roll up, and a rooftop space overlooking the runway at the adjacent commuter airport. Steel Hands, the new Cayce brewery, is an outdoor mecca.
And Scott Burgess, founder of Bierkeller Columbia, has made outdoor drinking the entire basis of his brewery service model. Though it pops up on the occasional tap around town, Bierkeller's traditional German lagers are mostly delivered to mouths at outdoor biergarten events inspired by that country's love for drinking outdoors.
Sure, there are some downsides to the outdoor experience. Bartenders in sunglasses. Flies. Red wine sweating in the sun.
And, glaring out from the calendar pages ahead, there's the heat. It's been a pretty moderate spring, but inevitably Columbia is going to get Famously Hot.
"The heat is going to be an issue," admits Hendrix owner Sears. "We're going to be putting up a sun sail over the bar, and umbrellas as well, and doing some sort of mister system. But it's going to be toasty up there. We're trying to get ahead of that."
Burgess, too, is making plans for the summer's Bierkeller events.  
"I am buying a big Festzelt [fest tent] that I'm installing at Swamp Cabbage to do release parties at," he tells Free Times. "It can be relatively well climate-controlled — mister fans, etc. — and comfortable."
"The hotter months where we've done events have always gotten big turnouts somehow," he notes — more than the cooler and rainy months.  
But even Burgess draws the line somewhere: Bierkeller is taking the month of August off.
Ready to park your butt on a picnic bench? Here is a far-from-exhaustive list of some of the Midlands' top spots to eat and drink outside. Yes, we left out Breakers. Let us know what else we missed: Email editor@free-times.com.
Blue Marlin
bluemarlincolumbia.com. Vista: 1200 Lincoln St., 803-799-3838. Big tables under the historic Seaboard railway canopy keep things cool.
Bone-In Barbeque
boneinbarbeque.com. BullStreet: 2180 Boyce St., 803-728-7512. Watch the people come and go — into Segra Park, home of the Columbia Fireflies.
Bourbon
bourboncolumbia.com. Downtown: 1214 Main St., 803-403-1404. Tables perched on the narrow Main Street sidewalk offer plenty of people-watching.
Café Strudel
cafestrudel.com. Lexington: 309 S. Lake Drive, 803-490-0895. West Columbia/Cayce: 300 State St., 803-794-6634. Large covered outdoor patio at the West Columbia location accommodates those brunch crowds; Lexington spot has a deck.
Cantina 76
cantina76.com. Downtown: 1301 Main St., 803-764-1769. Tables at Main Street location let you see and be seen. "Santeria" was playing last time we walked by.
Carolina Ale House
carolinaalehouse.com. Vista: 708 Lady St., 803-227-7150. Big ol' second-floor porch and an indoor-outdoor bar make this a good spot to catch breezes.
CJ's
Five Points: 749 Saluda Ave., 803-748-8694. Low-key bar has a roll-up wall and a cool cement patio protruding out into the middle of Five Points.
Cola's
colasrestaurant.com. Downtown: 1215 Assembly St., 803-451-0051. Big windows roll up to let the sidewalk breezes in at this American bistro.
Columbia Craft Brewing Co.
columbiacraft.com. Vista: 520 Greene St., 803-799-6027. Sunny deck on which to drink excellent summer-friendly brews.
Cottontown Brew Lab
Cottontown: 1223 Franklin St., 844-427-3952. Neighborhood feel with outdoor picnic tables and quality brews.
Curiosity Coffee Bar
Cottontown: 2327 Main St., 803-357-2889. Outdoor tables are a good spot to chat and chill.
Dano's
danosdelivers.com. Shandon/Rosewood: 3008 Rosewood Dr., 803-254-3266. Tall tables on the patio, which faces Rosewood Drive.
Drip
dripcolumbia.com. Downtown: 1441 Main St., 803-799-0067. Five Points: 729 Saluda Ave., 803-661-9545. Downtown tables with umbrellas offer shade or business meetings and coffee dates alike; in Five Points, occupy a coveted sidewalk table or slide over into Scoopy Doo's covered patio space next door.
Fall Line Bar and Grill
falllinecola.com. Five Points: 741 Saluda Ave., 803-779-2345. Delaney's was the OG day drinking spot. Its replacement, Fall Line, has good food and those same tables on Saluda Avenue.
Flying Saucer
beerknurd.com. Vista: 931 Senate St., 803-256-2055. Porch offers tables, some protection from the elements.
Il Giorgione Pizzeria and Wine Bar
ilgiorgione.com. Shandon/Rosewood: 2406 Devine St., 803-521-5063. Courtyard is a favorite place for Shandonites.
Gourmet Shop
thegourmetshop.net. Five Points: 724 Saluda Ave., 803-799-3705. Lots of sidewalk seating at this Five Points institution.
Grill Marks
grillmarks.com. Vista: 711 Gervais St., 803-661-8932. Front patio is raised slightly above street level, keeping it cool on hot days.
Hampton Street Vineyard
hamptonstreetvineyard.com. Downtown: 1201 Hampton St., 803-252-0850. Outdoor tables tucked away off Main, with lots of greenery around.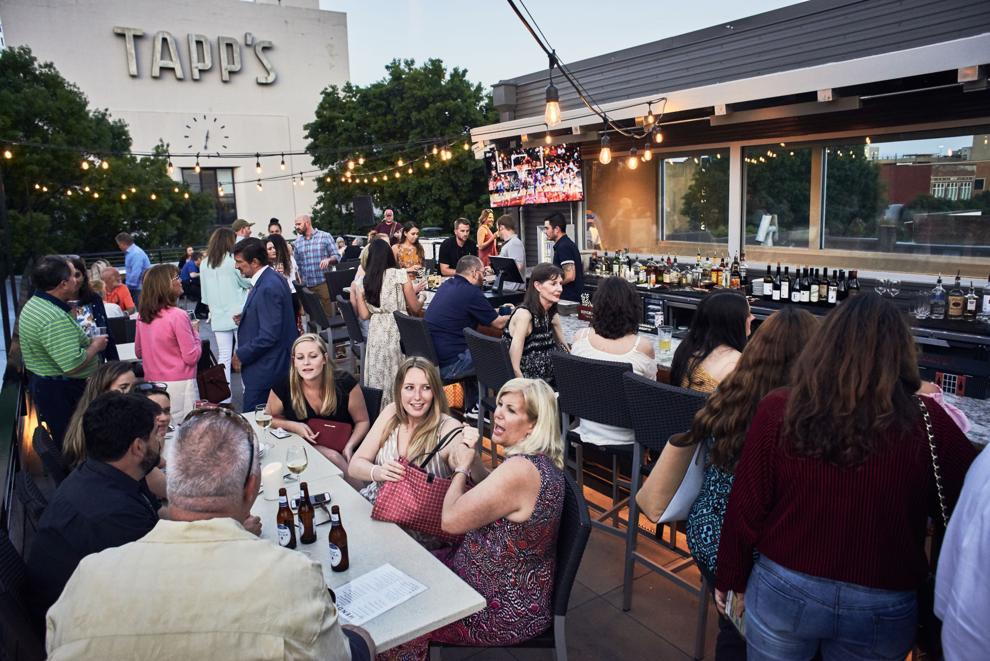 Hendrix
hendrixsc.com. Downtown: 1649 Main St., 803-834-5132. Big roof with a hopping bar — though you'll have to go downstairs to order the fancier craft cocktails.
Hunter-Gatherer
huntergathererbrewery.com. Downtown: 900 Main St., 803-748-0540. Shandon/Rosewood: 1402 Jim Hamilton Blvd. Original brewpub location has sidewalk tables at which to scope out the South Main sights and eat excellent food. At Rosewood-area hangar and production brewery, the food offerings are more limited, but the outdoor spaces sure aren't.
J's Corner
Olympia: 1015 Rosewood Drive. The former Jaco's is now an outdoor sports bar gameday paradise.
Jake's
jakesofcolumbia.com. Five Points: 2112 Devine St., 803-708-4788. One of the first and the biggest bar gardens in the city. These days, Jake's is known for being extremely dog friendly.
Liberty on the Lake
libertytaproom.com. Harbison/Irmo: 1602 Marina Rd., 803-667-9715. Multiple decks with sweeping Lake Murray views.
Lucky's
Five Points: 2100 Devine St. College bar has a cool patio.
Lula Drake Wine Parlour
luladrake.com Downtown: 1635 Main St., 803-606-1968. Outdoor tables let you sip wine (or beer) and watch the people of Main Street go by. That's not always as fancy as it sounds.
Michael's Café and Catering
michaelscafecatering.com. Downtown: 1620 Main St., 803-726-2233. More Main Street seating.
Motor Supply Co. Bistro
motorsupplycobistro.com. Vista: 920 Gervais St., 803-256-6687. On nice days, Motor cranks open the walls on its enclosed patio.
Pawleys Front Porch
pawleysfrontporch.com. Five Points: 827 Harden St., 803-771-8001. It's right there in the name: This place has a big porch facing Harden Street. Just try getting a seat here on a sunny day.
Old Mill Brew Pub
oldmillbrewpub.net. Lexington: 711 E. Main St., 803-785-2337. Outdoor seating with a view.
Publico Kitchen and Tap
publicokitchenandtap.com. Five Points: 2013 Greene St., 803-661-9043. Hidden back porch area.
River Rat Brewery
riverratbrewery.com. Stadium/Fairgrounds: 1231 Shop Rd., 803-724-5712. A rooftop bar, a covered deck with fans, a patio, and a big grassy area with cornhole and more — this is an outdoor drinker's paradise.
Rosewood Market and Deli
rosewoodmarket.com. Shandon/Rosewood: 2803 Rosewood Dr., 803-765-1083. Underrated porch with plenty of shade.
Salty Nut Café
saltynut.com. Five Points: 2000-A Greene St. 803-256-4611. A legendary porch surrounds this Five Points burger joint.
Saluda's
saludas.com. Five Points: 751 Saluda Ave., 803-799-9500. Dine high above the fray.
Sheraton Rooftop Lounge
Downtown: 1400 Main St., 803-988-1400. Possibly the best outdoor view in Columbia. Now why isn't it open during the day, and why is the drink list such a bummer?
Spotted Salamander
spottedsalamandercatering.com. Downtown: 1531 Richland St., 803-546-0249. Quaint little tables on the porch are the prime spot at this café.
Swamp Cabbage Brewing Co.
swampcabbagebrewing.com. Stadium/Fairgrounds: 921 Brookwood Dr., 803-252-0250. Super-chill brewery is a good place to drink outside.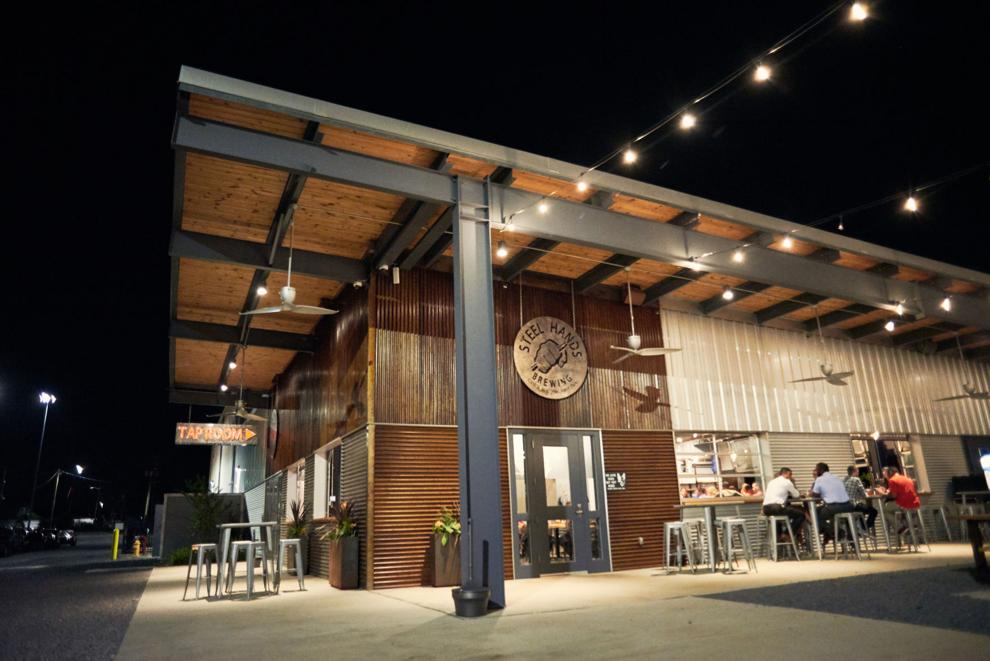 Steel Hands Brewing
steelhandsbrewing.com Cayce: 2350 Foreman St. New brewery has grass, outdoor tables, an outdoor stage and more.
Tazza Kitchen
tazzakitchen.com. Forest Acres: 4840 Forest Dr. No. 20, 803-782-0760. Tables with umbrellas make this Trenholm Plaza spot feel like you're not at a mall in Forest Acres.
Terra
terrasc.com. West Columbia/Cayce: 100 State St., 803-791-3443. Hidden patio on the south side of the building feels like a well-kept secret.
Thirsty Fellow
thirstyfellow.com. Vista: 621 Gadsden St., 803-799-1311. Covered porch with fans makes this a good choice on hot days.
The War Mouth
thewarmouth.com. Cottontown: 1209 Franklin St., 803-569-6144. Little oasis of a backyard with picnic tables and flowering vines.
World of Beer
Vista: 902-F Gervais St., 803-509-6020. Look out over the cobbles of Lincoln Street as you sip your brew. Ample seating with some canopy cover.