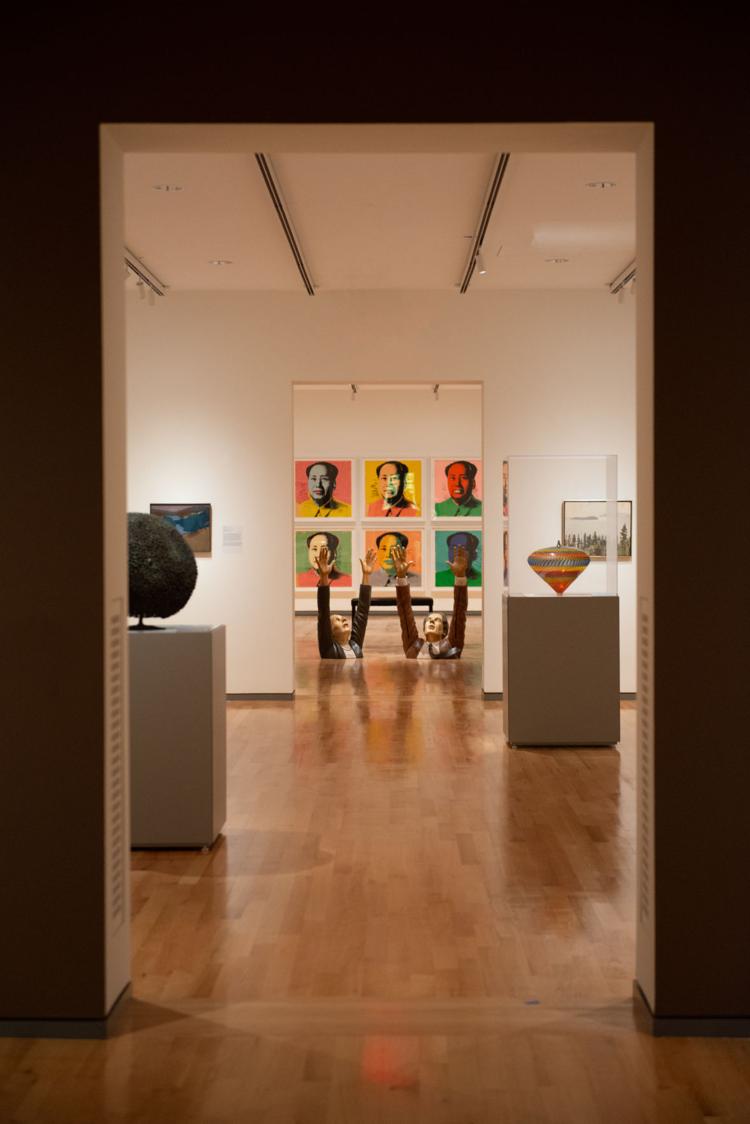 Sitting in the front lobby of the Columbia Museum of Art, Della Watkins has window panes on her mind. Specifically, she's worried about the ones that need to get installed into the impressive curved canopy atop the building's nearly completed second entrance on Main Street.
"We have a little snafu on our canopy right now," the museum's executive director explains. "With one drop of rain, and with the humidity getting high, the suction cups when you're trying to move panes of glass, they don't hold when it's wet. So the canopy that you see out front has inlaid big pieces of glass, they're like, 'We can't move the glass.'"
"I get it," she sighs. "But we've lost four days."
Watkins took charge of the museum in October, following in the footsteps of Karen Brosius, who left the post to become president of Careers Through Culinary Arts Program, a national nonprofit that educates and guides underserved high school students through culinary training. Watkins arrived at an interesting time. In one way, the museum sits at a new zenith, having earned a 2016 National Medal for Museum and Library Service, the highest honor this country bestows on such institutions.
But the museum is also in the middle of a thorough, $5 million renovation, funds for which were culled from a five-year capital campaign that ended in 2016, including a $1 million appropriation from Columbia City Council and $1.2 million from the state General Assembly.
The museum has also overhauled the way it displays its permanent collection — a daring approach that could define the museum in new ways.
Construction and Leverage
The first phase of the renovation finished up this summer, allowing the permanent collection, housed upstairs, to be reinstalled for the first time since March 2017, expanding into part of the eventual 11,000 square feet of new gallery and event space that will be afforded by the renovations. The second phase — including the completion of a new second entrance on Main Street, expanded studio space that will allow for more adult classes and summer camps and an overhaul of the museum shop — should wrap this month. Then the third phase, a more modest refurbishing of the downstairs lobby, will begin, with completion slated for December.
At the same time, Boyd Plaza — the outdoor space in front of the museum's current main entrance at the corner of Hampton and Main that the institution leverages frequently for events, including its immensely popular Arts & Draughts series — also began renovations this summer, prominently looking to add an open-air pavilion, including a roof with a skylight and canvas-type walls that will roll down during inclement weather. The plaza project is being underwritten by the Darnall W. and Susan F. Boyd Foundation, but the museum had input on the design and will be hugely affected by the reconfiguration.
For many, this might seem a less than ideal time to take leadership of an organization. But Watkins couldn't be more pleased.
"I love a construction project," she laughs. "Everybody thinks that's the nuttiest thing ever. But I love every day. I walk through every day with a hard hat — 'Why are you doing this?' 'Where's that?' 'That's wrong.' Because I know the difference it'll make. That's what I want to do. I want to make sure this place is ready and programmatically ready to engage visitors."
According to Watkins, her experience with multiple construction projects at her previous stops, the Virginia Museum of Fine Arts and the Taubman Museum of Art in Roanoke, including the build-out of gallery space at the latter institution that now hosts national traveling exhibitions, helped her land her current post.
"The focus is visitor-centric," Watkins responds when asked what attracted her to overseeing completion of the Columbia Museum of Art's renovations. "Museums that have been there a hundred years feel like it. And if you're going to be boring and quiet and shushing and you're not going to have comfortable furniture and you're not going to have interactive things, you're going to die on the vine. It's about the art, but the museum of the next century is about engaging with the art."
A big motivation for the renovations is to better facilitate events and rentals. The museum's new main entrance will come in right at the redesigned stairs, ensuring that the museum can close off one of its two floors while keeping the other open, or accommodate multiple events at once. A large portion of formerly unfinished space upstairs has been converted into a highly adaptable events hall that includes a new catering kitchen.
"After five o'clock when this building closes, we are still lighting, securing it, heating it, air conditioning it," Watkins says. "We are still maintaining a fully functional environment. We may as well let it become an earned revenue for the organization. So we're excited. It'll give us the opportunity for somebody to rent this space and the plaza or come in the front and go upstairs. We're increasing our space and usage, but the functionality was thought of, which I'm so pleased."
But Watkins insists that she's more interested in the experience of the day-to-day visitor. When she came in, the plans for the renovation were pretty much set, but she was able to make tweaks — one of which was to alter one prominent downstairs space.
"A 25-year-old orientation theater is a thing of the past," Watkins offers, explaining her decision to convert the room into a space for new interactive elements. "I wanted education and programming up front. That's me. That's my education background. And I wanted that to be a comprehensive wing. My job is to get in here everyday, watch the construction project, be on time and on budget."
A Modern Approach to the Collection
There will be other changes besides the renovations — including a shift in December to easier-to-remember hours (10 a.m. to 5 p.m. Tuesday through Sunday) — but the most visible and remarkable change lies in the upstairs galleries and the reinstallation of the museum's permanent collection.
The expanded gallery space now allows the museum to display more of its modern acquisitions in addition to the Kress Collection, 77 Old Master Renaissance and Baroque paintings that previously dominated the upstairs galleries. This means items such as the museum's Mao Suite of 10 Andy Warhol's silkscreens of Chairman Mao Zedong can now be prominently displayed.
But the museum also took the uncommon step to shift its organization from a chronological approach to galleries organized by various themes. Instead of hinging the visitor experience on an understanding of art history, galleries include works that tie into relatable ideas such as "Art and Identity" or "Vice and Virtue."
"When people walk into a gallery and they see this big word, 'Neoclassicism,' they don't know what that means, and nobody likes to feel stupid," reasons chief curator Will South. "I don't. So what happens is they look at it and they tend to feel a little bit intimidated and they keep walking. But people know what a hero is. People know what a landscape is. People know what a goddess is, generally, and so we thought, 'Well, those are themes that every culture deals with. Why not create these big, broad themes?'"
That idea of a goddess binds the works in the first gallery of the collection.
"What does a goddess do?" South muses. "Well, she listens to you and she intervenes and she helps you out. She's a caregiver. We have those in the ancient world, and we certainly have them in religious traditions. But we have them in our own time where an African-American artist like Elizabeth Catlett says that everybody has the potential to be a goddess. That conversation can happen."
South says he only knows of a couple other museums experimenting with this kind of thematic organization. And while he and the rest of the museum staff are proud to be trying something new, they know it's a risk.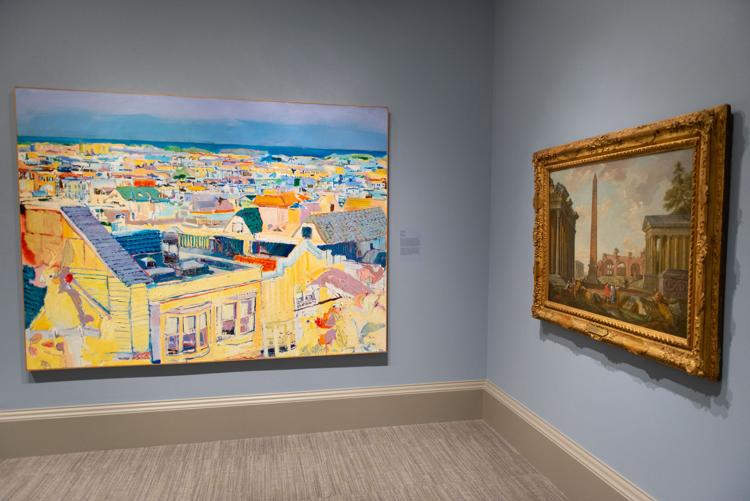 "We took a bold step," Watkins says. "Not being chronological or narrative right away shifts the paradigm of a traditional art museum. So right then you should know. Now, it jars some people, and some people are like, 'What is going on?' I was just reading the comment book before I came downstairs, and it was like, 'Cool! About time!' You need more stimulation. You need more critical thinking. The visitor needs to come in and be engaged. A passive visitor is a thing of the past. So our sort of strategy is to engage in the experience."
"Setting up the collection in a thematic-based way, it actually forces people to think differently," she concludes. "A man told me a couple of weeks ago, he goes, 'Golly, I'm tired.' He said, 'Because I've never had to think about it before.' And I think that's a good thing."