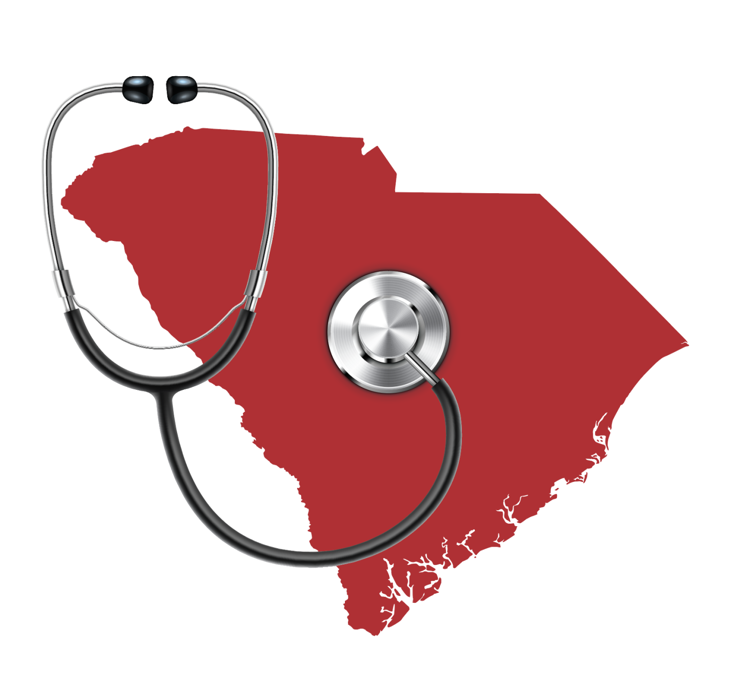 "Where are the jobs?" asks Joe Bittle.
Bittle is chief of community health for CareSouth Carolina, which provides medical, dental and mental health services at clinics in five counties in the Pee Dee region of South Carolina.
He's speculating on what could happen if South Carolina begins forcing some adults on Medicaid to prove that they're working at least 80 hours a month in order to keep their health coverage.  
"These are poor counties, with higher unemployment," Bittle says. The distances between communities are "vast," he says, and work is hard to come by. And while the region is making constant efforts to connect people to jobs and health care — he optimistically cites a new joint project to run a free daily bus through Marlboro County — making those connections is always hard.
Counties that Bittle's health center serves rank pretty high when it comes to unemployment — Dillon and Marlboro are 7th and 8th in the state, respectively, out of 46 counties.
These counties also rank high when it comes to the number of adults who get their health care through Medicaid. Dillon County has the third highest adult Medicaid rate in the state, with 22 percent of adults there enrolled in the program.
Even if people are working, it may be hard for them to prove it to the state, as many lack internet access and live in rural areas.
And if people lose medical coverage, Bittle says, they're going to start using the emergency room more, reversing years of gains the state has made to get people to visit doctors instead of ERs. When people use the emergency room for routine care, it increases costs for all patients.
"The trickle-down effect, if people do not have Medicaid and can't go to the doctor, they're going to go to the ER," he says. "You start doing this, it's going to tear down what you've already done."
The state Medicaid agency estimates 1,635 people would lose Medicaid coverage in the first year if South Carolina implements a work requirement. But a new study by the Georgetown University Health Policy Institute suggests between 5,000 and 14,000 people — all parents, all low income — would lose coverage during that time. They reached that number in part by comparing South Carolina to Arkansas, the only state to implement such a requirement so far.
The loss would hit South Carolina's rural areas particularly hard.
It's ironic, because Gov. Henry McMaster has made lifting up rural areas a key goal of his new administration.
McMaster was inaugurated for his first full term as governor of South Carolina last week. In his inaugural speech, he compared the Clemson Tigers football team to the state of South Carolina, arguing the state has to compete against other states to win. Partway through, he switched to a NASCAR analogy, saying that underperforming rural areas of the state are like flat tires slowing down a fast car. McMaster vowed to fix education and attract manufacturers to those rural areas.
McMaster didn't say the word "Medicaid," and he didn't talk about the pending policy change — which he himself proposed.
A year ago, McMaster announced he would seek federal permission to require able-bodied adults receiving health care through the state Medicaid program to prove they are working — or going to school, looking for a job, or volunteering — at least 80 hours a month.
"Whenever possible, we should always endeavor to help South Carolinians in need find their path to gainful employment and away from the temporary assistance of government," McMaster said in a 2018 news release. "A good, steady job makes everything better, it creates a better home life, results in healthier lifestyles, and provides financial independence and opportunity."
Dig into the state's proposal and you'll find that lifting people up through labor isn't the only goal. The state also hopes a work requirement will help move people off Medicaid and into other health insurance, saving the state money. However, that's far from certain. Critics say a work requirement will simply leave people without any health coverage, worsening their lives and harming their children.
"It's politics," says South Carolina Appleseed Legal Justice Center director Sue Berkowitz. "It's not about people."
Who's In, Who's Out
January 22 is the deadline for the public to comment on South Carolina's Medicaid work requirement proposal. So far, according to a spokesperson for the state Department of Health and Human Services, 93 people have weighed in. Next, the state will decide whether to ask the federal government whether it can implement the program.
South Carolina is one of several states that may seek permission to require people to work in order to continue receiving Medicaid — a key policy change under President Donald Trump's administration. Requests from 16 other states are already either approved or pending.
Only Arkansas has actually implemented the change. Since the fall, almost 17,000 people there have lost coverage.
In Kentucky, meanwhile, a judge initially blocked the state's attempt to impose a work requirement. But the Trump administration re-approved the state's request in November, and it's moving forward.
A big difference between South Carolina and other states seeking work requirements is that others have expanded Medicaid under the Affordable Care Act, meaning their programs cover more adults.
South Carolina has not expanded Medicaid. The only way to be covered by Medicaid here if you're a non-disabled adult is to be a parent of a child on Medicaid and make less than 67 percent of the poverty level. For a family of four, that means less than about $17,000 a year.
In other words, every able-bodied adult who receives Medicaid in South Carolina is a parent and very poor.
About 1 million South Carolinians receive Medicaid — about one-fifth of people in the state. The majority are children, pregnant women, the elderly and disabled people.
The state Medicaid agency says it would exempt various adults from the work requirement, such as pregnant women, people undergoing addiction treatment, and adults who are the primary caregiver of a child under the age of six or someone who is disabled. That leaves about 83,500 people who would be affected by the work requirement, according to SCDHHS.
But the policy would affect more than just adults, according to the Georgetown Health Policy Institute.  
When parents have health coverage, their kids are more likely to be insured, too. Other research has found that kids with health care do better in school in both the short term and long term.
South Carolina had been making progress in covering children. The rate of uninsured children dropped from 12.1 percent in 2008 to 4.3 percent in 2016. Then it rose to 5.1 percent in 2017, according to a recent report. That means about 60,000 children in the state don't have health coverage already. And that number could rise if their parents lose coverage.
"Why Do We Punish Poor People?"
At the heart of the Medicaid work debate is a fundamental difference of belief.
Some see Medicaid as something people are getting for free. They believe programs like Medicaid and food stamps can be leveraged, traded as an incentive to get people to work, or stay off drugs. Some believe public assistance actually harms people.
"People who receive income-related benefits have powerful disincentives to work," opined Doug Badger, a Heritage Foundation and Galen Institute fellow, in the National Review last week, arguing for a Medicaid work requirement. "A job provides income. Too much income results in loss of benefits. These perverse incentives discourage people from pursuing the surest way to escape poverty: a job. Work requirements help break this dynamic, discouraging long-term dependency."
Seema Verma, who runs the federal Centers for Medicare and Medicaid Services under the Trump administration, has said work requirements are a powerful tool for encouraging self-sufficiency.
"I have heard the criticism and felt the resistance, but I reject the premise and here is why: It is not compassionate to trap people on government programs or create greater dependency on public assistance as we expand programs like Medicaid," Verma said in September.
For others, that's backwards. Help people become healthy, they say, and they'll be able to seek work.
"Obviously I don't think that making sure people have health care … requires them to do something back for us," says Berkowitz of the South Carolina Appleseed Legal Justice Center. "If people are not able to afford health care on their own, providing Medicaid makes perfect sense."
"When we think about parents who are working or trying to work, there are so many barriers," Berkowitz continues. "If you don't have child care you're not going to be able to work, or if you don't have appropriate transportation. If you are a low-wage worker, you're probably doing it at an hourly rate, and you're working probably where you're an employee at will — and if you have to miss work because you have a sick child or something comes up, you are easily fired.
"There's this assumption that somebody is a low-income parent because they're not doing everything they possibly can do to be successful and try to support their family. That's not the truth. … It's absolutely looking at it through an upper middle class or person-with-means lens without thinking what it means for low-income families."
Health care economist Lynn Bailey puts it even more succinctly.
"Why do we punish poor people? Because they're easy to punish," she says.  
Not covering people is expensive, Bailey argues.
"Discouraging folks from getting Medicaid increases overall health care spending in the state," Bailey says. "Because it's not like these people are healthy. You've got people who need care. If they don't get primary care and manage their health condition, they do get emergency care, which costs us all money. It multiplies through the system and shows up in increased costs to patients and increased premiums."
"It's not a net benefit to require people receiving Medicaid to work," she goes on. "Now, if that is part of a comprehensive social support system to move people out of poverty into a job that has benefits, they get employer-provided health insurance, that makes sense. But doing it just to think you can get rid of freeloaders on Medicaid?"
"It's part of our overall commitment to being minimally adequate," she jokes, referencing the state's infamous history of poor education.
Berkowitz also says that reporting work would be an "administrative nightmare," and a major cost to the state.
SCDHHS has not estimated how much administering the program would cost, according to a spokesperson.
Until the federal government approves South Carolina's request, the state agency won't know what the administrative and reporting requirements will be, says SCDHHS' Colleen Mullis.
However, a widely cited report from credit rating agency Fitch says the Kentucky Medicaid program's administrative expenses spiked 40 percent from one budget to the next, "which Fitch partially attributes to implementing Medicaid work requirements." (That was before the work program was halted by a judge.)
What's Next?
It's far from certain that the administration would approve South Carolina's request.
Trump's CMS chief warned states last May that if they hadn't expanded Medicaid, they might not be allowed to impose a work requirement.
Verma said she was worried about a "subsidy cliff," according to Modern Healthcare. Some people in South Carolina earn too much to qualify for Medicaid but too little to qualify for Affordable Care Act-subsidized health insurance on the exchange. Enacting a work requirement could push people's salaries up so they no longer qualify for Medicaid and are left in that coverage gap.
As of 2016, the state had 92,000 people who fell in that gap, according to the Kaiser Family Foundation.
"Because there is no tax credit for them to move on to the exchanges, what happens to those individuals?" Verma asked, according to Modern Healthcare. "We need to figure out a pathway, a bridge to self-sufficiency."
McMaster's office did not return a request for comment on whether he would consider expanding Medicaid as part of implementing the work requirement. But in the past, he's ruled it out.
Berkowitz says she's hoping for a "full public vetting" of the work requirement idea after the Jan. 22 comment deadline.
And if the state moves forward, she says a lawsuit isn't out of the question.
"We hope it doesn't get to that, because it's unnecessary," she says. "There's so many other things we can do to help improve people's lives in this state."
Let us know what you think: Email editor@free-times.com.