In the movies, filmmakers will often employ an editing technique called a "wipe."
A wipe is used, often to dramatic effect, to transition from one scene to another, with a new shot sweeping across the screen to replace the previous one. The early Star Wars movies are full of them. When used correctly, a wipe lets the viewer know that the story is transitioning, that we're moving on to something new.
If the Nickelodeon Theatre were a movie, right about now is when a wipe would be sweeping across the screen.
That's because South Carolina's only nonprofit arthouse film theater — which first opened at 937 Main St., south of the State House, in 1979 and has been located in the 1600 block of Main Street for the last six years — is in a moment of transition.
There is a search underway for a new CEO of the Columbia Film Society, which governs the Nickelodeon Theatre and the annual Indie Grits Festival as well as its media education arm, Indie Grits Labs.
The film society hasn't been directly under the eye of a full-time CEO in more than a year. In June 2017, then-CEO Andy Smith, who had been with the Nick in one form or another, for a decade, took a six-month sabbatical to accompany his wife, Kimi Maeda, to Japan, where she had an arts fellowship. Shortly after returning, in January, Smith announced his resignation. (He is now living in Japan.) In February, former film society board member Avni Gupta-Kagan, who has worked as a school teacher and administrator and has a law degree from Yale, was hired as interim CEO while the search for a new leader was undertaken.
More than five months later, that search is still ongoing.
Meanwhile, the Nickelodeon had another significant departure on Aug. 1, when theatre director Alison Kozberg announced she was leaving after just over a year on the job. Kozberg, who has an encyclopedic knowledge of film and previous gigs at the Walker Art Center in Minneapolis, the Getty Institute and the University of Southern California, left Columbia to join the Art House Convergence, an organization that works with independent theaters across the country.
So now the organization is down two key leaders — and it's at a crossroads. While the Nickelodeon is fiscally strong and important to the community, the new leadership will face questions about the structure of the film society's media education efforts, and other challenges.   
And Columbia is watching.

Why the Nick Matters
The Nickelodeon has become a cultural icon in the Capital City, adept at walking the line between offering daring, avant garde film programming and occasionally offering much broader, crowd-pleasing movies and repertory screenings.
For instance, for more than a year the Nick has featured the OUT Here series, a monthly screening of community-curated films on important issues for LGBTQ people. The theater's Foreign Focus series showcases thoughtful foreign films, with its next offering being on Aug. 30, with a showing of the South African comedy High Fantasy.
But the theater has often found its best box office success with prestige offerings that might find themselves on year-end award nominee lists. As of the Nick's 2017 annual report, the theater's top five earners over the previous five years were La La Land, Moonrise Kingdom, The Grand Budapest Hotel, Belle and Selma.
And the theater has continued to have special showings of blockbusters and well-loved mainstream films from yesteryear. This year alone there have been screenings of Raiders of the Lost Ark, Steel Magnolias and The Sandlot, all of which played to big crowds.
Meanwhile, Indie Grits is entering its 13th year (and will be moving to March in 2019 after being on the second week in April for many years), and draws thousands of people to the city center every year for its movies, music and associated programming.
The festival and theater have also spawned a media education arm called Indie Grits Labs that is now based not at the Main Street theater, but at a house on Duke Avenue in North Columbia.
Lee Snelgrove is the executive director of One Columbia for Arts and History, the city-backed arts advocacy organization. He says the Nickelodeon looms large on the city's arts scene.
"It's huge, honestly," says Snelgrove, who is also a Nickelodeon member. "They brought us arthouse cinema. It's always been a hub for creative types and young people. I used to go in college when it was [on the south side] of the State House. It draws creative people through cinema, and cinema that you can't always necessarily see elsewhere. And the expansion into other things, like Indie Grits, is really big for the city in that they took the small concept of having a Southern film festival and turned it into a huge event with film, art, tech, music and even food."
"The Nick was integral in its old days behind the State House, but it's only become more entwined in the entire arts community since then, and a leader in developing artists."
The significance of the crossroads at which the Nickelodeon finds itself isn't lost on Larry Hembree.
Hembree, who currently works with the Columbia Children's Theatre and who has long been a lodestar on the Columbia arts and cultural scene, was the executive director of the Nickelodeon Theatre from 2005 to 2011, and was directly succeeded in that position by Smith.
He tells Free Times that this year, and the decisions made about the theater's leadership going forward, could be a flashpoint for the Nickelodeon.
"This is a huge moment," Hembree says. "A lot of Andy's vision was about what Andy really wanted the Nick to be, and he was really big on wanting to make Columbia a better place and he knew the Nick was a catalyst for change and in bringing in that creative class.
"Andy almost felt like the founder of the 'new Nick.' So I think whoever the new person is will be overseen by the board, and they'll have the Indie Grits stuff and the Nick stuff and they've got all those programs that exist that they are going to have to pull together and figure out what the concept is."
Although there are challenges, the organization is doing well. The Nick has been on an upward arc in recent years, fiscally and in other metrics.
According to the most recent publicly available annual report for the Nickelodeon, the theater's operating income nearly doubled over a five-year stretch, going from about $740,000 in 2013 to more than $1.4 million in 2017.
Attendance at the art house theater also exploded over the five-year period, ballooning from 32,000 in fiscal year 2013 to more than 69,000 in 2017. That bump in ticket sales was no doubt aided by the opening of the theater's second screen in 2015. The number of theater members also has climbed, cresting 3,400 in 2017, an increase from 3,200 members the year before.
While the 2018 annual report won't likely be published until the fall, film society officials say they expect to continue to see growth or strong holds in key metrics for the theater.
What About Helen Hill?
While the Nickelodeon and its associated entities have grown in recent years, not all of those changes have been warmly received by everyone.
One shift that has rankled some is what seems to be a backgrounding of the Helen Hill Media Education Center as the banner for the film society's education initiatives.
Hill was a well-regarded artist, animator and filmmaker who grew up in Columbia and graduated from Dreher High School. Her mother and stepfather still live in the Capital City. Hill, who graduated from Harvard, where she studied filmmaking, was killed in a shooting at her New Orleans home in January 2007 in an incident that drew attention from the national media.
But Hill's memory has lived on in Columbia via the Helen Hill Media Education Center, the banner the Nickelodeon has used for various media literacy and media education initiatives.
However, since Indie Grits Labs launched in late 2016 it has surged to the forefront of public consciousness as the arm of the film society that supports filmmakers and new media creators, and bolsters the organization's education efforts. For instance, recently the National Endowment for the Arts announced a $50,000 grant for Indie Grits Labs for a "story lab" at Lower Richland High School. Through that grant, artist-in-residence Makhia Greene will work with Lower Richland students throughout the upcoming school year, co-teaching with the film, radio and TV teachers at the high school.
But with the ascendance of Indie Grits Labs, some feel the Helen Hill Media Education Center, as a concept, is fading.
Becky Lewis, Helen Hill's mother, sent Free Times a statement on behalf of a group called the Friends and Family of Helen Hill. The group says it is concerned that the Helen Hill Media Education Center has essentially been "subsumed" by Indie Grits Labs.
"The family and friends of Helen Hill have asked that the HHMEC be restored to the Nickelodeon Theatre," the statement reads. "While the Indie Grits Labs may be enjoying success as an arts center, it is not a media education center, nor does it have the spirit, integrity, and sensibility of Helen Hill, 'a radiant emblem' of community."
Frank Baker, a past board member at the Nick and a professional media education consultant, says he's also worried that the Helen Hill Media Education Center is slipping from public consciousness as Indie Grits Labs' tendrils continue to extend beyond the Main Street theater.
"It's nothing right now," Baker says of the HHMEC. "And that's a disappointment to me as a former board member."
Gupta-Kagan stresses that Indie Grits Labs and the Nick "still continue to do our education work in the spirit of Helen Hill" and says the late filmmaker is a "huge influence" in the film society's media literacy and education efforts.
"We are working out with her family and friends right now exactly what the center is going to look like, and what our relationship is going to be with it," Gupta-Kagan says. "We hope that we can continue to work together. We're working with the family, and I think, to some extent, the new CEO will really be able to kind of figure out what this looks like with them."
Columbia attorney John Boyd, the chairman of the Columbia Film Society board of directors, also acknowledged that talks with Hill's family are taking place.
"There are conversations ongoing," Boyd says. "It's still to be determined, and it's something we are trying to work through."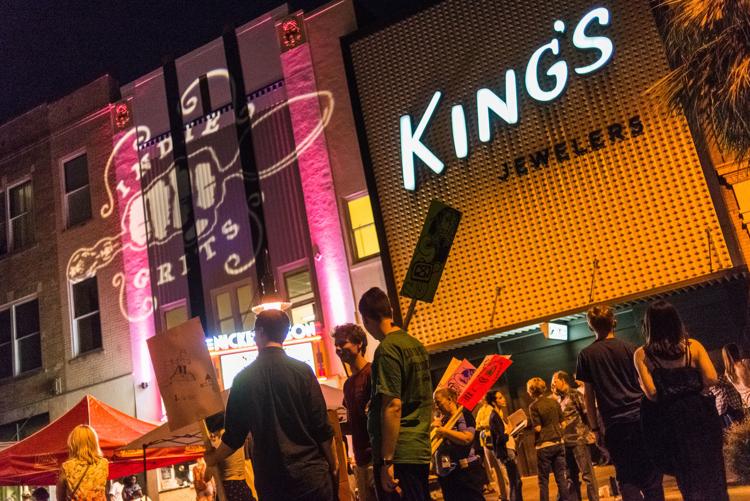 Finding New Leaders
In the meantime, the search for a CEO continues.
Boyd acknowledged the importance of selecting the right person to head up the theater and its various offshoot enterprises. He also says there is not a firm timetable for making the hire.
"The CEO search is moving along, and it's moving slowly," Boyd says. "Some of that is by design. We have great leadership at the Nick, so we can take our time. That's been one luxury, perhaps, or just a fact. We want to be deliberate about this, and really take our time.
"But, there is no ifs ands or buts about it, this is a period of transition, and we're working through it methodically."
As for the theatre director job, Gupta-Kagan tells Free Times that the board will likely not hire an interim director at this point. She says she would like to wait until a new film society CEO is hired, then work with that person as to how the staff structure will look at the Nick. Until then, the interim CEO says she feels like the theater's staff can collectively fill in and keep things rolling.
"One of the great things about the Nick that has just amazed me is how much of the staff has been there for a long time," Gupta-Kagan says. "There are so many people who can help keep us going for a little while and keep our programming strong. Maybe not Alison-level strong, but strong for a little while, until we can figure out the CEO and then we can work with them to really figure out what the best structure is going forward."
Snelgrove says he is watching with interest as the theater goes through this period of transition.
He says that, as the director One Columbia, he doesn't think the mission of the Nickelodeon will change, and he's confident the film society will continue to foster creative events and projects. But as a member, he definitely has preferences.  
"Now, as a member, I obviously would want to know that the things I love are going to continue to run," Snelgrove says. "In terms of films, I would want to make sure they are going to still create high-quality series, and are including lots of different voices as far as the programming they are creating. And when it comes to something as special as Indie Grits, I want it to continue to evolve."
Hembree, the former longtime director of the Nick, recalls lovingly the days in the old theater south of the State House, when the cinema had a half-dozen employees and "about $30,000 in CDs in the bank."
He says it will be important for the Nick to remember its roots as operating income rises and new leadership arrives.
"It has just grown," Hembree says. "I think the challenge, if there is a challenge, is always to try to figure out how to keep that grassroots, community engagement in an organization that now feels a lot different than it did when we started, which was a hands-on, loving approach kind of thing."
Free Times asked Boyd, the film society board chairman, if the board was specifically looking for a heavily film-focused individual for the CEO role.
"We want to find a leader," Boyd says. "We want to find someone, clearly, who has managerial skills, fundraising skills, but, first and foremost, is a leader who can tell our story. If they have a deep film background, so much the better."  
Let us know what you think: Email editor@free-times.com.