There's a fierceness to Michaela Pilar Brown's art and person that's difficult to deny, and just as difficult to untangle.
From surreal self-portraits that explore the corporeality of the black female body to evocative, often abstract installations that thread A-frame model houses, yarn, cloth, wood and nails into layered material explorations of both personal and cultural histories, the 48-year-old's work does heavy conceptual lifting on race, gender and sexuality alongside time, memory and physical space. She moves deftly from mode to mode, shifting from performance art and installation to paint, sculpture and photography while maintaining the searching, penetrating themes that have defined her work since the beginning.
Brown, whose family goes back generations in South Carolina but who grew up in Denver as the youngest of five in a military family and later attended Howard University in Washington, D.C., before moving back South to take care of family, has steadfastly carved out a living as an artist almost in spite of her provocative, concept-heavy approach.
She shows her work frequently both nationally and internationally, winning fellowships and residencies with regularity. At this April's Indie Grits festival in Columbia, she was part of the leadership team that organized the Two Cities art projects aimed at exploring the racial and socioeconomic factors impacting our city. Just a few weeks later, she nabbed the $50,000 grand prize at Lake City's renowned ArtFields festival, a win that cements her reputation as one of the finest artists working in the state today. And next month, she heads to New Zealand as one of the inaugural artists for the Volcanic Residency at the Whakatāne Museum.
Free Times sat down with Brown ahead of the opening this week of BRUISE: body as medium, a dual show with fellow concept-heavy maker and performance artist Jason Kendall at Tapp's Art Center. The interview has been edited for length and clarity.  
Free Times: So tell me about this new show.
Michaela Pilar Brown: It isn't new work. Jason Kendall and I are going to show performance work that we've done in the past and use that to enter into a conversation about the body and the body in public space. He is a cisgender heterosexual white man and I am [gestures at herself]. We're going to talk about the differences and the challenges of that, both from the standpoint of corporeal experience with art and also materiality, using the body as material. We're also going to talk about these two very different bodies in our current politic. You know, what it means to make work with the body, what kind of opportunities are available to us because of the kind of work that we make and who we are physically as individuals.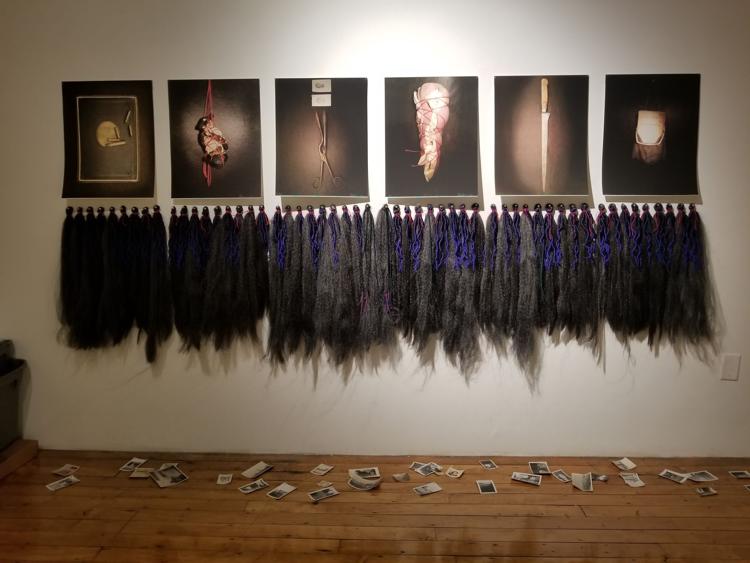 In your bio you mention growing up in a museum in Denver because your mom was a security guard there, which I imagine had a dramatic impact on how you've understood art and your relationship to it.
It was a history museum. They did this large show every year called Artists of America. It was their major fundraiser, sponsored by the Rotary Club. And there weren't a lot of artists of color in it, not even Native artists. I think I remember one or two Native artists and Japanese artists, and a few women. But what it did for me was make art real as a profession. I had an opportunity to spend time with artists who were making their living as artists.
But my exposure to art was much earlier than my mother working in the museum. It was lifelong. My mother had a love of the arts. She encouraged it. I have two older brothers who were artists, each who studied art. Neither of them finished art school, but it was never foreign to me. It was just kind of being in that environment and knowing what it really took to make art, to show art, to be a museum professional.
But I was also acutely aware of my absence. The fact that there weren't a lot of black faces on the museum walls. There weren't a lot of black artists, young or old, coming through that space. My mother used to go out of her way every year for that show. She could hire a number of extra staff members and they were always these young black college kids or young black artists, like she was on a mission to bring success to a younger generation of black artists. So it's always been part of my life and it certainly shaped how I felt about my ability to do this.
I would imagine going to Howard University, a historically black college with such a powerful reputation, and just being in D.C. also made an impact.
D.C. was in some ways a black awakening for me. My parents were conscious people. They were conscious that we understood our history, and conscious that we be politically engaged and involved. My father was a real race man. He believed in integration. So my family often integrated communities.
But Howard was something else. Howard was black power, was history and art and literature from a black perspective. It was not having to apologize or explain myself for my thoughts, or my questions. It was not having to focus on being black while being educated. I had gone to predominantly white schools.
Coming to Howard was also just a relief on a lot of different levels, you know, socially, culturally. I had been exposed to black art, but it was exposure on an entirely different level, kind of an equalizing force where a lot of the white art that had influenced me as a child, there were black contemporaries to match it. You know, I learned of artists like Meta Vaux Fuller and Edmonia Lewis. I didn't know them prior to coming to Howard.
This idea that not only was it possible for me to make art and succeed at it, but there was this long lineage of black women who'd been making art, was new to me. Howard was a remarkable experience in so many ways. I had always been comfortable being black. I had always been confident and proud, but Howard made me unapologetic. It made me feel like I didn't have to explain myself, that my being was enough.
What was like it coming to South Carolina from there?
Coming here, people are still really caught in the binary and really focused on still combating white supremacy on a real basic level. It's just really kind of incredible and, you know, felt like a step backwards. But there's also here a rich tradition of resistance that runs back to our arrival on these shores and you don't have to go far to find it. Just talk to regular old folk and you'll find it in small acts of resistance. There is some explaining to do, but there's also this kind of other blackness, that kind of rich, deep-rooted, beautiful historic blackness.
One thing I like about your work is that it's conceptually and aesthetically complex, very multifaceted, but the focus often ends up being on the identity politics of it. How do you deal with that? Do you feel like it's improved over time as people continue to approach your work?
It just kind of depends on the audience. You can't outrun race in America, that's just it. But I do think that there's an undue burden on black artists to always be talking about race. To never be talking about conceptual ideas. It's never talking about craft and design. Sometimes it's burdensome.
As much as my work is about race and gender, it's also about materiality. I work with all of these vast materials that I'm deeply attracted to for a variety of reasons. I follow a long tradition of artists doing that that aren't necessarily black, but that's never part of the conversation. It's always about, you know, how my work centers race or how it centers gender.
This show at Tapp's will be interesting because you have two very different individuals producing work that has some really remarkable similarities in terms of how we use our bodies, what we're going for, the kinds of things that we're investigating, that all have to do with our art practice and less to do race and gender. It should be an interesting conversation.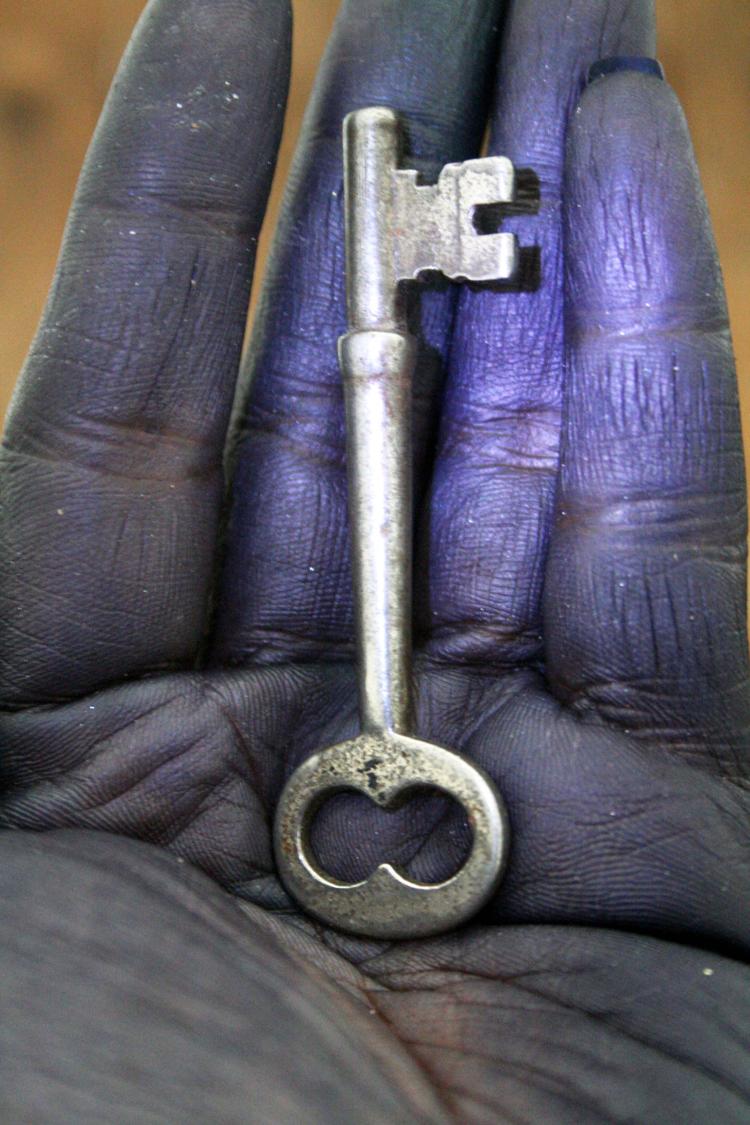 I love the phrase "image and object maker," that you use to describe yourself as an artist. How did you come to this sort of boundaryless art?
I've always made everything! I trained as a sculptor, and I thought that's what I would be doing. My ambition was to do large public sculpture. I apprenticed under Richard Hunt and wanted to head in that direction, but I've always made everything. Anything I could get my hands on, for as long as I can remember. I've always painted, I've always drawn. I sew. I am a builder more than an extractor, so I don't do a lot of carving. I'm not so interested in that. I really liked building things and putting things together, and I think that tradition follows in my family.
My grandfather was a maker. He made his house, he made his tools, he sewed his clothing. I think that tradition was always present. And my mother was just remarkable in that we always had stuff. We always had material. She liked pretty things, but she wasn't wedded to them in such a way that we weren't allowed to use her house. She's just always been very supportive in that way.
You use what you call "common objects" a lot, and there are repeated images of houses, nails, clothing, the sort of central building blocks of our experience. What keeps you in that space, where you aren't pushed towards more esoteric materials?
See, I think they are esoteric. I think that there's this idea that high art doesn't include the common folk, right? And I'd like to keep my art centered and grounded and in an experience that includes common people, because I don't think they're really any different from anybody else.
Some of it is also just the kind of psychic energy around objects that have had a life before. A lot of the nails come out of spaces where they came down from a house, or they were in a bucket in someone's shed. Clothing material usually has a relationship to something else before it enters my work. Even if it's a kind of new object, it came to me by way of a story. The stories are important to me.
I'm also really connected to my own family history, so the use of houses and common objects comes from that experience, of wanting to stay connected to them and wanting to tell that story. Because I think it's every man's story and, if I can tell it through the specifics of my own family, I can reach a larger audience. The houses are based on a little A-frame house that my grandfather built in the '20s, but it was common African-American architecture from that time period.
To me, you can understand these stories both as truly universal, but in another way see them as particular to the black experience. Do you make that distinction?
My work is particular to the black experience because that's my experience and because I think that's the story that needs to be told, but I don't separate black people from humanity. If you can look at a white story and see yourself, then you ought to be able to look at a black story and see yourself in that as well. And the only way that you don't is if you don't see black people as human. If that's the trick bag that you're in, you've got to climb out of that on your own.
Another fascinating thing about your work is how much you photograph yourself and, as you have moved into performing, you often use your body in incredibly vulnerable ways. How much do you think of it as just a commentary on body and how much of it is commentary on your specific body?
I can't separate myself from the specifics of my physical presentation. I think there's something for every human to latch onto, but that I am telling a very specific story that's very specifically black, middle-aged, overweight female. Part of the reason I use my body is that it's not a body that's commonly sexualized in that way. I know there's always an opportunity to be a slut or a Mammy, right? But expanding that conversation in this body, I think there are lots of ways for women and men to find themselves in what I'm talking about.
How do you think your work has evolved over time?
I think I've gotten better at being a professional artist. It sounds like I'm focused on the money, but in terms of, like, making a living, I'm starting to understand better how to frame my own work, how to have conversations about my work. I don't know that the work has changed that much. I think I've gotten better at it.
I hope that I've gotten better at wedding my ideas to my material output. I hope the work has gotten more mature. It's always been fairly research-based, but hopefully I'm a bigger and better thinker than I was a decade ago. Hopefully I'm more open. That's important. It's really easy to get funneled into your own ideas and keep moving forward and never really face your challenges. I hope that I'm open to failure and that I use my failures in a way that fuels me and changes the work.
And I think I've gotten better at kind of the poetics of space and creating nonlinear narratives where the story is clearer.  
Let us know what you think: Email editor@free-times.com.
---
Where: Tapp's Arts Center, 1644 Main St.
When: Aug. 2-25
Cost: Free
More: 803-988-0013, tappsartscenter.com
Opening reception Thursday, Aug. 2, from 6 to 9 p.m.