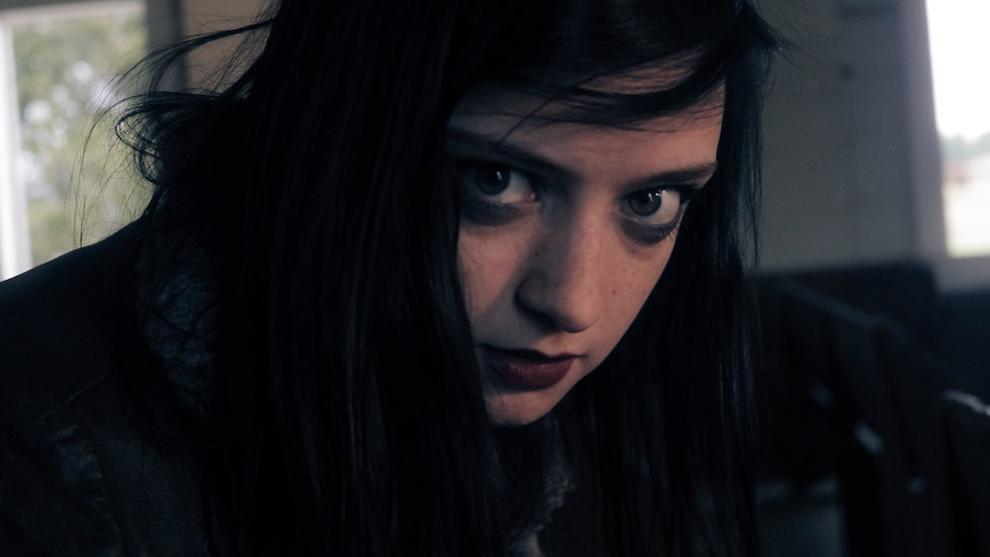 The Theta Girl, the new film directed by Christopher Bickel and written by David Axe, is almost certainly the most uninhibited indie feature ever made in Columbia.
Maybe that isn't saying much, as Columbia has only attracted scant attention as a shooting location, and no attention at all as a good place to push the cinematic envelope, or create movies that take chances or have some kind of personal stamp on them. 
When Hollywood has come calling, the results have ranged from embarrassing (1990's Modern Love) to entertaining (1993's The Program) to so-so (2010's Death Sentence) to disastrous (Accidental Love, shot by acclaimed director David O. Russell in 2008 as Nailed, then patched together for DVD release in 2015).
In the 1990s, there was also a spate of independent horror films made in and around Columbia — such as Paul Talbot's 1990s triad of Campfire Tales, Freakshow and Hellblock 13 — and a few horror parodies: Tommy Faircloth's 1996 effort Crinoline Head and its 2014 sequel, Dollface, and Jeff Miller's 2000 release Head Cheerleader, Dead Cheerleader.
For Bickel, a horror fan, Dollface was a revelation. It proved you could make a movie in Columbia for under $10,000 and that maybe his own idea of doing the same thing wasn't completely crazy. 
"I totally give him credit for being the inspiration," he says of Faircloth.
The result is the first purely independent film to come out of Columbia in ages that is certifiably unusual, more concerned with staying true to its raw, id-driven instincts than establishing broad appeal. The Theta Girl is one gory, grungy, sleazy, druggy, porny, funny, nutty and oddly engaging movie.
And while it's not cocaine, it is definitely 100 percent pure Columbian. It was made entirely in the Capital City, featuring locals in every role, and all for the low, low price of $14,000.
Despite that, it's not at all badly made. It's cheaply made, yes — an homage to low-budget schlock horror movies — but it's not cheaply imagined. It's quite competently shot, directed and edited, and it's performed with just the right amount of panache. For a movie made with lunch money, it has a higher-than-average threshold of professionalism.
Bradley Gibson of Film Threat magazine took notice after a recent screening at Atlanta's Y'allywood film festival.
 "This film succeeds not in spite of the budget, but rather because the filmmaker integrates the gritty look and simple environments," the critic writes. "The sound is particularly noteworthy, that seems hard to get right in indie film and Bickel left nothing on the table there … the dialog, sound effects, and music are recorded with clarity and high quality."
A distinct look is established virtually from the beginning, when a doe-eyed drug dealer named Gayce (Victoria Elizabeth Donofrio) heads to a local bar, where a grudge match is in progress between a couple of local bands. As Gayce walks the streets, nighttime Columbia takes on an oily, inky luster; a subterranean netherworld filled with punk night crawlers. The settings are familiar (various spots on Main Street or the Art Bar, mostly) but the vibe feels rough, threatening and exciting.
Across the ensuing 90 minutes, there are stabbings, bludgeonings, garrotings, dismemberment and a flood tide of blood. Also, lots of gratuitous nudity, a violent showdown in a historic church, and a curiously ambiguous ending.
You'll be exhausted or exhilarated, turned off or turned on, but you won't be bored. If your assaulted senses recover by the time the final credits roll, you may even swell with admiration to read this final note:
"The Theta Girl was produced for the price of a used car by complete novices. No excuses. Make your own f#!king movie."
Which is exactly what a couple of frustrated would-be filmmakers set out to do nearly two years ago.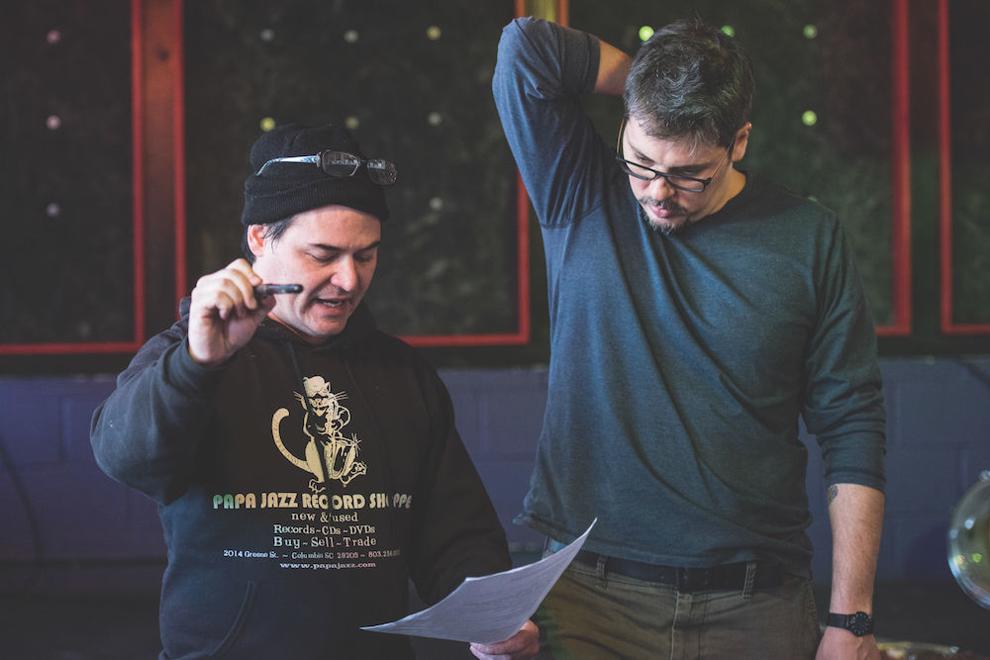 Never Too Late for Now
The genesis of this "existential exploitation film" began sometime in December 2015, when either Chris Bickel or David Axe — both claim they came up with the idea — said to the other that they ought to make a movie together.
Certainly, they had compatible goals. Axe, after years of trying, wanted to see one of his screenplays produced. Bickel, after years of putting it off, wanted to direct a movie.
Bickel, longtime vinyl department manager at Papa Jazz Record Shoppe in Five Points, had wanted to get behind the camera at least since graduating from the University of South Carolina in 1994 with a degree in media arts. Instead, he worked first at Manifest Discs and Tapes and then went into business for himself.
"At that time, especially, USC was not a good school for film," he recalls. "In a way, I feel like my time there was wasted because I couldn't really go very far with the education I could get there at the time. So I ended up opening a record store right after college instead of pursuing film."
The store was New Clear Days (a co-venture with former Free Times editor Dan Cook) and over the next few years he also fronted well-known local punk bands such as In/Humanity, Anakrid, Guyana Punch Line, and Confederate Fagg.
Friend and frequent customer Derek Riley remembers his passion for movies, especially the stuff at the weirder end of the scale.
"Back then, there was no IMDB and no Netflix," Riley says, "and you learned about movies just through word of mouth, from people on the scene and such, especially underground movies. Chris, having been in a band, he toured around the country and he was able to sample little bits of scenes from all over."
Every Christmas, Bickel would make a compilation reel of off-the-wall videos.
"It was a little bit of everything. Japanese game show type stuff, vomit fetish stuff, [AC/DC lead singer] Bon Scott videos," Riley recalls, "stuff you didn't even know existed."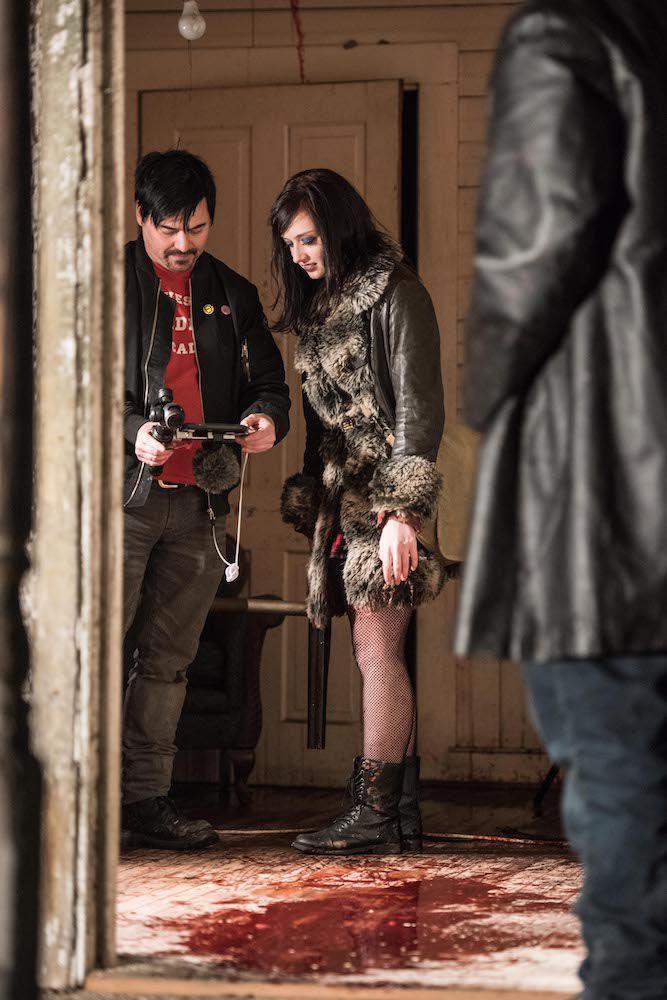 For audiences at Main Street's Nickelodeon Theatre, Columbia's lone arthouse cinema, Bickel's offbeat taste has been on display for four years now. As curator of the monthly First Friday Lowbrow Cinema Explosion, he's known for screening the best of the cheapest and tackiest and most outrageous films of all time, from Pink Flamingos to Ilsa: She-Wolf of the SS to Cemetery Man to Pieces to Deadly Prey.
Through it all, he has yearned to make his own contribution to the pantheon of Grand Guignol gore-fests.
"If I ever want to do it, I should do it," Bickel says of his reasoning. "It doesn't have to be a Hollywood spectacular or anything, it just needs to be something. Get your feet wet."
Axe — a freelance journalist who wrote the 2010 graphic novel War is Boring, based on experiences covering Iraq, Afghanistan and other war zones, and now oversees a media website with the same name — loved the idea of jumping in headfirst.
"Doing your own thing on a smaller scale, you have control," Axe says. "It's a lot of work, but it's gratifying to be able to make something happen."
Besides sharing the same taste, both have an affinity for any amateur auteur who dares to beat the odds. In this regard, no one stands taller than the Iranian director Jahangir Salehi Yeganehrad, aka John S. Rad.
A former architect who came to America following the 1979 overthrow of the Shah, Rad spent 21 years trying to make a movie titled Dangerous Men. The result, finally released back in 2005, has become a cherished cult classic of baffling incoherence.
Axe describes it as a movie that starts as a revenge flick, turns into a police procedural, and continually "evolves from one movie into the next."
"It was like it was made by an alien from another planet," says Bickel, "who not only didn't know how to make a movie, but had never seen a movie."
"Making a movie is hard," Axe offers. "If you make a movie, I don't care how bad it is. If you finished it, it's great."
---
What: Local Premiere of The Theta Girl
Where: Spotlight Cinemas St. Andrews, 527 Saint Andrews Rd.
When: Friday and Saturday, Nov. 3 and 4, 9 p.m. both nights
Price: $8
More:803-807-2441, spotlightcinemas.com/standrews
---
Rad is duly credited at the end of The Theta Girl, along with other DIY heroes like B-movie maestro Roger Corman, 1970s blaxploitation director Jack Hill (Coffy, Spider Baby), gore-meister Herschell Gordon Lewis (Blood Feast, 2000 Maniacs! ), zombie impresario George Romero, Halloween director John Carpenter, and Japan's Shunya Ito (Female Convict Scorpion: Jailhouse 41). Timothy Leary, Hunter S. Thompson and Aldous Huxley are also duly cited.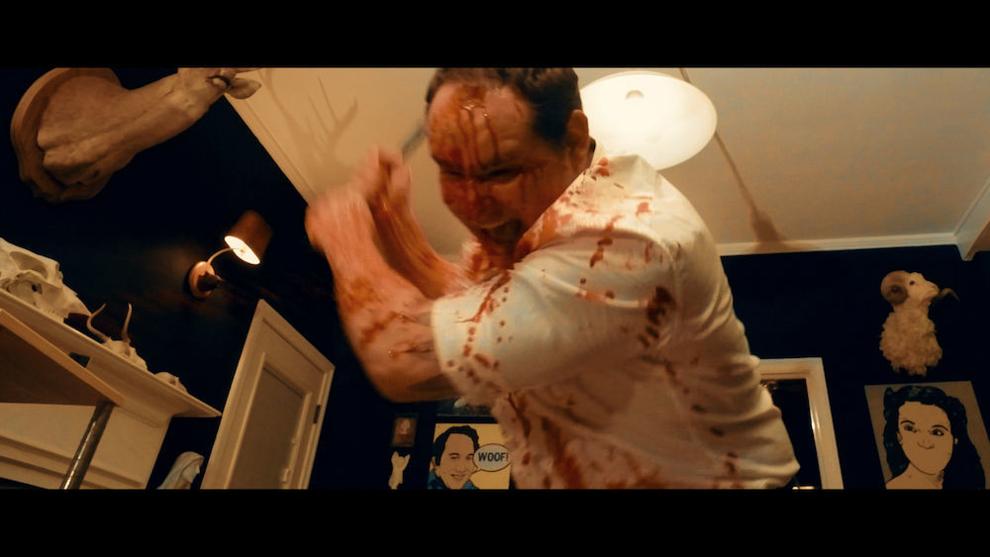 Sex, Violence, Whatever
After the two brainstormed story possibilities, Axe knocked out a script that tapped into a personal interest: the drug subculture of the 1960s, where LSD seemed to offer a shortcut to finding God.
The story would be set in the present, built around a cast of decidedly outsider characters.
"We wanted to set the movie in the vaguely criminal underworld of unloved, unseen people in any town, anywhere, at night," Axe explains. "Their lives and their little world they've built underground — these bands, this drug, and the way they live and routinely breaking laws, and they have their own laws. We kind of folded the psychedelic element into that criminal or underground society."
The two agreed to a standard exploitation film structure: something happens — sex, violence, whatever — every five pages.
"Basically you're trying to make up for the fact that you don't have Hollywood stars or production essentials and maybe your effects are going to look hokey," Bickel says, "but you want to keep people really interested."
In the movie, Gayce, with the help of her homeless associate Leonard (Kenneth Briere), is the go-to girl for a designer hallucinogen known as Theta, a neon-yellow horse pill that seems to affect people in different ways.
For Gayce, it's a conduit to the far reaches of consciousness. ("It's where the human race is headed," she says, "and Theta helps us get there.") Under Theta's spell, she comes in contact with a kooky divine messenger, an Asian woman in a bird-costume and Kabuki makeup who speaks riddles in a kind of unintelligible techno-screech. (The subtitles help, but only a little.)
For Gayce's Theta-using friends at the bar, the drug becomes an aphrodisiac — leading to a very nude post-show orgy that, if this film were officially rated, would easily push it far north of NC-17 (and official or not, no one under 17 will be admitted to screenings).
Gayce soon discovers that Theta, in the wrong hands, can also do a lot more than stoke the senses and unhinge the doors of perception. It can also turn you into a homicidal maniac, as she learns when she discovers Leonard's dead body, his intestines pulled out. (The small intestine in the average human is only 20 feet, and this looks a lot longer, but never mind.)
The murderous culprit quickly turns out to be a group of hardcore religious fanatics, led by Brother Marcus (Shane Silman), who were unsuspectingly dosed with Theta at the bar the night before, and are now bent on butchering every lost soul they can find. That sends Gayce and her friend Derek (Darelle D. Dove) off on a hunt, both to avenge the killing, find the maker of the drug — a wacked-out Vietnam veteran turned chemist (Mike Amason) and his nutty wife (Len Marini), who keep up a steady buzz with Theta popsicles — and stop Brother Marcus and crew before they do any further damage.
Learning From Doing
Although Bickel had a basic educational background in film production, he knew he was due for a serious crash course in digital video. For weeks, he did nothing but watch YouTube clips that took him through every step of the process.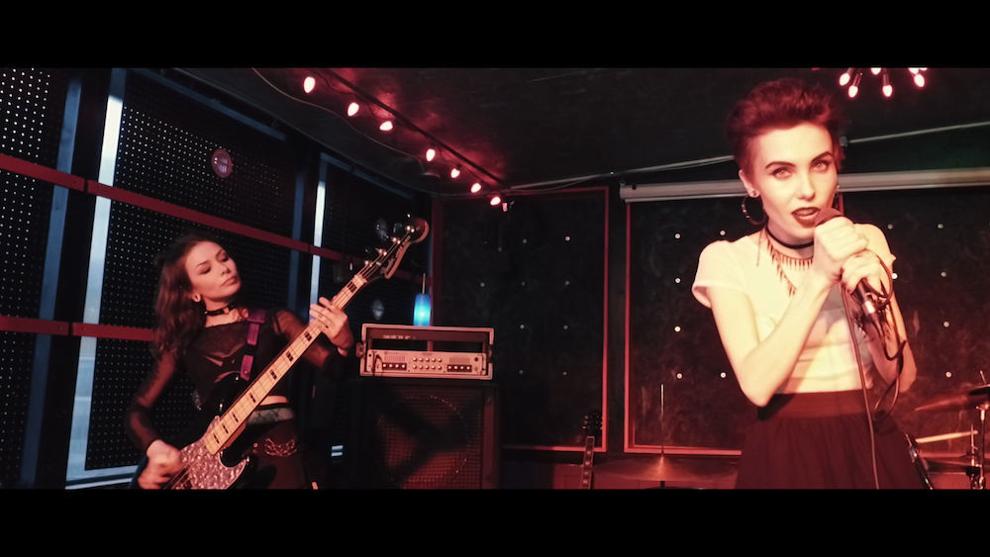 Both producers ponied up $5,000 each. Since Bickel already had three digital cameras on hand — a Canon EOS 80D, a DJI Osmo, and a GoPro — the $10,000 budget and the hope of free labor from actors seemed like it would cover them. The first casting call changed his mind about the second part of that proposition.
"It occurred to me, this is just a recipe for disaster," Bickel says. "If you're asking people to donate their time and work for free, then the first day that it sucks, everyone's going to quit."
That's when they hatched the idea for an Indiegogo campaign, which raised the final budget by a third and allowed everyone to get paid.
The cast came together from an assortment of both friends and strangers. Bickel met lead actress Victoria Elizabeth Donofrio — who works at a Starbucks in Lexington as well as fielding several social media projects — on Facebook, and invited her to audition. Bickel also leveraged his status as a veteran of Columbia's punk scene, tapping local musicians both to perform and, in some cases, act. The role of Brother Marcus went to Shane Silman, an experienced actor and lead singer of the band Hand Over Fist.
The role of the villain who dishes out most of the mayhem was not Silman's first choice.
"But I took it," Silman says, "because there was no way I was going to tell Chris, 'No.' The guy is my best friend, he's fulfilling his lifelong dream of making a movie, and he's inviting me to play an integral role in this adventure — so of course, I accepted it."
With all the pieces in place, all that was left was the hard part. The movie was shot on weekends over the winter months, roughly from November 2016 to February 2017, with each day planned for maximum efficiency. As with most movies, especially those on a small budget, the story was filmed out of sequence.
"You didn't want to leave much to chance," Bickel offers. "We went through the script with a fine-tooth comb and basically separated out into locations so that we knew if we had a lot of scenes taking place in one spot, we'd try and shoot all that stuff in one day."
For all the planning, every day brought new surprises. There were times when a key player might fail to show up, which could mean a sudden rewrite, re-staging of a shot or just rescheduling. Or the time when they hired Richland County deputies for a car chase, only to find out they couldn't use their planned location. The deputies, who had no idea they were going to be acting, got into the spirit of the production and gamely located an abandoned road. 
There was also the time when actress Donofrio, in a scene that requires her to slip on a pool of blood, fractured her tailbone.
There were other lessons that came from the filmmakers' simple lack of experience. Axe discovered that writing several scenes set in a bar with a band playing in the background made it difficult to maintain a consistent soundtrack.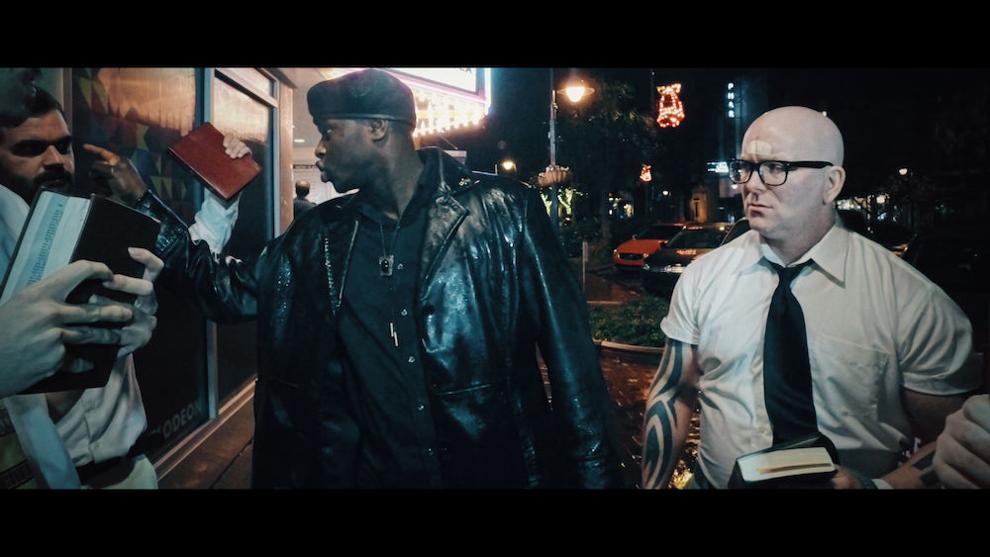 "You can never do enough pre-planning," Bickel reflects. "Once I got to the post-production phase, the editing, it just became apparent that there were so many things I could have done better on the front end that I was having to fix on the back end, and I wish that I had spent an extra month of planning before we went into it."
One thing they did seem to get right was winning the trust of everyone involved. Even at its most disturbing, it seems to be made by and with people who are having a good time.
"There is a lot of gore, and nudity, and sexual situations in the film," Donofrio says. "I had to think a bit about whether I wanted to be in that, because I obviously was going to put this film on my reel and I didn't want to be typecast into horror films, but this one was a little bit different. I saw what Chris and David were going for, and I thought it could turn out really artistic and tasteful, even with all that stuff in it. I think it turned out exactly how it was supposed to."
After the Columbia debut this weekend, The Theta Girl is slated for the Austin Indie Fest in Texas and Charleston's South Carolina Underground Film Festival on Nov. 15. The producers are still waiting to hear from some 30 other film festivals across the next year. 
For most indie films, the process is to apply to as many festivals as possible in the hope that some studio will pick it up for distribution. Then the producers can start earning some money. But Axe isn't holding his breath.
"We're not going to make any money at all," he says. "We don't care. We made a movie because we wanted to make a movie. We hope that a few thousand people get to see it and enjoy it." 
Even if they don't, Bickel sees it as the hands-on film school education he never got.
"If I put it out today and nobody saw it and it just ended up in a closet somewhere, it would still be a success to me because this was so much more of a learning experience than I could have ever gotten going to school," Bickel concludes. "I could have gone to school five years and not gotten the knowledge I got out of six months on this thing."