Fat Rat da Czar is busy.
It's a little after 8 p.m. on Wednesday when Free Times arrives at the Boom Room, the hip-hop/R&B-focused enclave of Rosewood's stalwart Jam Room recording studio. The rapper and engineer is working with an aspiring singer, scrapping to finish the mix for her new song. But the bass needs more work. They agree to meet up again at 9 a.m on Sunday.
"Not enough hours in the day," Fat Rat shakes his head after the singer leaves. "Not enough hours in the day."
True to his word, it's hard to imagine how he makes time for his various pursuits. Chief on his mind at the moment is Love, Peace & Hip-Hop and the organization's Hip-Hop Family Day coming up on Saturday. Approaching its seventh annual outing, the Main Street block party remains a holistic, old-school-leaning celebration of the four tenets of hip-hop: rapping, DJing, breakdancing and graffiti art. Regularly drawing crowds in the teens of thousands, this year's event comes surrounded by a more robust selection of satellite events than in years past, hosted at the Columbia Museum of Art, Richland Library and Tapp's Arts Center.
"And this year, I decided to throw an extra bit of difficulty and then drop two albums in the middle of planning the thing," laughs Fat Rat, founder and executive director of Love, Peace & Hip-Hop, referring to October's ETHX and February's Exposed. "Like, yeah, that makes sense."
This weekend, Hip-Hop Family Day should return bigger than ever, with a lineup that includes Big Daddy Kane, the Sugarhill Gang, and the Furious Five, a trio of seminal acts that's as eye-popping as anything this festival has mustered, or perhaps more so — and this is an event that's already hosted MC Lyte, Kid 'N Play, KRS-One, and Slick Rick, among others.
Kane emerged in the late-'80s as one of early rap's most formative artists, spitting verses that were at once charismatic and bracing and also embracing dance. His main supporting acts for Saturday are best known for two genre-defining singles: Sugarhill Gang's funky and infectious 1979 offering "Rapper's Delight" became the first hip-hop single to crack the Top 40 of Billboard's Hot 100; originally rallied by legendary DJ Grandmaster Flash, the Furious Five unleashed "The Message" in 1982, an early proof that such fiery, street-level ruminations could make a mainstream impact.
Together, these acts get as close to the bedrock of hip-hop culture as the festival ever has, while also bringing unparalleled name recognition.
But five years ago, Fat Rat thought hard about ending the endeavor.
"I was considering not doing it after year two," he recalls. "And my mom made a statement — I'm gonna mess it up, but it was kinda like, 'What you're doing is blessing people. And some blessings just aren't for you.' I think I had made a statement that was kinda like, 'This thing ain't making me no money. It's kinda eating up a good part of my year and it's not a money-making deal for me.' And she said, 'Not every blessing is yours. Some blessings are for others.'"
Fat Rat has ambitions for the festival to continue to grow and improve, but in answering Free Times' questions, he always comes back to the people and the culture. When Hip-Hop Family Day started, it was, at least in part, about proving a point — about showing that Columbia, a market where the genre is consistently undervalued and overshadowed, could support such an event. But in assembling this year's lineup, which seems sure to prove that point to even more skeptics, Fat Rat says he didn't really care about all that.
"That's not even a thought of mine," he responds when asked about how this year could elevate the festival in some people's eyes. "All I'm thinking about is the people and taking them to a new place."
"I talk to other festival directors," he adds, "and that's a biggie. Like, 'Aw, man, we did this thing. We got this act.' And I send out congratulations when people get a good act. But I'm never thinking about the status of the festival. Not to say that I won't, but at this point, with where we're at and the budget we're working with and what we're trying to squeeze out of it, I'm just thinking about what's going to mean something to the people, and sometimes you get lucky like this. This is actually almost too lucky. I don't know if I can get this lucky again."
But while Fat Rat and Love, Peace & Hip-Hop are no longer proving a point, they're still trying to do more. Case in point: this year's expanded slate of satellite events.
Adding Richland Library and the Columbia Museum of Art and maintaining their relationship with Tapp's Arts Center, they're hosting a diverse array of programming. On Wednesday, there's a Hip-Hop Bounce House Party at Edventure Children's Museum, the New Wealth Lounge at the main branch of the Richland Library (a meetup for young entrepreneurs with a DJ spinning a modern hip-hop soundtrack) and a Tacos and Rap party at Tapp's featuring performances from Dee 6ixx, Clay Maskin, Khemo and more. Thursday brings Hip-Hop Karaoke at Tapp's, while Friday offers The Get Down, a pre-festival celebration on Boyd Plaza outside the Museum of Art featuring performances by breakdance crews, live painting and DJs. And for the first time, there will be an afterparty on Saturday following the festival, hosted at Tapp's.
For Fat Rat, these extra events offer entry points to people who might not immediately gravitate to the Saturday block party without diluting its old-school focus and multidisciplinary approach.
"It's a fast-moving train and we wanted to find stops where people could get on," he says, highlighting the New Wealth Lounge and Hip-Hop Karaoke as events that might draw more people between 18 and 30, a demographic he says Love, Peace & Hip-Hop hasn't always emphasized.
Just as important, the extra programming allows organizers to refocus on the art and the dancing that might be overshadowed by Saturday's marquee artists.
"The festival's getting so big at this point that we wanted to take a little more time," Fat Rat admits. "It is my duty to make sure that all elements are represented, and I think that what we're ... doing on Boyd Plaza is going to speak to the other elements a lot more. Last year, they almost got washed out, the dancing and the graffiti art. ... There was so many people, you know, and I think at some point everybody just gave up, and was like, 'Let's just give it up to MC Lyte.'"
Love, Peace & Hip-Hop board member and local artist Cedric Umoja curates the live painting demonstrations. He's excited that this aspect will get greater exposure on Friday, especially at a spot like the Columbia Museum of Art.
"It allows for the culture itself to be in a space that people who attend that space normally wouldn't come to because they would probably think that it's not inclusive, for whatever reason," the artist offers. "So to see it in a space like the Museum of Art really gives it a stamp that it is inclusive, that it can touch many different people from many walks of life."
Joelle Ryan-Cook, the museum's deputy director and director of external affairs, sees similar potential for her organization. It's a big part of why she reached out to Fat Rat about collaborating immediately following last year's Hip-Hop Family Day.
"We've been so music-oriented in so many different facets over the years," she says. "But we haven't been that hip-hop-oriented, and that's something that I think was very much missing. And as we're trying to build younger audiences and such, that pop culture moment, or even the moments that are less-known on a broader pop culture, is really important for us to hit it. What I also like about hip-hop is how holistically it incorporates the arts. We've done a lot with dance and performance and music and all kinds of things, and hip-hop is just so rich in those kind of four tenets."
But even as Love, Peace & Hip-Hop expands its additional programming, Fat Rat knows that, no matter what he does, the Saturday block party will continue to grow if it keeps booking such popular artists. It's a challenge for organizers, but a blessing for the people.
"If it gets big enough, we'll be down at Williams-Brice, we ain't going to be able to hold it on Main Street no more," he says. "If it's 50,000 people deep, we're going to have to go somewhere."
He spitballs some potential solutions, such as transitioning into a two-stage festival, spreading people out and staggering set times. For now, though, he thinks there's something special about holding Hip-Hop Family Day at the corner of Laurel and Main.
"People like the energy on Main Street, and I think it says something about hip-hop, being on Main Street," Fat Rat concludes. "You know, I look back at the footage, it just always feels like the Public Enemy 'Fight the Power' video — outside, the state signs, City Hall's right here, there's thousands of people in the street.
"All we need to do is throw Chuck D and Flavor Flav up there."
---
Love, Peace & Hip-Hop Events
Wednesday 10
Hip-Hop Bounce House Party at EdVenture Children's Museum, 5:30-7:30 p.m. (free)
New Wealth Lounge at Richland Library (main branch), 6-8 p.m. (free)
Tacos and Rap at Tapp's Arts Center, 8:30-11 p.m. ($10)
Thursday 11
Love, Peace & Hip-Hop Kick Off at Tapp's Arts Center, 5:30-7 p.m. (free)
Hip-Hop Karaoke at SODA Live in Tapp's Arts Center, 7-10 p.m. (free)
Friday 12
The Get Down on Boyd Plaza at the Columbia Museum of Art, 6-9 p.m. (free)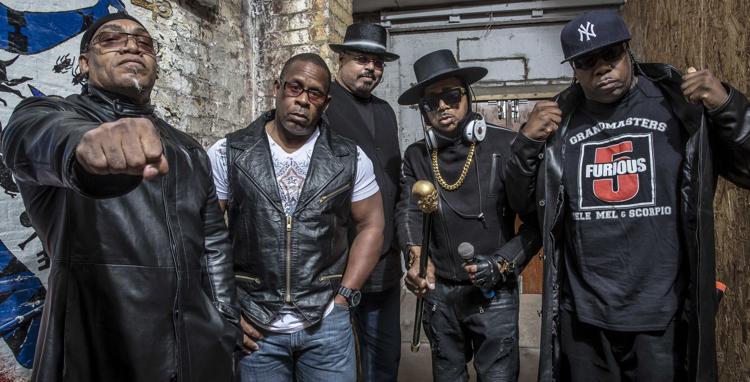 Saturday 13
World Famous Hip-Hop Family Day (featuring Big Daddy Kane, Sugarhill Gang, the Furious Five) at the corner of Laurel and Main, noon-6 p.m. (free)
World Famous After Party at Tapp's Arts Center, 6 p.m.-midnight ($10)
Let us know what you think: Email editor@free-times.com.